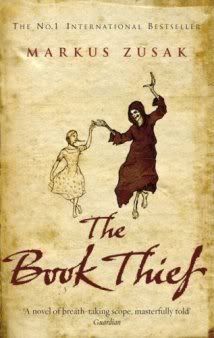 Nine-year-old Liesel lives with her foster family on Himmel Street during the dark days of the Third Reich. Her Communist parents have been transported to a concentration camp, and during the funeral for her brother, she manages to steal a macabre book: it is, in fact, a gravediggers' instruction manual. This is the first of many books which will pass through her hands as the carnage of the Second World War begins to hungrily claim lives. Both Liesel and her fellow inhabitants of Himmel Street will find themselves changed by both words on the printed page and the horrendous events happening around them.
This book is
beautiful
. 'Beautiful' isn't usually a word you'll find me using, but there is no other way I can describe
The Book Thief
.
Markus Zusak writes in a new and exciting style, which is utterly compelling. His characters come to life from the very first page, and you care about them as if you know them. To be able to see the Second World War from Death's perspective is incredibly moving, and his thoughts and feelings are surprisingly human. I also have to mention the cover (the UK adult one in particular), which I love. The depiction of Death dancing with Liesel is both haunting and fascinating, and should catch the eye of any reader.
I sobbed my eyes out through the whole of Part Ten, finished the book, and started it again straight away. If possible, it was even better the second time round.
A thought-provoking and poignant read, which will undoubtedly stay with me forever.