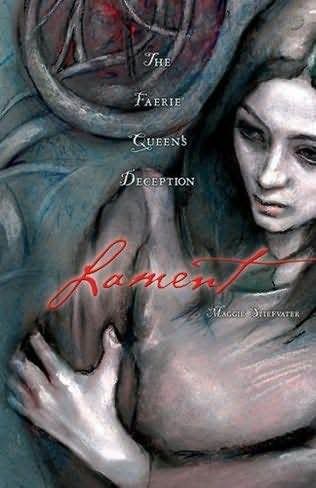 Sixteen-year-old Deirdre Monaghan is a painfully shy but prodigiously gifted musician. She's about to find out she's also a cloverhand—one who can see faeries. Deirdre finds herself infatuated with a mysterious boy who enters her ordinary suburban life, seemingly out of thin air. Trouble is, the enigmatic and gorgeous Luke turns out to be a gallowglass—a soulless faerie assassin. Deirdre had been wishing her life weren't so dull, but getting trapped in the middle of a centuries-old faerie war isn't exactly what she had in mind . . .
Lament: The Faerie Queen's Deception
is a fun, page-turner of a debut. I was a bit apprehensive to order it at first, because I didn't really like the cover art. However, it's definitely better in person, and suits the atmospheric tone of the book perfectly. I also have to mention the artwork included at the beginning of each of the six books: it's very pretty, and a brilliant addition to the story.
Deirdre is a likeable character, because of her sheer normality. She is told, on several occasions throughout the book, that she is just 'ordinary', and nothing special. For this reason, I found her very easy to identify with. I also liked her personal struggles with her overprotective mother - this added realism to the story, as well as to her sixteen year old character.
Deirdre's best friend, James, was just hilarious. His quick wit and sarcasm provided much of the novel's humour, which I wasn't expecting it to have, and made me laugh out loud more than once:
"Soon to be number one", James said with a charming smile. "I hired a hitman."
Luke Dillon, the Faerie Queen's assassin (or Gallowglass), is yet another male character I wouldn't object to meeting. He is protective, haunted, and fueled by guilt for his past actions, which made him a very layered and developed character. Like Deirdre, I was hooked on him from page thirty-six, when he whispered,
"Tell me you want to see me again."
I love the inclusion and importance of music in this book. It fit well with the faeries, and was a nice addition to the ever growing mythology. Brendan and Una were my favourite fey characters, because, again, they were humourous and realistic. I wish we'd gotten to know more about Deirdre's family, as they were perhaps the only aspect of the book that I felt was underdeveloped. Maybe they could have been explored more had the page count been slightly higher, though, saying that, Delia's extreme bitchiness came across pretty well!
There are a couple of things I'd like to ask Maggie Stiefvater, and it mostly involves Deirdre's powers. Had they always been there, lying dormant? Why did she deal with them so well - did she always suspect something was different? And had Luke been watching her for a long time before their first meeting? Hmmm...
Although the story wrapped up well, and could have been a stand alone novel, there is still so much that could be expanded upon.
Lament
is one of those debut novels that could, and should, make it big. The sequel,
Ballad
, is due for release towards the end of the year, and I'm really looking forward to reading it!
Extra
: Check out some of the music mentioned in the book on Maggie Stiefvater's site
here
.