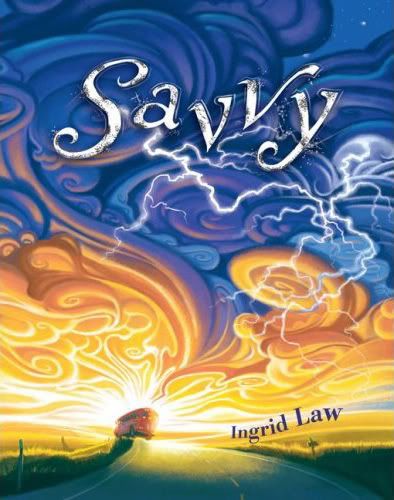 For generations, the Beaumont family has harbored a magical secret. They each possess a "savvy"—a special supernatural power that strikes when they turn thirteen . . . and now it's the eve of Mibs's big day. As if waiting weren't hard enough, the family gets scary news two days before Mibs's birthday: Poppa has been in a terrible accident. Mibs develops the singular mission to get to the hospital and prove that her new power can save her dad. So she sneaks onto a salesman's bus . . . only to find the bus heading in the opposite direction. Suddenly Mibs finds herself on an unforgettable odyssey that will force her to make sense of growing up—and of other people, who might also have a few secrets hidden just beneath the skin.
Savvy
tells the story of the Beaumont family - Momma, Poppa, Grandpa, Mibs, Rocket, Fish and Samson.
When a Beaumont turns thirteen, they get what is called a Savvy: a supernatural power, if you like. Rocket can control electricity, Fish creates hurricanes, and Grandpa Bomba literally moves the Earth. Mibs' thirteenth birthday is coming up, and she's anxious to find out what her Savvy will be. It's something that both surprises and enlightens her, and is something that we, as a reader, never expect.
Just before Mibs turns thirteen, her Father is involved in a car crash, which sends the Beaumont children - along with their friends Will and Bobby - on a journey to reach the hospital in time. Along the way, they make new friends, connect with old ones, and discover themselves and what their powers mean.
Savvy
, essentially a coming of age story, is a brilliant debut novel from Ingrid Law. Even though it's sold in the kids 8-12 section at UK Borders stores, older readers should also enjoy it (I'm twenty-one... and I found myself utterly enthralled!).
Rights to a movie have already been sold, which can only mean good things for this book. I can't wait to see what Ingrid does next, and here's hoping it's as fun as her first offering!