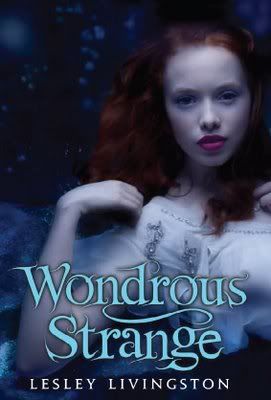 For seventeen-year-old actress Kelley Winslow, faeries are just something from childhood stories. Then she meets Sonny Flannery, whose steel-gray eyes mask an equally steely determination to protect her.
Sonny guards the Samhain Gate, which connects the mortal realm with the Faerie's enchanted, dangerous Otherworld. Usually kept shut by order of icy King Auberon, the Gate stands open but once a year.
This year, as the time approaches when the Samhain Gate will swing wide and nightmarish Fae will fight their way into an unsuspecting human world, something different is happening . . . something wondrous and strange. And Kelley's eyes are opening not just to the Faerie that surround her but to the heritage that awaits her.
I bought Wondrous Strange because I thought the cover art was intriguing. I liked the title typset, and the swirly blue colours, which instantly stood out to me. The book arrived on Christmas Eve, I started it on Christmas Day afternoon, and had finished it in a few hours. I loved it.
I was immediately hooked, right from page one, and the pretty decoration around the chapter titles made me think I was reading something special (this book should definitely be praised for its lovely presentation!). Wondrous Strange is the first faerie book I read, and I thoroughly enjoyed it.
Kelley is a great female character with and a passion for drama. She has no idea that faeries exist, nor that she could ever have anything to do with them, until she meets Sonny. Sonny protects the mortal realm from the beings of the Otherworld, by guarding the Samhain Gate.

I LOVE Sonny. Love him. He's protective, strong, and has deep grey eyes that would make any girl melt. Sigh. All the characters are well developed and layered, and by the time I was finished, I felt like I knew each and every one of them.

The plot is brilliant, and moves at a pace that will keep even the most reluctant reader interested. It mixes reality with the supernatural, and does so in a very clever way. I like how Lesley included drama and Shakespeare in the story, and even had some familiar characters make an appearance. I also loved the humour in the book, especially the little garden gnome who likes to lick ankles. Although he only appeared for one scene, he was one of my favourite parts of the book, and I hope we get to see more of him.
I don't really want to spoil the plot too much, so I'll just say that there were a couple of revelations that I never saw coming, and that completely surprised me (in a good way!). At one point, I think I muttered something like "bloody hell, that was good", which isn't something I do too often.

I would highly recommend this book to every YA reader, or to anyone who just likes good, enchanting fiction. Lesley Livingston has a wonderful writing style, and I can't wait to read more from her. I'm so glad that Wondrous Strange is the first in a trilogy, and that the second book should be released towards the end of 2009. I hope it gets published in the UK soon, so that I can tell everyone how brilliant it is!