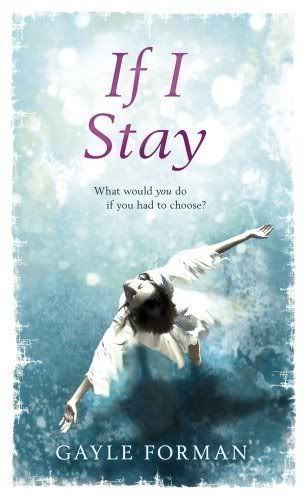 Everybody has to make choices. Some might break you. For seventeen-year-old Mia, surrounded by a wonderful family, friends and a gorgeous boyfriend decisions might seem tough, but they're all about a future full of music and love, a future that's brimming with hope. But life can change in an instant. A cold February morning ...a snowy road ...and suddenly all of Mia's choices are gone. Except one. As alone as she'll ever be, Mia must make the most difficult choice of all.
Publication Date
: April 2nd, 2009 (US), May 7th, 2009 (UK)
I have a feeling that
If I Stay
may be one of those books that sells millions of copies, wins numerous awards, and inspires people to pick up a pen and tell a story of their own.
It starts off with a lighthearted chapter that showcases the close relationship Mia shares with her Mum, Dad and younger brother Teddy. I instantly fell in love with these four characters, as they reminded me very much of my own parents and sister: happy, fun, and more like friends than family. However, by page eleven, the tone of the book shifts, and everything has changed.
Mia is left staring at her broken body, while her family lie sprawled around her. She finds herself in a kind of limbo, a limbo where she can see, hear and touch, but can't feel anything. From here she must make the difficult decision of staying on Earth and living, or dying and hopefully seeing her family again. This has to be one of the most difficult decisions anyone could ever be faced with, and I applaud Gayle Forman for writing about it so eloquently and vividly.
I loved how the past was interweaved with the present, as this allowed us to get a glimpse into Mia's life before the accident, and to really get to know her. Mia is a strong and appealing character, and one which I think a lot of people will identify with. I also have to mention Adam, Mia's boyfriend. He's caring, thoughtful and the kind of person that we should all get to meet at some point or another. In fact, I think he might be my favourite part of the whole book.
'Just Listen', Adam says with a voice that sounds like shrapnel.


The above sentence is one of my favourites. To imagine that anyone's voice could sound like shrapnel has to be one of the most effective ways to describe someone dealing with unimaginable grief and fear.
If that doesn't make you want to read more, I don't know what will.
If I Stay
is moving, touching and beautifully written. It's so gripping that you have to read all two hundred and seven pages in one go, and is sure to be one of the year's most talked about releases. With brilliant characters that easily come to life, as well as a story so memorable and meaningful, I'd say that Gayle Forman is well on her way to Alice Sebold-like superstardom.