In My Mailbox idea from Kristi @ The Story Siren.
-----
Thanks once again to Borders, Amazon and a lovely author for this weeks books!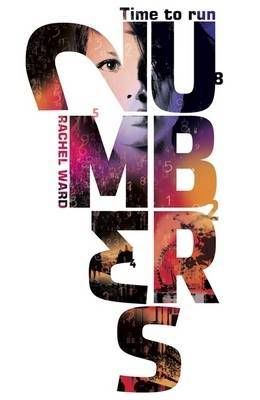 Numbers
by Rachel Ward
Since her mother's death, fifteen-year-old Jem has kept a secret. When her eyes meet someone else's, a number pops into her head - the date on which they will die. Knowing that nothing lasts forever, Jem avoids relationships, but when she meets a boy called Spider, and they plan a day out together, Jem foresees a chain of events that will shatter their lives forever.
-----
Split by a Kiss

by Luisa Plaja
[signed] (Thanks Luisa!)
Jo has just moved to America with her mum. On her first day in her new school, she seems to be adopted by the It girls - and is invited to one of their parties. There, she meets Jake Matthews, officially the hottest boy in school, and when they begin to play the kissing-in-the-closet game, Seven Minutes in Heaven, amazingly Jake picks Jo join him in the closet! She can't believe her luck. But the reality of being kissed and groped by Jake is not quite as great as the fantasy...Jo has a choice to make: should she carry on, kiss Jake and secure her position in the It crowd - or should she tell him where to get off and risk relegation back to the land of the ordinary ...? At this moment - Jo splits. She's Josie the Cool - girlfriend of Jake, member of the It crowd. She's also Jo the Nerd - rejected by the It crowd, single ...Will her two halves ever come back together again?
-----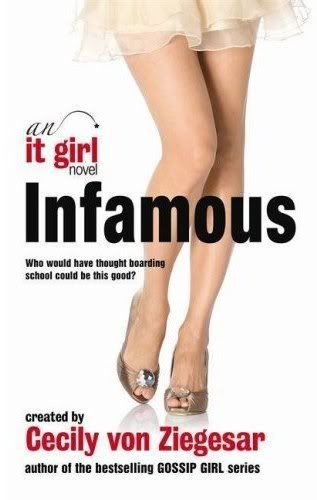 The It Girl:

Infamous

by Cecily Von Ziegesar
Every girl dreams about it. Some just have it. How far would you go to become The It Girl?
Easy Walsh has been kicked out of Waverly once and for all, and Callie is struggling to keep it together in her love's absence. But new friends Jenny and Tinsley have a plan to get her out of her funk: head to NYC over the Thanksgiving holiday for a little rest, relaxation, and pampering. And of course, a whole lot of trouble. But can the alliance between Jenny, Tinsley, and Callie last?
Read my review
here
.
-----
Lifegame

by Alison Allen-Gray
[ARC, May 2009]
Imagine discovering that everything you've ever been told is a lie... Fella and Grebe have grown up on an island, believing that the world beyond its shores is toxic and that the islanders are the lucky survivors of a cataclysmic disaster. And then Fella, an orphan, discovers a diary, hidden fifteen years ago by his mother - a woman who seemingly came from the Outside, from a world not run by the Officiate. This revelation seems incredible, but it gives the two friends hope that they can escape the brutality of their lives. Yet when, after a gripping chase, they manage to get off the island, what they discover is a shock. Not only is the Outside alien and frightening, it forces them to understand the appalling truth about where they have come from, and why they were there.