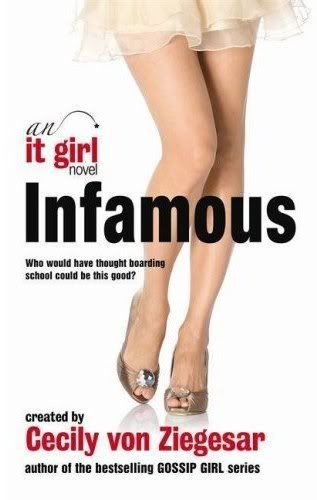 Every girl dreams about it. Some just have it. How far would you go to become The It Girl?
I love
The It Girl
series. I even prefer it to
Gossip Girl
, which I never thought I'd say. They're never going to be widely respected as a piece of literature, but I don't care: they're just fun reads. I like the scandal, intrigue and general bitchiness that Cecily Von Ziegesar created, and although some of the scenarios are a little far-fetched, the books do have some teenage realism hidden away.
I hear that a ghost writer has replaced Von Ziegesar for this series, and I have to admit, you can't tell. In fact, some of the writing may actually be better!
Infamous
(#7) pretty much picks up where
Tempted
(#6) left off, and is mostly about what each character gets up to on their Thanksgiving break. Some parts had me laughing out loud... especially Brett's attempts to humiliate a particularly stuck-up family staying at her house. It's just as good as the previous installments, and, as always, leaves you wanting the next one straight away.
My friend calls these my 'guilty pleasure', but I don't like to agree with that. I really enjoy them, whether they're trashy or not. Every now and then, it's good to read a book that doesn't require a lot of concentration!