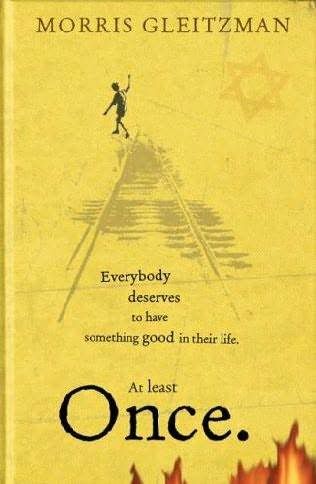 Once I escaped from an orphanage to find Mum and Dad. Once I saved a girl called Zelda from a burning house.
Once I made a Nazi with toothache laugh.
My name is Felix. This is my story.
Once
is very similar to
The Boy in the Striped Pyjamas
, both in style and theme. It's very easy to read, is told from the perspective of a young child, and is set during the events of the Holocaust.
Felix is almost ten years old, and is living in an orphanage in Poland that his parents sent him to in 1939. Three years and eight months later, he receives a whole carrot in his soup, which he thinks is a sign from his Mum and Dad, and that they are finally coming back for him. This inspires him to escape from the orphanage, and journey across Poland in the hope of finding his parents.
Along the way, he encounters Nazis (whom he thinks dislike Jews because of their love of books), an orphaned young girl, Zelda, and a dentist hiding a group of young Jewish children.
Felix's innocence and naivete is a big part of this story, as he often mistakes truly horrific events for mistakes or accidents. A child's viewpoint is perhaps the most shocking way to depict the Holocaust, as children see so much more than adults, and see things in a different way.
This story is funny in parts, especially with Felix and his childlike thoughts of carrots and nuns. It quickly becomes shocking and more difficult to read, and this is due to Felix experiencing the unspeakable horrors of war, and what was really going on in Poland in 1942.
For anyone who likes war fiction, as I do, then this, along with its sequel
Then
, is a must read. Morris Gleitzman has succeeded in writing a story of friendship and desperation, and has managed to recreate the harrowing journey of a Jewish boy with his heart set on reuniting his family.