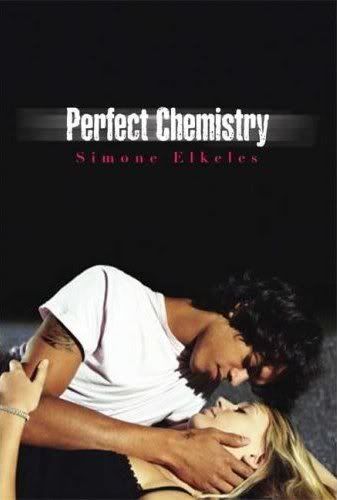 When Brittany Ellis walks into chemistry class on the first day of senior year, she has no clue that her carefully created "perfect" life is about to unravel before her eyes. She's forced to be lab partners with Alex Fuentes, a gang member from the other side of town, and he is about to threaten everything she's worked so hard for—her flawless reputation, her relationship with her boyfriend, and the secret that her home life is anything but perfect. Alex is a bad boy and he knows it. So when he makes a bet with his friends to lure Brittany into his life, he thinks nothing of it. But soon Alex realizes Brittany is a real person with real problems, and suddenly the bet he made in arrogance turns into something much more.
Sigh. I'm in love with yet another fictional male character: Alejandro Fuentes. As a Mexicano gang member with a desire to make something more of himself, he's your typical bad boy trapped in a life he doesn't want. Enter Brittany Ellis: head cheerleader with a seemingly perfect life, who ends up falling for Alex against her better judgement.
Could I put this book down? Even for five minutes? No, I could not.
I'm a sucker for epic, forbidden love stories, so it's no surprise that I loved
Perfect Chemistry
. It's like a modern
Romeo & Juliet
, only with gangs and high school. Simone Elkeles has a brilliant writing style that hooked me from the first page, and there's no way for me to describe it other than compelling and addictive.
I love Alex and Brittany, and I seriously didn't want the book to end. I even liked the epilogue which was a bit cheesy, yes, but oh so satisfying. The classic love story is one we've all seen before: two people from different worlds meet, and, against all odds, fall madly in love with each other. Elkeles has mixed this one up a bit, and has added depth and intrigue to her characters, making them both immensely likeable and realistic.
Perfect Chemistry
touches upon some important messages and themes, including race, disability, and acceptance. Each character confronts their imperfections, learns what it means to be in love, and how to deal with the consequences and sacrifices that inevitably accompany it.
I can't think of anything else to say here, as I've still got that 'wow' feeling you get after reading a great book. If you're a fan of the romance genre, I highly recommend you get yourself a copy of this. You won't be disappointed!