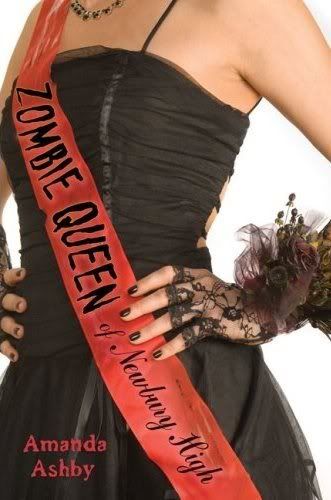 Quiet, unpopular, non-cheerleading Mia is blissfully happy. She is dating super hot football god Rob, and he actually likes her and asked her to prom! Enter Samantha—cheerleading goddess and miss popularity— who starts making a move for Rob. With prom in a few days, Mia needs to act fast. So she turns to her best friend, Candice, and decides to do a love spell on Rob. Unfortunately, she ends up inflicting a zombie virus onto her whole class, making herself their leader! At first she is flattered that everyone is treating her like a queen. But then zombie hunter hottie Chase explains they are actually fattening her up, because in a few days, Mia will be the first course in their new diet. She's sure she and Chase can figure something out, but she suggests that no one wear white to prom, because things could get very messy.



Publication date

: March 5th (US)
This book was fast-paced and fun. I'm a vampire girl myself, and have never read any zombie books before, so this was a good place to start.
I have to say, I love all these authors that mention
Buffy
and
Angel
. The references in
Zombie Queen
left me with a huge grin on my face, and I think even Joss Whedon himself would be proud.
I particularly liked the characters of hypochondriac best friend Candice, and tall, dark and loveable Chase. Both were intergral to Mia saving the senior class, and both came through like an honorary member of the scooby gang. I also loved the humour throughout the book, which included witty one-liners that made me think I was watching an episode of
Buffy
. The dialogue was quick and quippy, which made the story flow at an easy and enjoyable pace.
I'd recommend this if you're a fan of
Buffy
and
Supernatural
, or if you just want to read a quick, entertaining book.
Extra

: Be sure to check out Amanda Ashby's blog for her party countdown to the book's release.
It'll be ten days of zombie fun!