Gillian Philip is the author
of
Crossing the Line
, which is officially published in the UK by Bloomsbury on April 6th. Gillian lives in Scotland with her husband, children and many pets, and enjoyed answering these questions from a little clifftop cottage. She's also a
Buffy
fan, and is currently making her way through the Complete Collection DVD...
A big thanks to her for taking the time to answer my questions!
----------
Did you always intend to be a writer? How did you first get published?
I always wanted to be a writer, from when I was young... but I definitely went through a phase of denial! I wrote short stories for magazines, but I was intimidated by the sheer difficulty of getting published as a novelist, so I kept trying to do a (ahem) 'proper' job. Some of the jobs I took on were great fun, but they were never going to take the place of writing... so eventually, after my kids were born, I thought: it's now or never. Instead of retraining for another career, I made a decision to invest in writing - which meant paying for manuscript advice (which was invaluable) and simply slogging away at novel after novel despite rejections. And eventually, after a lot of rewriting and starting over, I received offers for two novels -

Bad Faith

was sold to Strident Publishing, and Bloomsbury took on

Crossing the Line

. Needless to say, I was over the moon...


Do you find it easy to write for the young adult audience?
As easy as writing for an adult audience - which is to say, not easy at all! I'm struggling with a new typescript at the moment because the characters are refusing to come alive yet. (Well, all but one - and he's the villain. Why does this always happen to me?) But I know that when they do come alive - and they will! - it'll be a whole lot easier and a lot more fun.


Can you tell us a bit about your new YA novel

Crossing the Line

?
Crossing the Line

is the story of Nick Geddes, a boy who has been in a lot of trouble in the past. He's trying to change his life, but it's not proving easy - he's stranded in a kind of no-man's-land between his old gang on the one hand, and what he thinks of as the rest of the human race on the other. He's constantly having to look out for his eccentric sister Allie, and meanwhile he's in love with the sister of a boy who was murdered by his own gang. Everything comes to a head when a dangerous figure reappears from Nick's past.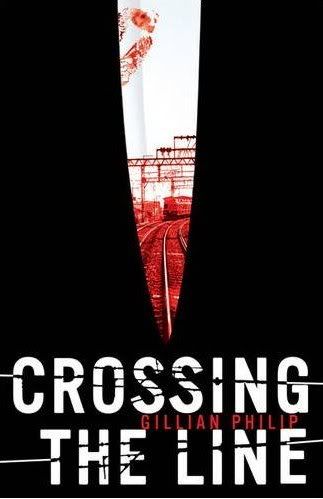 Crossing the Line touches on the subject of knife crime. Is this something that has personally affected you?
Not personally - so far, touch wood. What I find terrifying about the prevalence of knives is that I remember fights, feuds and bullying at school, and we seemed to accept it as part of life. Nowadays there's the added element of deadly weapons, and it's all too easy to imagine how swiftly a bad situation can degenerate into tragedy.
Did you do any research into similar real life events?
I didn't want to replicate a real-life murder, so beyond researching police, court and medical details, I didn't study particular events. I wrote the book before the recent epidemic of knife crime, but still there were often incidents in the news. I do vividly remember the killing of a promising young footballer, and I think that influenced my story, but the murder in

Crossing the

Line

isn't based on any real event.
The story is told in two different time frames, before and after Aidan's death. Did you always plan to write it this way?
Well, as far as I ever plan anything, I suppose I planned the structure of

Crossing the Line

. But it was mostly a case of the storyline growing quite naturally. Nick was in my head, nagging me to tell his story. He began it in a certain place and time, but then his story unfolded as it did because I think he was trying to explain himself to me.

Why did you decide to write the story from Nick's point of view, rather than Allie's?

Nick was the one who told it to me! There was never really a choice, because Nick came into my head fully formed and raring to go. Funnily enough, I thought to begin with that Allie was a boy. I was corrected on that very quickly.
I love the cover image, because it says so much about the story. Did you help to design it? Are you happy with it?

I love it too! No, I had nothing to do with the cover design, but I was thrilled with it as soon as I saw it.

What are some of your favourite books and authors, YA or otherwise?

This is always a hard question! I love Malorie Blackman's

Noughts & Crosses

series, and Philip Pullman's

His Dark Materials

. Of books I've read more recently I really enjoyed

Feasting the

Wolf

by Susan Price and

Holes

by Louis Sachar. I've always been a big fan of Ruth Rendell. Bernard Cornwell's

Alfred

series is terrific, and I'm in love with his Uhtred Ragnarsson... I'd better not list any more!
Could you tell us about your upcoming book,
Darke Academy: Secret Lives?
(which, by the way, I'm really looking forward to!)
I'm writing the

Darke Academy

series in collaboration with Hothouse Fiction, who are responsible for the

Darkside

books (which I think are terrific). It's a whole new way of working for me, and I've enjoyed it - the editors at Hothouse develop an idea and I write a draft that we work on together. Anyway, my heroine Cassie wins a scholarship to the Darke Academy, and discovers it's a truly international school - not only does it have a very cosmopolitan student population, it actually moves to a new exotic city every term. There are darker reasons for this than educational ones, as Cassie soon discovers, and there are some pretty terrible secrets behind the elite group known as the Few. There have been deaths in the past that didn't seem entirely natural - and worryingly for Cassie, the last to die was a scholarship girl. It certainly brings a whole new meaning to the term student body...


----------

For more information on Gillian and her books, you can visit her official site here. And to read my review of Crossing the Line, click here.