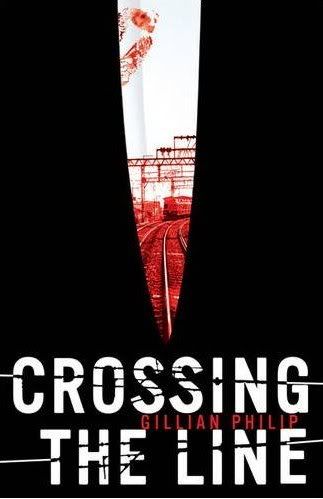 From the book jacket:
Nick Geddes's life is a mess. His sister's boyfriend was killed in a school stabbing. His grandmother is decending into a world of her own, his mother has a 'god-slot' on local radio, and his father is drinking way too much. On top of all that, Nick is madly in love with Orla, the sister of the murdered boy. And Orla blames Nick...
Crossing the Line
is a chilling read that touches on several themes and issues that are relevant in today's society.
Knife crime is something that is steadily getting more common, especially in the UK. It's frightening and shocking, and, unfortunately, hard to stop. To write about such a contemporary problem is what I liked most about this book, as it addresses a subject that currently affects a lot of people.
The story is told from Nick's perspective, and covers the time before and after the stabbing that cost Aidan Mahon his life. The alternating time frames was a brilliant idea, as we get to see the events which led to the crime, as well as the aftermath.
All the characters were easy to identify with, especially siblings Allie and Nick. They were both experiencing guilt in one way or another, and were both dealing with Aidan's death in very different ways. Their relationship was a brilliant part of the book, and really highlighted the importance of family, and how much we rely on them to keep us safe. To some degree, I even understood Kev, and his motives for killing Aidan. Family pressure and the desire to be seen as tough or untouchable can take a toll on people more than they realise, and this is something that was explored through the characters of Kev and his brother Mickey.
I also have to mention the cover of the book, which is clever and extremely eye-catching. The train is quite important to the story, and I love how the image printed in red represents blood on the blade of a knife. It's simple, yet manages to say so much.
Gillian Philip has written a book that should appeal to fans of Kevin Brooks and Rachel Ward, or to anyone who likes their fiction to be realistic and believable.