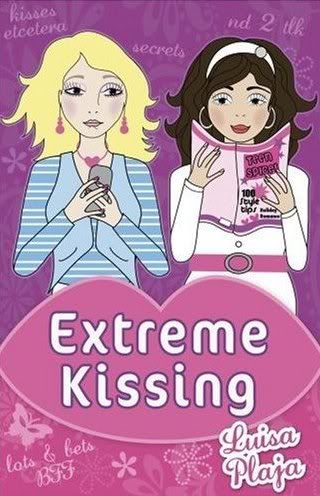 From Amazon:
Carlota and Bethany are best friends. Bethany is the sensible one with a long-term boyfriend, Carlota is the crazy one with a wild past and rebellious nature. Carlota comes up with a plan to put all their troubles behind them and go on a girls-only wild day out, with only their favourite magazine to guide them through the day. The magazine will take them everywhere they need to go - but will it help them to reveal the secrets they are keeping from each other?
Extreme Kissing
is UK author Luisa Plaja's second book for teen girls. It's original and true to life, and is sure to appeal to a wide range of readers.
Bethany (Bets) and Carlota (Lots) are best friends, and together they share everything. Well...
almost
everything. When Carlota discovers a secret that could ruin Bethany's relationship with her boyfriend Declan, the pair head to London for some Extreme Travel.
Carlota and Bethany are realistic characters and, similar to Jo in Luisa's debut novel
Split by a Kiss
, they have numerous worries and problems that all teenage girls experience. I particularly like the fact that they both have different personalities (Carlota is outgoing, Bethany is shy), yet still have a strong friendship. It just shows that opposites do attract!
The male characters, Yves and Zac, are really quite swoonworthy. Especially Zac. They're exactly as you'd imagine teenage boys to be, and successfully provide the romantic element of the book.
The idea of Extreme Travel isn't something I've come across before, but it sounds fun! Especially using the pages of a magazine to create challenges (Eg. if you open it to a fashion page, you go clothes shopping). I can see hundreds of teen girls all over the UK adopting this as a new hobby, and I'm quite tempted myself!
Extreme Kissing is about lots of things: friendship, family, trust, love and choices. It's also about living life, and taking risks every now and then. I would highly recommend this to readers of Louise Rennison and Liz Rettig, and YA fiction fans in general, as I'm sure you will thoroughly enjoy this teen tale of extremes.