In My Mailbox idea from Kristi @ The Story Siren, and all descriptions from Amazon.
-----
Shadowed Summer

by Saundra Mitchell
Iris is ready for another hot, routine summer in her small Louisiana town, hanging around the Red Stripe grocery with her best friend, Collette, and traipsing through the cemetery telling each other spooky stories and pretending to cast spells. Except this summer, Iris doesn't have to make up a story. This summer, one falls right in her lap.
Years ago, before Iris was born, a local boy named Elijah Landry disappeared. All that remained of him were whispers and hushed gossip in the church pews. Until this summer. A ghost begins to haunt Iris, and she's certain it's the ghost of Elijah. What really happened to him? And why, of all people, has he chosen Iris to come back to?
-----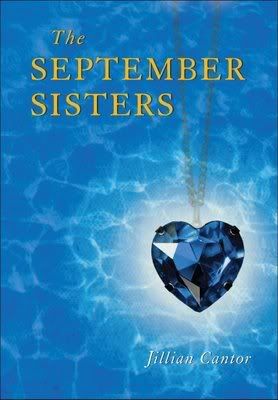 The September Sisters

by Jillian Cantor
Abigail Reed and her younger sister, Becky, are always at each other's throats. Their mother calls them the September Sisters, because their birthdays are only a day apart, and pretends that they're best friends. But really, they delight in making each other miserable. Then Becky disappears in the middle of the night, and a torn gold chain with a sapphire heart charm is the only clue to the mystery of her kidnapping. Abby struggles to cope with her own feelings of guilt and loss as she tries to keep her family together. When her world is at its bleakest, Abby meets a new neighbor, Tommy, who is dealing with his own loss, and the two of them discover that love can bloom, even when it's surrounded by thorns.
-----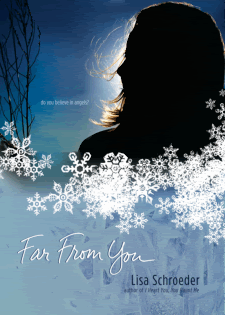 Far From You

by Lisa Schroeder
(I won this from one of Elizabeth Scott's contests... thanks, Elizabeth!)
Years have passed since Alice lost her mother to cancer, but time hasn't quite healed the wound. Alice copes the best she can by writing her music, losing herself in her love for her boyfriend, and distancing herself from her father and his new wife.
But when a deadly snowstorm traps Alice with her stepmother and newborn half sister, she'll face issues she's been avoiding for too long. As Alice looks to the heavens for guidance, she discovers something wonderful.
Perhaps she's not so alone after all....
-----
The Ant Colony
(woohoo!)
&
Ten Stations
World Book Day book (review
here
)
by Jenny Valentine
.
Number 33 Georgiana Street houses many people and yet seems home to none. To runaway Sam it is a place to disappear. To Bohemia, it's just another blip between crises, as her mum ricochets off the latest boyfriend. Old Isobel acts like she owns the place, even though it actually belongs to Steve in the basement, who is always looking to squeeze in yet another tenant. Life there is a kind of ordered chaos. Like ants, they scurry about their business, crossing paths, following their own tracks, no questions asked. But it doesn't take much to upset the balance. Dig deep enough and you'll find that everyone has something to hide!
-----
Auslander

by Paul Dowswell
When Peter's parents are killed, he is sent to an orphanage in Warsaw. Then German soldiers take him away to be measured and assessed. They decide that Peter is racially valuable. He is Volksdeutscher: of German blood. With his blond hair, blue eyes, and acceptably proportioned head, he looks just like the boy on the Hitler-Jugend poster. Someone important will want to adopt Peter. They do. Professor Kaltenbach is very pleased to welcome such a fine Aryan specimen to his household. People will be envious. But Peter is not quite the specimen they think. He is forming his own ideas about what he is seeing, what he is told. Peter doesn't want to be a Nazi, and so he is going to take a very dangerous risk. The most dangerous risk he could possibly choose to take in Berlin in 1942.
-----
This Charming Man
by Marian Keyes
(adult)
Lola has just found out that her boyfriend – charismatic politician Paddy de Courcy – is getting married. To someone else. Heartbroken, Lola flees the city for a cottage by the sea. But will Lola's retreat prove as idyllic as she hopes? Journalist Grace wants the inside story on Paddy de Courcy's engagement and thinks Lola holds the key to it. Grace knew Paddy a long time ago. But why can't she forget him? Grace's sister, Marnie, might have the answer but she also has issues with the past. Her loving husband and beautiful daughters are wonderful, but they can't take away memories of her first love: a certain Paddy de Courcy. What will it take for Marnie to be able to move on? Alicia Thornton is Paddy's wife-to-be. Determined to be the perfect wife, Alicia would do anything for her fiancé. But does she know the real Paddy? Four very different women. One awfully charming man. And the dark secret that binds them all...