In My Mailbox idea from Kristi @ The Story Siren, and all descriptions from Amazon.
-----




Don't Ask by Hilary Freeman
Lily believes her boyfriend Jack is perfect, but wonders why he won't talk about his past. Wouldn't it be fantastic, she thinks, if she could talk to his ex and fill in all gaps? Lily devises a way to do just that. But what begins as a bit of fun has unexpected - and disturbing - consequences...
-----





Flightsend by Linda Newbery
(for review)
Flightsend is Charlie's new home, whether she likes it or not. Her mother sees it as an end to all that's gone so tragically wrong, a chance for a fresh start. Although Charlie believes that her mother is intent on making dangerous mistakes, she can only offer support - but who will support Charlie, with Sean cut out of their lives? And she's certain that the move to a remote, ramshackle cottage will just make things worse.
She couldn't be more wrong. This first summer at Flightsend proves to be a turning point for both of them, a summer of startling self-discovery, a summer Charlie will never forget.
-----
Frenemies

by Alexa Young
What happens when two besties become full-blown worsties?
Avalon Greene rules the fashion scene at her sunny SoCal middle school with a diamond-clad fist, calling out classmates for their fashion-do's and most unfortunate clothes-pas. She's determined to host the social event of the season—a soiree in honor of her forever-friendship with Halley! Unfortunately, Halley's new look is one thing Avalon just can't celebrate. . . .
Halley Brandon is just back from art camp and can't wait to share her funky new style with her best friend, Avalon. But when Avalon cries fashion foul, Halley realizes her best friend's true colors may clash with her own. Has their ultra-fabulous friendship finally gone out of style?
From sharing custody of their puppy, Pucci, to drawing up a list of who gets which friends, Avalon and Halley discover what happens when you battle the person who knows everything about you—and isn't afraid to use your secrets to get what she wants.
Best friends. Worst enemies. Frenemies.
-----
Jessica's Guide to Dating on the Dark Side

by Beth Fantaskey (signed, thanks Beth!)


The undead can really screw up your senior year . . .
Marrying a vampire definitely doesn't fit into Jessica Packwood's senior year "get-a-life" plan. But then a bizarre (and incredibly hot) new exchange student named Lucius Vladescu shows up, claiming that Jessica is a Romanian vampire princess by birth—and he's her long-lost fiancé. Armed with newfound confidence and a copy of Growing Up Undead: A Teen Vampire's Guide to Dating, Health, and Emotions, Jessica makes a dramatic transition from average American teenager to glam European vampire princess. But when a devious cheerleader sets her sights on Lucius, Jess finds herself fighting to win back her wayward prince, stop a global vampire war—and save Lucius's soul from eternal destruction.
-----
Something, Maybe
by Elizabeth Scott
(Amazon UK got this really early... how'd that happen?)
Everyone thinks their parents are embarrassing, but Hannah knows she's got them all beat. Her dad made a fortune showcasing photos of pretty girls and his party lifestyle all over the Internet, and her mom was once one of her dad's girlfriends and is now the star of her own website. After getting the wrong kind of attention for way too long, Hannah has mastered the art of staying under the radar...and that's just how she likes it.
Of course, that doesn't help her get noticed by her crush. Hannah's sure that gorgeous, sensitive Josh is her soul mate. But trying to get him to notice her; wondering why she suddenly can't stop thinking about another guy, Finn; and dealing with her parents make Hannah feel like she's going crazy. Yet she's determined to make things work out the way she wants -- only what she wants may not be what she needs....
-----
Stargazer
by Claudia Gray
(Again, I don't know how Amazon UK got this so quickly, but woohoo!)
Evernight Academy: an exclusive boarding school for the most beautiful, dangerous students of all—vampires. Bianca, born to two vampires, has always been told her destiny is to become one of them.
But Bianca fell in love with Lucas—a vampire hunter sworn to destroy her kind. They were torn apart when his true identity was revealed, forcing him to flee the school.
Although they may be separated, Bianca and Lucas will not give each other up. She will risk anything for the chance to see him again, even if it means coming face-to-face with the vampire hunters of Black Cross—or deceiving the powerful vampires of Evernight. Bianca's secrets will force her to live a life of lies.
Yet Bianca isn't the only one keeping secrets. When Evernight is attacked by an evil force that seems to target her, she discovers the truth she thought she knew is only the beginning. . . .
-----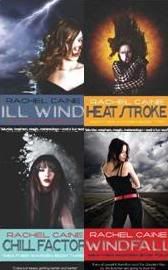 The Weather Warden
series
by Rachel Caine
(adult, for review)
Joanne Baldwin is a Weather Warden. The Wardens Association has been around pretty much forever. Some Wardens control fire, others control earth, water or wind - and the most powerful can control more than one element. Without them, humanity would be wiped off the face of the planet. But now Joanne is on the run from another kind of storm: accusations of corruption and murder. Her only hope is Lewis, the most powerful Warden. Unfortunately, he is also on the run, having stolen three bottles of Djinn and become the most wanted man on earth. Joanne must find him, and find him fast, as some really bad weather is closing in...