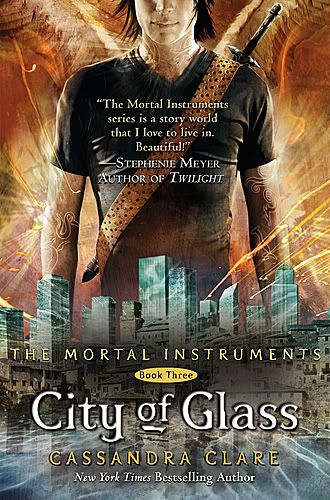 From Amazon:
As Clary uncovers more about her family's past, she finds an ally in mysterious Shadow-hunter Sebastian. With Valentine mustering the full force of his power to destroy all Shadow-hunters forever, their only chance to defeat him is to fight alongside their eternal enemies. But can Downworlders and Shadowhunters put aside their hatred to work together?
City of Glass
is, in a word, amazing.
I haven't been so excited about a book since last year's conclusion to
The Twilight Saga
, and I have to admit:
City of Glass
kicked
Breaking Dawn
's ass.
It's everything a series finale should be, and I couldn't have asked for a better end to this brilliant series.
Every character stays true to themselves, secrets are uncovered, and the dialogue remains witty and clever. New characters are introduced, old ones return, and both bring with them a whole host of complications and revelations. I loved every single page, especially the much needed Jace/Clary scenes, and the numerous battles fought between Shadowhunters, Downworlders and demons. The final scene before the epilogue, which took place at Lake Lyn, was exciting and surprising, and I had no idea what to expect.
The cover art is by far my favourite of all three books, and I found myself staring at it for minutes at a time, taking in the detail and design. Including new character Sebastian on the cover was a nice idea, and I'm glad the publishers acknowledged his important role in the story.
I'm kind of sad I've finished the book, but I'm glad I know how it ends. I can't wait for Cassandra Clare's prequel-type series,
The Infernal Devices
, as I'm sure it will be just as genius as
The Mortal Instruments
.

...Grr Arrgh.