In My Mailbox idea from Kristi @ The Story Siren, and all descriptions from Amazon.
I think this is my favourite book week so far, largely due to the fact that I got CoG,
Skinned
and the new
Maximum Ride
book. I just feel the need to say: I LOVE BOOKS. That is all. :)
-----
City of Glass

by Cassandra Clare
(I actually jumped up and down when this arrived. In front of my parents).
As Clary uncovers more about her family's past, she finds an ally in mysterious Shadow-hunter Sebastian. With Valentine mustering the full force of his power to destroy all Shadow-hunters forever, their only chance to defeat him is to fight alongside their eternal enemies. But can Downworlders and Shadowhunters put aside their hatred to work together? While Jace realizes exactly how much he's willing to risk for Clary, can she harness her newfound powers to help save the Glass City -- whatever the cost? Love is a mortal sin and the secrets of the past prove deadly as Clary and Jace face down Valentine in the final installment of the
New York Times
bestselling trilogy
The Mortal Instruments
.
-----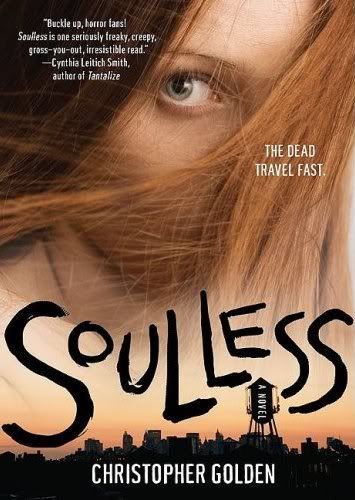 Soulless

by Christopher Golden
(I

love

CG!)
Times Square, New York City: The first ever mass séance is broadcasting live on the Sunrise morning show. If it works, the spirits of the departed on the other side will have a brief window -- just a few minutes -- to send a final message to their grieving loved ones.
Clasping hands in an impenetrable grip, three mediums call to their spirit guides as the audience looks on in breathless anticipation. The mediums slump over, slackjawed -- catatonic. And in cemeteries surrounding Manhattan, fragments of old corpses dig themselves out of the ground....
The spirits have returned. The dead are walking. They will seek out those who loved them in life, those they left behind...but they are savage and they are hungry. They are no longer your mother or father, your brother or sister, your best friend or lover.
The horror spreads quickly, droves of the ravenous dead seeking out the living -- shredding flesh from bone,
feeding
. But a disparate group of unlikely heroes -- two headstrong college rivals, a troubled gang member, a teenage pop star and her bodyguard -- is making its way to the center of the nightmare, fighting to protect their loved ones, fighting for their lives, and fighting to end the madness.
-----
Gone

by Michael Grant
(I didn't plan on buying this UK edition, but, well, I had to).
Suddenly there are no adults, no answers. What would you do? In the blink of an eye, the world changes. The adults vanish without a trace, and those left must do all they can to survive.But everyone's idea of survival is different. Some look after themselves, some look after others, and some will do anything for power...Even kill.For Sam and Astrid, it is a race against time as they try to solve the questions that now dominate their lives...What is the mysterious wall that has encircled the town of Perdido Beach and trapped everyone within? Why have some kids developed strange powers? And can they defeat Caine and his gang of bullies before they turn fifteen and disappear too?It isn't until the world collapses around you that you find out what kind of person you really are. This is a chilling portrayal of a world with no rules.

-----


Lord Loss

(Demonata Book #1)

by Darren Shan
(99p!)
"The door feels red hot, as though a fire is burning behind it. I press an ear to the wood - but there's no crackle. No smoke. Just deep, heavy breathing! And a curious dripping sound. My hand's on the door knob. Inside the room, somebody giggles - low, throaty, sadistic. There's a ripping sound, followed by snaps and crunches. My hand turns. The door opens. Hell is revealed." When Grubbs Grady first encounters Lord Loss and his evil minions, he learns three things: the world is vicious, magic is possible, demons are real. He thinks that he will never again witness such a terrible night of death and darkness! He is wrong.
-----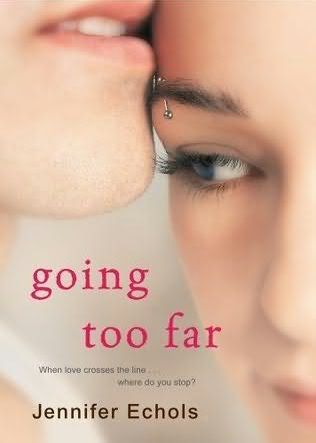 Going Too Far
by Jennifer Echols
(this sounds very, very good).
All Meg has ever wanted is to get away. Away from high school. Away from her backwater town. Away from her parents who seem determined to keep her imprisoned in their dead-end lives. But one crazy evening involving a dare and forbidden railroad tracks, she goes way too far...and almost doesn't make it back.
John made a choice to stay. To enforce the rules. To serve and protect. He has nothing but contempt for what he sees as childish rebellion, and he wants to teach Meg a lesson she won't soon forget. But Meg pushes him to the limit by questioning everything he learned at the police academy. And when he pushes back, demanding to know why she won't be tied down, they will drive each other to the edge -- and over....

-----
Warriors of Ethandun

by N. M. Browne
(For review)
Dan and Ursula return to the present day after months in King Arthur's England. They sought a way back home for so long, but now find themselves unable to cope with modern life. Ursula's incredible strength and Dan's experience on the battlefield make it impossible to fit in with friends. So when they have an opportunity to go back in time, neither can resist. They emerge in 878 AD, the age of King Alfred the Great. Vikings are rampaging through Britain and the King, defeated and weak, has retreated to the marshes. Dan finds him here, and he and Alfred's men begin plotting a counter-attack. But Dan cannot fight without Ursula. Consumed by her time-slip ability to wield magic, she has been captured by the Vikings who now revere her as a goddess. Everything hinges on Dan being able to rescue Ursula first from the Vikings, then from herself.
-----
Skinned
by Robin Wasserman
(Borrowed!
).
Lia Kahn was perfect: rich, beautiful, popular -- until the accident that nearly killed her. Now she has been downloaded into a new body that only looks human. Lia will never feel pain again, she will never age, and she can't ever truly die. But she is also rejected by her friends, betrayed by her boyfriend, and alienated from her old life. Forced to the fringes of society, Lia joins others like her. But they are looked at as freaks. They are hated...and feared. They are everything but human, and according to most people, this is the ultimate crime -- for which they must pay the ultimate price.

-----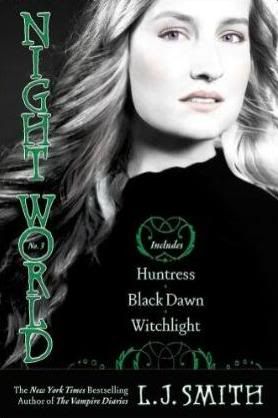 Night World: Omnibus #3

by L. J. Smith
(I like these new omnibus editions... they're lovely).
Vampires, werewolves, witches, shapeshifters -- they live among us without our knowledge. Night World is their secret society, a secret society with very strict rules. And falling in love breaks all the laws of the Night World.
The apocalypse is drawing near. But four Wild Powers can save the world from the impending doom. Circle Daybreak, an underground organization with both Night World and human members, is searching for the four who can stop the darkness.
A vampire hunter -- who is half vampire -- stalks her own kind to protect humans in Huntress.
In Black Dawn, Maggie stumbles upon an old Night World kingdom where the ruling vampire prince is both an enemy and an ally.
And Circle Daybreak hires Keller, a shapeshifting panther, to guard a new Wild Power in
Witchlight
. But when Keller falls in love with the Wild Power's soulmate, her love could destroy everything....
-----
Maximum Ride: Max
by James Patterson
(I love this series!)
Max, Fang, Iggy, Nudge, Gazzy and Angel, six extraordinary kids who can fly, are back for another wild adventure as they try to save the world ...and themselves. Maximum Ride and the other members of the Flock have barely recovered from their last arctic adventure, when they are confronted by the most frightening catastrophe yet. Millions of fish are dying off the coast of Hawaii and someone - or something - is destroying hundreds of ships. Unable to discover the cause, the government enlists the Flock to help them get to the bottom of the disaster before it is too late. While Max and her team are exploring the depths of the ocean, their every move is being carefully tracked by Mr. Chu - a criminal mastermind with his own plans for the Flock. Can they protect themselves from Mr. Chu's army of mercenaries and save the ocean from utter destruction?



-----

Not pictured: I also received a signed copy of

Extreme Kissing

from my brilliant friend Luisa Plaja - you rock, dude!