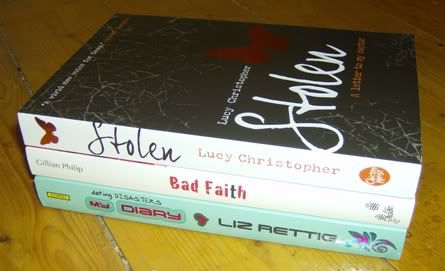 In My Mailbox idea from Kristi @ The Story Siren, and all descriptions from Amazon/author sites.
Something strange happened this week... I didn't buy a single book. This doesn't happen very often, but Amazon didn't get any of my pre-orders in stock, and nothing new came in an work. The books I did get all came for review, which I am REALLY excited about. I didn't expect them, so it was a great week!
-----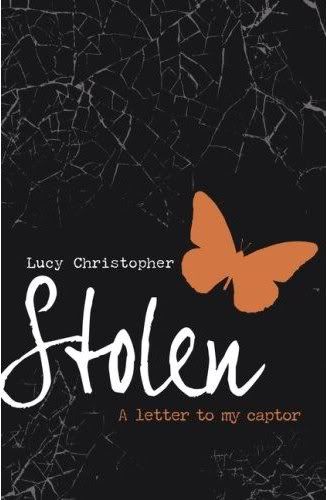 Stolen
by Lucy Christopher
(YES!! *Happy dance*).
Sixteen year old Gemma is kidnapped from Bangkok airport and taken to the Australian Outback. Ty, her captor, is no stereotype. He is young, fit and completely gorgeous. This new life in the wilderness has been years in the planning. He loves only her, wants only her. Under the hot glare of the Australian sun, cut off from the world outside, can the force of his love make Gemma love him back? The story takes the form of a letter, written by Gemma to Ty, reflecting on those strange and disturbing months in the outback. Months when the lines between love and obsession, and love and dependency, blur until they don't exist – almost.
-----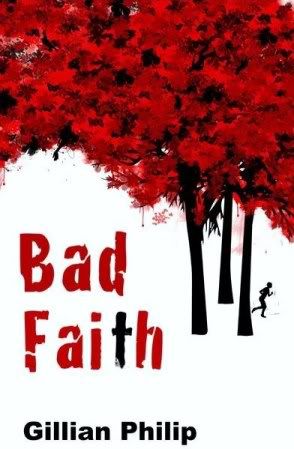 Bad Faith
by Gillian Philip
(This one sounds intriguing).
Life's easy for Cassandra. The privileged daughter of a cleric, she's been protected from the extremist gangs who enfore the One Church's will. Her boyfriend Ming is a bad influence, of course, with infadel parents who are constantly in trouble with the religious authorities. But Cass has no intention of letting their different backgrounds drive them apart. Then they stumble across a corpse. Who killed him? How did his body end up in their secret childhood haunt? And is this man's death connected to other, older murders? As the political atmosphere grows feverish, Cass realises she and Ming face extreme danger.

-----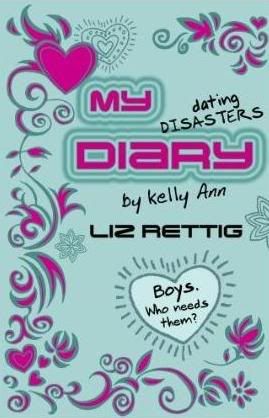 My Dating Disasters Diary
by Liz Rettig
(I love this series!)
Kelly Ann is a total tomboy. She loves football and computer games and has no idea why anyone would want to bother with soppy romantic stuff and stupid crushes on boys. Her best mate is Chris, the boy next door, and he's not into that stuff either, is he? Follow Kelly Ann's ventures into the crazy world of love through her stonkingly funny diaries.