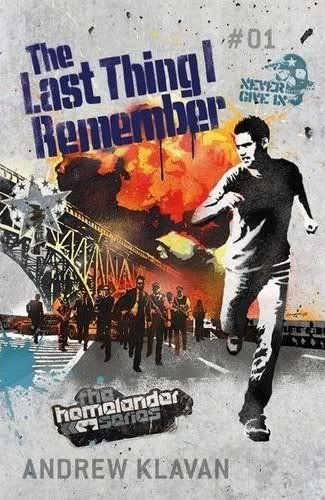 From Amazon:
Charlie West studies hard, stays focused and has just gotten the phone number of the prettiest girl in his class. He is thinking about joining the air force after graduation. He is a third degree black belt. He never gets in trouble. Until now. Charlie has woken up in a nightmare. He's strapped to a steel chair, and someone outside the door just ordered his death...
Even worse - he can't remember a thing about how he got here.
If you're a fan of
24
or
The Bourne Identity
, you really should get your hands on a copy of this book. It's brilliant!
Right from page one I was completely and utterly hooked, and didn't want to put it down. (Even for such necessities as food... that can wait, right?) The story is so fast paced and tense that I found myself unable to turn the pages fast enough, and, as I'm not usually into crime-style books, I was surprised at how much I enjoyed it.
The Last Thing I Remember
is the first book in the
Homelander
series, and is written by adult crime author Andrew Klavan. A few of his previous books have been adapted for the big screen (
Don't Say A Word
), and I now see why! The whole time I was reading this, I could see all the events as if I was sat in a cinema, which is usually hard for me to do. It'd make a great film, and would definitely appeal to fans of Anthony Horowitz's
Stormbreaker
(both the book and the movie).
Charlie West is a fantastic character, and one that I can't wait to read more about. He's brave and intelligent, and can definitely kick some ass when he has to. Of course, his black belt in karate helps him with that...
I can't really say much more without giving the plot away, as there are so many twists and turns that it has to be read with no spoilers. I know it may look like a book for boys, but i'm sure it will appeal to girls as well. After all, we like some action too!