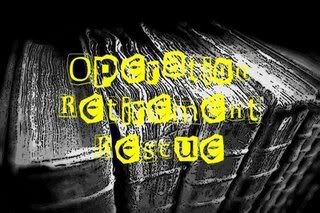 Adele at Persnickety Snark had a great
idea
called Operation Retirement Rescue.
Before May begins I would like you to post reviews for 1-2 YA titles that -
1) were published more than five years ago,
2) hold fond memories, and
3) post the icon somewhere in your review.
I'm not very good at remembering books years after I've read them (unless they're amazing), but Fearless is a series that has stayed with me for almost nine years.
Seventeen-year-old Gaia Moore is not a typical high school senior. Her mother is dead, and her father, a secret agent, abandoned her years ago. But before he left, he taught her self-preservation. She's a black belt in karate, multilingual and has an extraordinary ability - fearlessness.
I adore everything about this series - all 36 books of it (38 if you include specials, 42 if you include
FBI
). The characters were all brilliant, especially heroine Gaia and her best friend Ed. The story was incredibly fast-paced and original, and always had me on tenterhooks.
The idea that someone could be born without the fear gene was, in my opinion, genius. It made for a very interesting read, and I honestly never knew what would happen next.
Fearless
is one of my all-time favourite series, and Gaia remains one of my favourite characters. That girl could seriously kick some ass! I'm sad to say I've never met a single person who has read any of these books, but I hope that will change. There has to be another fan somewhere!