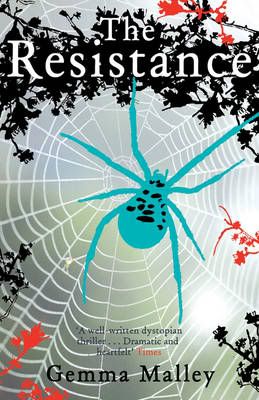 From Amazon:
The year is 2140. Peter and Anna are now living on the Outside as Legals. As an agent in the Underground, Peter is tasked with infiltrating Pincent Pharma Corporation and find out what's happening in the secret Longevity programme. At the heart of the organisation he most despises, Peter stumbles across something more sinister than he could ever have imagined, as powerful forces are gathering to crush the young couple's dreams.
[Recap:
The Declaration
review
].
If you haven't yet read one of Gemma Malley's books, you're missing out. Her ideas and view of the future are nothing short of terrifying, and both make for compulsive reading.
The Resistance
picks up a short time after
The Declaration
ends, and this time mainly focuses on Peter rather than Anna. I loved
The Declaration
, but I enjoyed this sequel more. It's exciting and original, with more shocks and revelations than I thought possible.
Peter is working with the Underground, a group of resistance fighters opposed to the Longevity drug (Longevity is a drug that makes you live forever, and can only be taken if you give up your right to have children). Together they try and take down Pincent Pharma, the company responsible for producing and distributing the drug.
Quite a few questions are answered in this book, though you could argue that even more are raised. The whole world that Malley has created just scares the life out of me, and I hope things are never like this by the time we reach the year 2140. There's definitely room for another sequel, and I hope we see a continuation of the story at some point. There's so much left to explore... Will the Underground prevail? Will Longevity be eradicated? All are valid questions I'm dying to know the answer to.
So, Gemma Malley, if you read this: please write another book. I'm not opposed to begging, and, if I have to, bribery could be arranged. As long as I don't have to sign the Declaration, I'm all ears!