Lucy Christopher is the UK debut author of

Stolen,

a brilliant story of love, obsession and survival

.

I really enjoyed her book, and am excited that she agreed to answer my questions. Thank you, Lucy!

----------


Can you tell us how you came to have your book published? (and with one of my favourite publishers, too!)
Well, this is a rather long story but I'll try my best to condense it! Basically, I was working on another novel about a wild swan. As my editor and I were about to commence editing work on it, she happened to ask me what I was working on next. I told her about Stolen, and when I showed her the opening thirty pages of the novel everything changed rather quickly. The 'head chicken' at Chicken House, Barry Cunningham, rang me up the following day wanting to publish it as soon as possible, wanting to swap the order of publication between this book and the swan book. What followed next was a whirlwind few months of trying to finish writing and editing Stolen. In the end I didn't finish editing the novel until a month before the books were printed, which is pretty mad in terms of publishing! But we got there in the end.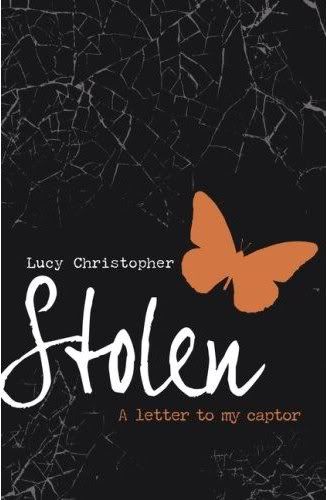 What inspired Stolen?
Stolen was actually written as part of my PhD in Creative Writing (which I haven't finished yet!). In my PhD I wanted to explore how the Australian desert had been written about in books for young adults. For the creative part of this PhD I wanted to write a kidnap book, not because I love horror narratives (quite the opposite – they scare me silly!) but because I wanted to explore the different images that the Australian desert has in fiction – that of being a 'horror-scape' and yet also a place of beauty and spiritual significance. Having felt both wonder and fear about the Australian desert when I went to visit it myself, I wanted to think more deeply about what this amazing landscape really meant to me and about what it could mean to other young people.
Ty, the kidnapper, is very hard to dislike, even after everything he does. Did you always intend for the reader to form an ambiguous opinion of him?
Yes I did. I wanted the reader to experience similar thoughts about Ty to how Gemma feels.

Gemma is both repelled by and attracted to Ty, and is confused and confounded by what to do about it.

I wanted the reader to feel this too, for two reasons.

Firstly, having feelings for the 'wrong' person is more common than you might think, and yet, having feelings like this is not a crime.

It is what you do with those feelings that really determines your true mettle. Gemma must find a huge amount of personal strength and integrity in order to distance herself from the very troubled and inappropriate object of her affections.

This process of realising that you are attracted to someone who is not good for you or your life path and having the strength to move away from this damaging relationship is something that I think is important for many young women to think about.

I also wanted readers to think more carefully about the notions of 'right' and 'wrong'.

Certainly taking Gemma by force was not a good thing for Ty to do, but when one looks at Ty's difficult background of scarce love and not feeling like he belongs to anyone

and couple this with his more gentle idea of living close to and protecting nature, he becomes a difficult character to blame entirely.

It is this complexity of human beings that I want readers to think about.

Stolen
explores, amongst other things, the boundaries between love and obsession. Do you think it's really so easy to confuse the two?
This is a difficult question.

I think it is easy for Ty to confuse the two, sure, because I don't think that he has ever had much experience of true love. When Ty develops feelings for Gemma, and then becomes obsessed with her, he equates these feelings to love… simply because he doesn't know any better.

But I also believe that Gemma can distinguish the boundaries between love and obsession, as we see from the choice she makes at the end of the novel.
The Australian outback is such a strong setting for the story, and makes it that much more terrifying. Do you think it would have worked as well in another location?
The setting of this novel came before anything else for me.

I wanted to write about the Australian desert, desperately and passionately, I just had to find some characters who wanted to be written about in it!

So with that in mind, then no, I don't think this novel would have worked as well, or maybe even worked at all, in another location.
Did you have any input into the cover design? What does the butterfly signify?
I had a limited amount of input into the cover design.

When I first saw this cover I wasn't sure about it because I was worried that the butterfly might come to signify feelings of entrapment or being captured and held (like Gemma was only a fragile butterfly).

However, after thinking more about the cover and talking to some of the readers about it, I've come to really like the cover.

A teen reader told me recently that she thought the butterfly symbolised freedom and individuality, and I really like this interpretation.

So the butterfly could perhaps symbolise different things to different people, but personally I'd like it to symbolise freedom and beauty.
What was the best thing about living in Australia? (Hopefully not the poisonous snakes and spiders!)
The best thing about living in Australia was my friends – I really miss them.

I also really loved not having to anticipate rain every day (like I tend to now, living in South Wales!).
What's your favourite book of all time?
I have so many favourite books for so many different reasons, and for so many different moods.

I really love

Tomorrow When the War Began

by John Marsden because I read it when I was about thirteen and it totally blew me away that a teenage girl protagonist could be so cool and capable.

I also really love

The God of Small Things

by Arundhati Roy because I think the language is exquisite.

A book that I enjoyed recently was

Dirt Music

by Tim Winton – the language and, of course, the setting got me there!

And any horse book can usually win me over too!
What are you working on next?
I am working on three novels right now. I am rewriting the swan book for publication, while also working on two new ideas for teens (one is a bit of a thriller again and the other a bit of a kooky love story!).
----------
Related links
:
Lucy's site:
Lucy Christopher.com
Publisher's site:
Chicken House
My review:
Stolen

by Lucy Christopher