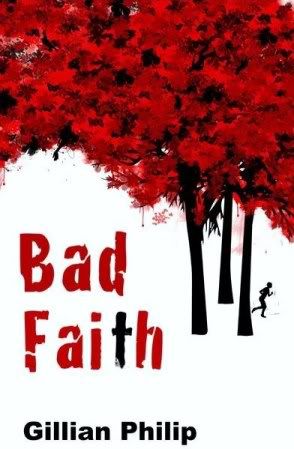 From Amazon:
Life's easy for Cassandra. The privileged daughter of a cleric, she's been protected from the extremist gangs who enfore the One Church's will. Her boyfriend Ming is a bad influence, of course, with infadel parents who are constantly in trouble with the religious authorities. But Cass has no intention of letting their different backgrounds drive them apart. Then they stumble across a corpse. Who killed him? How did his body end up in their secret childhood haunt? And is this man's death connected to other, older murders? As the political atmosphere grows feverish, Cass realises she and Ming face extreme danger.
If I had to describe
Bad Faith
in three words, I would say it's unusual, clever and original. Gillian Philip has managed to create a brilliant plot, which reads as a thriller crossed with urban realism.
Cass and Ming are very well written characters, and I liked them both equally. Their relationship was realisic and easy to identify with, which made them that much more likeable. The secondary characters were also a big part of the book, and were all written with depth and personality.
The inclusion of humour was a surprise to me, as I didn't think it sounded like the kind of book that would be funny. The author has a real knack for writing dialogue, and I think this is the main reason the book was so easy to read. It flowed easily, and never seemed to lull or slow down.
The plot itself occasionally reminded me of an episode of
CSI
or
Bones
, which is a good thing. With almost every chapter, my hunches and expectations were proved wrong, and the final conclusion was shocking and unexpected. My only complaint would be that I sometimes got confused with all the religious groups and militias, though I think that is probably down to my own thin knowledge on the subject, and not a reflection on the writing or story.
I didn't know what to expect from this book when I received it, but I'm so glad I gave it a chance and read it. It's much better than the summary makes it sound, and I really enjoyed it.