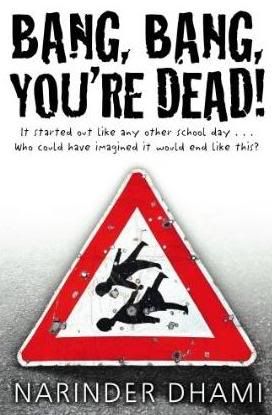 From Amazon:
It seems like just another day at school - then Mia's world turns upside down. School is being evacuated. Rumour has it there's a gunman in the building. And Mia has a horrible feeling she knows who it is. Her brother has been acting strangely. He's been threatening to do something drastic, something frightening, something that cannot be ignored... but just how far will he go? Mia is determined to find out, but playing cat and mouse with a potential killer is a very dangerous game...
Once I started this book, I didn't want to put it down for anything. I loved everything about it, from the brilliant writing to the clever, unpredictable plot. It starts off fairly simply, but soon progresses to a conclusion that completely blew me away.
Narinder Dhami cleverly introduces us to her main characters, Mia and Jamie, by surrounding past events with a school hostage situation taking place in the present. Both characters are genuine and easy to relate to, and I really empathised with Mia and her shy, awkward nature. Jamie was an angry, distant character, but one that I enjoyed reading about all the same.
Although this book is shorter than the average YA novel, it certainly packs a lot into its pages. The multiple layers and thought processes allow for a lot of development, in relation to both the characters and the story. Mia's first person narrative is enthralling to say the least, and she's a character I would absolutely love to read more about.
I know the subject of school shootings can be a tough one to tackle, but Dhami manages to get it just right. It's not something that happens a lot in the UK, which I'm glad about, as it sounds terrifying. The event itself may be the surface focus of this novel, but it's not all it has to offer. Family values, courage and loyalty are what I took away from
Bang, Bang, You're Dead!
, as well as an instant liking to Dhami's writing. This one is highly recommended.