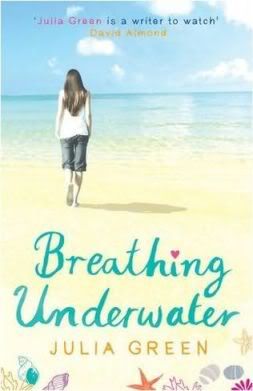 From Amazon:
Freya has come to visit her grandparents who live on a remote island. Last year she visited them with her brother - but last year her brother died alone in a boating accident. Whilst back on the island, Freya finds a way, with the calming presence of her grandparents and the gentle care and attention of the people around her, to adjust to the fact that her brother has gone, and that life - and love - are still vibrantly in the air.
Breathing Underwater
is a coming of age story of sorts, which also deals with loss, grief and the power of friendships. It's about fourteen year old Freya, a girl still trying to process her older brother's death which occured the year before. With the help of new friends and familiar family, she sets out to remember her brother for his life, rather than his death.
I really enjoyed this book; it was beautifully written, and possessed a poignancy that I think can often be hard to capture on the page. Each character had personality and history, and each stood out in one way or another. If I had one complaint, it would be that I occasionally thought Freya acted older than fourteen. Her maturity made me think she should have been sixteen or seventeen, though maybe her circumstance just made her more level-headed and rational.
The way Freya deals with her brother's death is inspiring and hopeful, and the inclusion of new friends and old surroundings was a brilliant way to help her get her life back together. I also liked that there was no huge emphasis on romance; I love romance in books, but sometimes it's just nice to read something a little bit different. Although the story touches on some serious topics, it's also an uplifting tale of overcoming and moving on from your worst nightmare. I think the cover best describes Freya's character: bright and colourful, with a lot of life ahead of her. It really stood out to me, and I think it'll definitely appeal to a lot of YA readers.
The quote on the cover says 'Julia Green is a writer to watch', and I agree. I'll definitely be looking out for more from her in the future, and I hope her next book will be just as good as this one. There are a lot of great UK authors out there, and I'm glad that I'm slowly finding them.