In My Mailbox idea from Kristi @ The Story Siren, and all descriptions from Amazon/publisher sites.
I had another brilliant week for books!
-----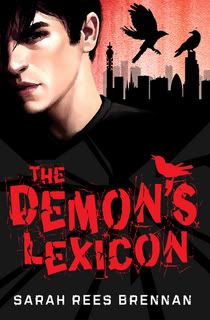 The Demon's Lexicon
by Sarah Rees Brennan
(Finished UK copy! This got sent to work for my friend to read, but seeing as she already has the ARC, she gave it to me. Excited? Me? Yes!)
Nick and his brother, Alan, have spent their lives on the run from magic. Their father was murdered, and their mother was driven mad by magicians and the demons who give them power. The magicians are hunting the Ryves family for a charm that Nick's mother stole -- a charm that keeps her alive -- and they want it badly enough to kill again.
Danger draws even closer when a brother and sister come to the Ryves family for help. The boy wears a demon's mark, a sign of death that almost nothing can erase...and when Alan also gets marked by a demon, Nick is des-perate to save him. The only way to do that is to kill one of the magicians they have been hiding from for so long.
Ensnared in a deadly game of cat and mouse, Nick starts to suspect that his brother is telling him lie after lie about their past. As the magicians' Circle closes in on their family, Nick uncovers the secret that could destroy them all.
-----
Perfect Fifths
by Megan McCafferty
. (It's here! It's here! I want to read this, but I also don't want the series to end. Sigh. It sounds AMAZING, though!)
Captivated readers have followed Jessica through every step and misstep: from her life as a tormented, tart-tongued teenager to her years as a college grad stumbling toward adulthood. Now a young professional in her mid-twenties, Jess is off to a Caribbean wedding. As she rushes to her gate at the airport, she literally runs into her former boyfriend, Marcus Flutie. It's the first time she's seen him since she reluctantly turned down his marriage proposal three years earlier–and emotions run high.
Marcus and Jessica have both changed dramatically, yet their connection feels as familiar as ever. Is their reunion just a fluke or has fate orchestrated this collision of their lives once again?
-----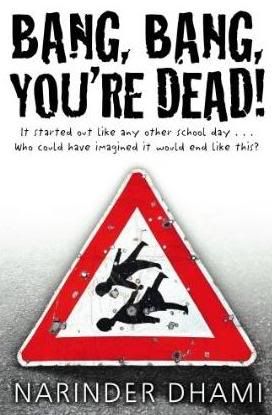 Bang, Bang, You're Dead!
by Narinder Dhami
(for review).
It seems like just another day at school - then Mia's world turns upside down.
School is being evacuated. Rumour has it there's a gunman in the building. And Mia has a horrible feeling she knows who it is...
Her brother has been acting strangely. He's been threatening to do something drastic, something frightening, something that cannot be ignored...but just how far will he go?
Mia is determined to find out, but playing cat and mouse with a potential killer is a very dangerous game...
-----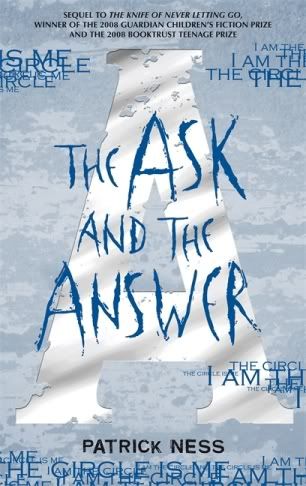 The Ask and the Answer
by Patrick Ness
(I haven't read the first book in this series yet, but I know I'll love it!)
Todd is forced to learn the ways of the Mayor's new order. But what secrets are hiding just outside of town? And where is Viola? Is she even still alive? And who are the mysterious Answer? And then, one day, the bombs begin to explode... The Ask and the Answer is a tense, shocking and deeply moving novel of resistance under the most extreme pressure.





-----

Distant Waves:

A Novel of the Titanic

by Suzanne Weyn
(I have quite a huge interest in the Titanic, so I had to buy this one!)
Science, spiritualism, history, and romance intertwine in Suzanne Weyn's newest novel. Four sisters and their mother make their way from a spiritualist town in New York to London, becoming acquainted with journalist W. T. Stead, scientist Nikola Tesla, and industrialist John Jacob Astor. When they all find themselves on the Titanic, one of Tesla's inventions dooms them...and one could save them.
-----
Fragile Eternity
by Melissa Marr
(Woohoo! I love the front of the actual book too... it's the first time I've seen an image on the actual book, I think).
Seth never expected he would want to settle down with anyone—but that was before Aislinn. She is everything he'd ever dreamed of, and he wants to be with her forever. Forever takes on new meaning, though, when your girlfriend is an immortal faery queen.
Aislinn never expected to rule the very creatures who'd always terrified her—but that was before Keenan. He stole her mortality to make her a monarch, and now she faces challenges and enticements beyond any she'd ever imagined.

-----


Out of the Blue
by Val Rutt
(I read this on Thursday. It's brilliant!)
One beautiful spring morning, Kitty Danby meets Sammy Ray Bailey, a handsome young American pilot stationed nearby. Sixteen-year-old Kitty and Sammy fall quickly in love and, for a few precious weeks, the future holds a promise of happiness that Kitty hardly dares hope for. But it is 1944 and a tragic incident changes everything, leading to a web of secrets and misunderstandings which will only be understood years later...
-----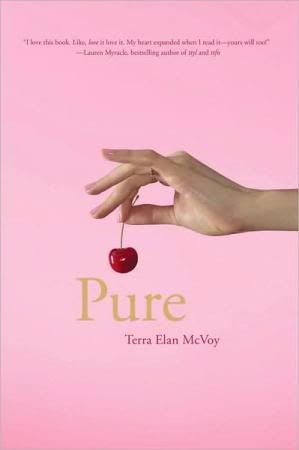 Pure by
Terra Elan McVoy
(Sounds good!)
Tabitha and her four best friends all wear Purity Rings, symbols of the virginity-until-marriage pledge they made as tweens. Now the girls are fifteen, and their rings have come to symbolize not only their purity, but also the friendships and identities they've built based on their shared faith. Simmering tensions rise to the surface and the group is split apart when one of Tab's friends admits that she and her long-term boyfriend have broken the pledge. In the midst of the confrontations, betrayals, confessions, and revenge that follow, each girl is forced to reexamine her friendships, her faith, and what exactly it means to be pure.



-----



Gentlemen
by Michael Northrop
(review
here
).
Micheal, Tommy, Mixer, and Bones aren't just from the wrong side of the tracks--they're from the wrong side of everything. Except for Mr. Haberman, their remedial English teacher, no one at their high school takes them seriously. Haberman calls them "gentlemen," but everyone else ignores them--or, in Bones's case, is dead afraid of them. When one of their group goes missing, the clues all seem to point in one direction: to Mr. Haberman.