In My Mailbox idea from Kristi @ The Story Siren, and all descriptions from Amazon.
I didn't think I'd end up with many books this week, but I got a few for review that I wasn't expecting. I think I got a very random mix!
-----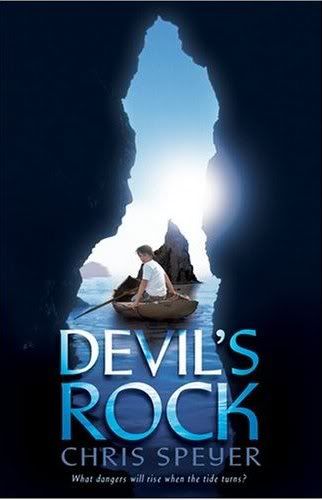 Devil's Rock
by Chris Speyer
(For review. I'd never heard of this before it arrived, but it sounds good. I'm always up for reading new authors!).
When Zaki finds a bracelet and an ancient skeleton, little does he know that he is also stumbling across a mystery that goes back generations - a mystery that involves ruthless shipwreckers, an innocent young woman and a quest for life. Dealing with the break-up of his parents' marriage, as well as trying to help his older brother, Zaki has to use all his ingenuity, thoughtfulness and skill to unravel the mysteries of the past and perhaps even to set long-trapped spirits free.

-----

Ghost Huntress Book 1: The Awakening
by Marley Gibson
(Sounds good, and has a pretty cover!)
Meet Kendall Moorehead, a seemingly typical teen. When her family moves from Chicago to the small historical town of Radisson, Georgia, her psychic abilities awaken. She's hearing, feeling, and seeing things that seem unbelievable at first, but with the help of the town psychic, Kendall is able to come to terms with her newly emerging gift. So, together with her new BFF, Celia, Kendall forms a ghost hunting team. They've got all the latest technology. They've got Kendall for their psychic. Now they're going to clean up Radisson of its less savory spirits. The story is fiction. The science is real. Welcome to a new reality.
-----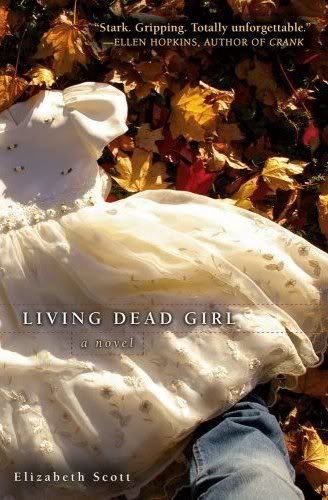 Living Dead Girl
by Elizabeth Scott
(This completes my Elizabeth Scott collection. Finally! I'm looking forward to reading it, though it does sound like it's going to be a difficult subject to read about).
When Alice was ten, Ray took her away from her family, her friends -- her life. She learned to give up all power, to endure all pain. She waited for the nightmare to be over. Now Alice is fifteen and Ray still has her, but he speaks more and more of her death. He does not know it is what she longs for. She does not know he has something more terrifying than death in mind for her. This is Alice's story. It is one you have never heard, and one you will never, ever forget.


-----

Sprout
by Dale Peck
(For review. I was very excited when this one arrived, as it sounds brilliant!).
When Sprout and his father move from Long Island to the midst of rural Kansas after the death of his mother, he is sure he will find no friends, no love, no beauty. But friends find him, the strangeness of the landscape fascinates him, and when love shows up in an unexpected place, Sprout realises that Kansas is not quite as empty as he thought it was going to be. An incredible, literary story of a boy who knows he is gay in a the town that seems to have no place for him to hide
-----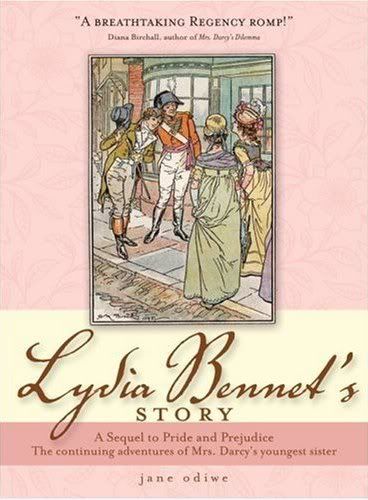 Lydia Bennet's Story
by Jane Odiwe
(For review. This is very different to anything I've ever read, and not strictly YA, though I think it has crossover appeal. Jane asked if I'd review it, so I said yes. She signed it too, which is pretty cool!).
In
Lydia Bennet's Story
, we are taken back to Jane Austen's most beloved novel,
Pride and Prejudice
, to a Regency world seen through Lydia's eyes where pleasure and marriage are the only pursuits. But the road to matrimony is fraught with difficulties and even when she is convinced that she has met the man of her dreams, complications arise. When Lydia is reunited with the Bennets, Bingleys, and Darcys, for a grand ball at Netherfield Park, the shocking truth about her husband may just cause the greatest scandal of all.


-----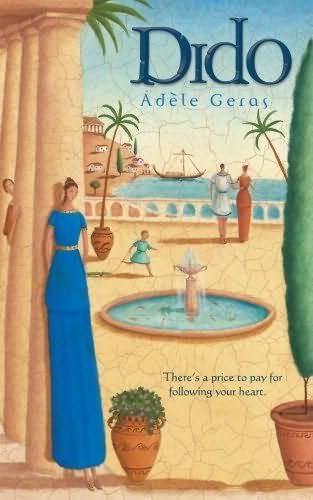 Dido
by Adele Geras
(For review. I featured this as my Waiting on Wednesday post a couple of weeks ago, so I'm excited to read it. It sounds great!).
Aeneas leaned forward a little and kissed her on the mouth. Just one swift, soft touch of his lips on hers and then he turned and walked away.
Love can be deadly. Especially when two young women fall for the same man – one a queen, the other her serving maid. Elissa knows she is playing with fire, but she can't resist. Queen Dido suspects nothing, until one fateful night… Secrets are revealed, hearts are broken and as dawn breaks, a terrible tragedy unfolds.
A passionate tale of love, betrayal and revenge.
-----


Wings
by Aprilynne Pike
(I've already read this (review
here
), but I wanted a finished copy. I bought the US edition because I prefer the cover. And it's a hardback!).
Laurel was mesmerized, staring at the pale things with wide eyes. They were terrifyingly beautiful—too beautiful for words. Laurel turned to the mirror again, her eyes on the hovering petals that floated beside her head. They looked almost like wings. In this extraordinary tale of magic and intrigue, romance and danger, everything you thought you knew about faeries will be changed forever.
-----




I also received a signed
Superstar Babes
poster from Narinder Dhami, and a signed copy of
Out of the Blue
from Val Rutt. She wrote the nicest message inside, and included a bookmark (picture
here
). It's my favourite of all the packages to arrive in my post box this week -- I love this book! (And if you want to win a copy, click
here
!)
Happy reading!