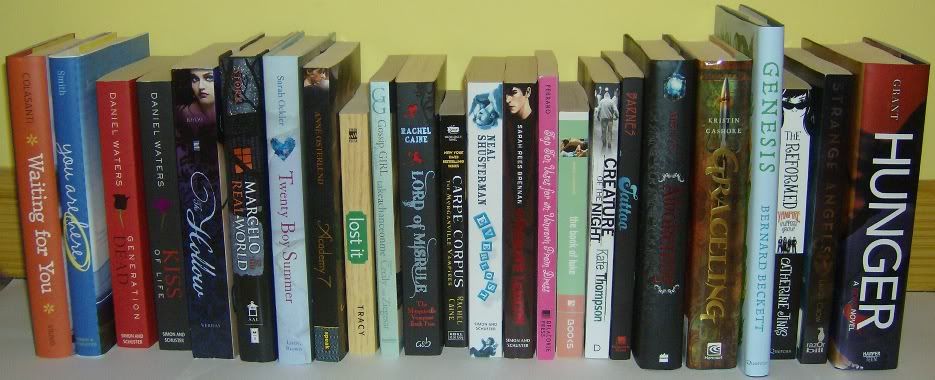 In My Mailbox idea from Kristi @ The Story Siren, and all descriptions from Amazon.
I'll apologise in advance for the length of this post. I ended up with a lot more books than I thought I would: it seems Amazon got my next 3 months worth of pre-orders in stock this week. Also, I received quite a few books for review, which I wasn't expecting!
-----

Lord of Misrule
by Rachel Caine
(I already have the US edition of this, but I bought this new UK version so Rachel could sign it. It's lovely!).
Morganville. Texas. Just south of normal. In the college town of Morganville, vampires and humans coexist in (relatively) bloodless harmony. Then comes Bishop, a master vampire who threatens to abolish all order, revive the forces of the evil dead, and let chaos rule. But Bishop isn't the only threat. Violent black clouds promise a storm of devastating proportions. As student Claire Danvers and her friends prepare to defend Morganville against the elements - both natural and unnatural - the unexpected happens: Morganville's vampires begin to vanish one by one. Discovering why leads Claire to one last choice: swear allegiance to Bishop...or die.

-----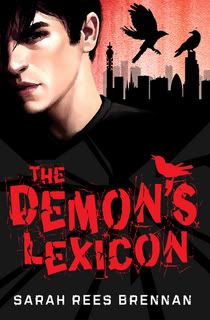 The Demon's Lexicon
by Sarah Rees Brennan
(
For review
. I had to take my last copy of this back to work before I could read it, so I'm glad I got another!)
Nick and his brother Alan are on the run with their mother, who was once the lover of a powerful magician. When she left him, she stole an important charm - and he will stop at nothing to reclaim it. Now Alan has been marked with the sign of death by the magician's demon, and only Nick can save him. But to do so he must face those he has fled from all his life - the magicians - and kill them. So the hunted becomes the hunter...but in saving his brother, Nick discovers something that will unravel his whole past...
-----


Generation Dead
by Dan Waters
(
For review
. I've still not read this!).
All over the tri-state area, something strange is happening. Teenagers who die aren't staying dead. They are coming back to life, but they come back different - they stutter and their reactions to everything are slower. Termed 'living impaired' or 'differently biotic', there are lots of conspiracy theories to explain this new phenomenon. But as their numbers keep on growing, so does the discomfort of the living people in the community. When Phoebe falls for Tommy Williams, her best friend and star of the football team, Adam, has conflicting emotions. And when Tommy decides to try out for the football team, it sets off a chain of events that escalates into deadly violence.

-----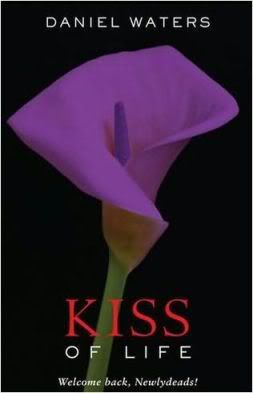 The Kiss of Life
by Dan Waters
(
For review
. I like the cover!)
Sequel to
Generation Dead
. While coaxing Adam back to reality and fending off Tommy's advances, Phoebe continues to carry on as if everything's normal. But normal has been different since American teenagers started rising from their graves. Although some try to bridge the gap between the living and the differently biotic, there are scores of people who want nothing more than to send all of the undead back to their graves. And the dead kids in Phoebe's school don't like that one bit...
-----

Hunger
by Michael Grant
(This is one heck of a giant book!).
It's been three months since everyone under the age of fifteen became trapped in the bubble known as the FAYZ. Three months since all the adults disappeared. Gone.
Food ran out weeks ago. Everyone is starving, but no one wants to figure out a solution. And each day, more and more kids are evolving, developing supernatural abilities that set them apart from the kids without powers. Tension rises and chaos is descending upon the town. It's the normal kids against the mutants. Each kid is out for himself, and even the good ones turn murderous. But a larger problem looms. The Darkness, a sinister creature that has lived buried deep in the hills, begins calling to some of the teens in the FAYZ. Calling to them, guiding them, manipulating them. The Darkness has awakened. And it is hungry.

-----
The Hollow
by Jessica Verday
(US ARC.
For review
, and sounds brilliant!)
When Abbey's best friend, Kristen, vanishes at the bridge near Sleepy Hollow Cemetery, everyone else is all too quick to accept that Kristen is deadâ?¦and rumors fly that her death was no accident. Abbey goes through the motions of mourning her best friend, but privately, she refuses to believe that Kristen is really gone. It only makes things worse that everyone now treats Abbey like either a freak show or a charity case. Thank goodness for Caspian, the gorgeous and mysterious boy who shows up out of nowhere at Kristen's funeral, and keeps reappearing in Abbey's life. Caspian clearly has secrets of his own, but he's the only person who makes Abbey feel normal again...but also special. Just when Abbey starts to feel that she might survive all this, she learns a secret that makes her question everything she thought she knew about her best friend. How could Kristen have kept silent about so much? And could this secret have led to her death? As Abbey struggles to understand Kristen's betrayal, she uncovers a frightening truth that nearly unravels her—one that will challenge her emerging love for Caspian, as well as her own sanity.
-----


Genesis
by Bernard Beckett
(
For review
. This sounds very interesting!).
2041 - First global dust storms, 2050 - First shot in The Last War fired, 2051 - The Great Sea Fence completed; the Republic founded, 2052 - First plague released, and 2077 - The Great War begins. Fourteen-year-old Anax thinks she knows her history. She'd better. She's sat facing three Examiners and her grueling five-hour examination has just begun. If she passes, she'll be admitted into The Academy - the elite institution that runs her utopian society.But Anax is about to discover that for all her learning, the history she's been taught isn't the whole story. And that The Academy isn't what she believes it to be. The reader is about to discover a provocative novel of dazzling ingenuity. Anax's examination leads us into a future where ancient - eternal - philosophical questions have dramatically collided with the march of technology, where just what it means to be human is up for debate, and where the concealed stain of an Original Sin threatens the very existence of her Brave New World.

-----
Everlost
by Neal Shusterman
(
For review
. I'm very excited about this one, as I loved
Unwind
. And how cool is the cover?!)
Nick and Allie don't survive the crash, and now they are in limbo, stuck halfway between life and death, in a netherworld known as Everlost. Everlost is home to those who didn't make it to their final destination: A magical yet dangerous place filled with shadows where lost souls run wild. Shocked and frightened, Nick and Allie aren't ready to rest in peace just yet. They want their lives back. Desperate for a way out, their search takes them deep into the uncharted regions of Everlost. But the longer they stay, the more they forget about their past lives. And with all memory of home fading fast and an unknown evil lurking in the shadows, Nick and Allie may never escape this strange, terrible world. In this imaginative, supernatural thriller, Neal Shusterman explores questions of life, death, and what just might lie in between.
-----



Creature of the Night
by Kate Thompson
(This sounds cool, and I've heard good things about it).
When Bobby's mother moves the family into a rented house in the country, a neighbour tells him that a child was once murdered there. Bobby doesn't care. All he wants is to get back to Dublin and to resume his wild life there, stealing from the crowded shopping streets and racing stolen cars at night. But getting his old life back doesn't turn out to be so easy, and the longer he spends in the old cottage, the more convinced he becomes that something very strange is going on there. Was there really a murder? And if so, was it the one he has been told about?




-----

Carpe Corpus
by Rachel Caine
(Morganville #6! Yeah!)
In the small college town of Morganville, vampires and humans lived in (relative) peace—until all the rules got rewritten when the evil vampire Bishop arrived, looking for the lost book of vampire secrets. He's kept a death grip on the town ever since. Now an underground resistance is brewing, and in order to contain it, Bishop must go to even greater lengths. He vows to obliterate the town and all its inhabitants—the living and the undead. Claire Danvers and her friends are the only ones who stand in his way. But even if they defeat Bishop, will the vampires ever be content to go back to the old rules, after having such a taste of power?
-----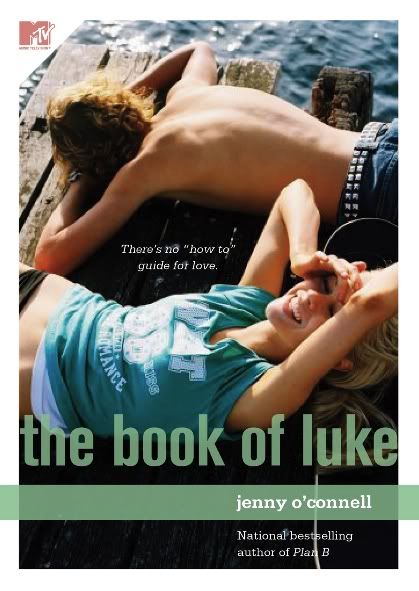 The Book of Luke
by Jenny O'Connell
(This sounds like a fun read!).
Emily Abbott has always been considered the Girl Most Likely to Be Nice -- but lately being nice hasn't done her any good. Her parents have decided to move the family from Chicago back to their hometown of Boston in the middle of Emily's senior year. Only Emily's first real boyfriend, Sean, is in Chicago, and so is her shot at class valedictorian and early admission to the Ivy League. What's a nice girl to do? Then Sean dumps Emily
on moving day
and her father announces he's staying behind in Chicago "to tie up loose ends," and Emily decides that what a nice girl needs to do is to stop being nice. She reconnects with her best friends in Boston, Josie and Lucy, only to discover that they too have been on the receiving end of some glaring Guy Don'ts. So when the girls have to come up with something to put in the senior class time capsule, they know exactly what to do. They'll create a not-so-nice reference guide for future generations of guys -- an instruction book that teaches them the right way to treat girls. But when her friends draft Emily to test out their tips on Luke Preston -- the hottest, most popular guy in school, who just broke up with Josie
by email
-- Emily soon finds that Luke is the trickiest of test subjects . . . and that even a nice girl like Emily has a few things to learn about love.

-----
The Awakening

by Kelley Armstrong
(Hmm, now I need to read the first one...)
If you had met me a few weeks ago, you probably would have described me as an average teenage girl—someone normal. Now my life has changed forever and I'm as far away from normal as it gets. A living science experiment—not only can I see ghosts, but I was genetically altered by a sinister organization called the Edison Group. What does that mean? For starters, I'm a teenage necromancer whose powers are out of control; I raise the dead without even trying. Trust me, that is not a power you want to have. Ever. Now I'm running for my life with three of my supernatural friends—a charming sorcerer, a cynical werewolf, and a disgruntled witch—and we have to find someone who can help us before the Edison Group finds us first. Or die trying.
-----

Academy 7
by Anne Osterlund
(Again, I've heard very good things about this book!)
With a past too terrible to speak of, and a bleak, lonely future ahead of her, Aerin Renning is shocked to find she has earned a place at the most exclusive school in the universe. Aerin excels at Academy 7 in all but debate, where Dane Madousin—son of one of the most powerful men in the Alliance— consistently outtalks her. Fortunately Aerin consistently outwits him at sparring. They are at the top of their class until Dane jeopardizes everything and Aerin is unintentionally dragged down with him. When the pair is given a joint punishment, an unexpected friendship—and romance—begins to form. But Dane and Aerin both harbor dangerous secrets, and the two are linked in ways neither of them could ever have imagined...

-----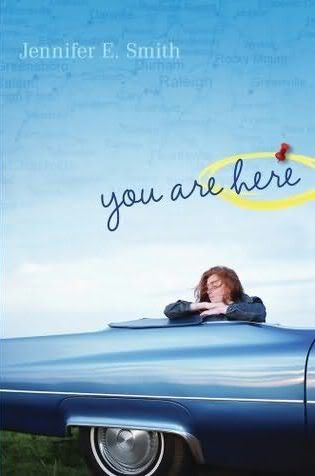 You Are Here
by Jennifer E. Smith
(Road trips are always good!)
Emma Healy has never fit in with the rest of her family. She's grown used to being the only ordinary one among her rather extraordinary parents and siblings. But when she finds a birth certificate for a twin brother she never knew she had, along with a death certificate dated just two days later, she feels like a part of her has been justified in never feeling quite whole. Suddenly it seems important to visit his grave, to set off in search of her missing half. When her next-door neighbor Peter Finnegan -- who has a quiet affinity for maps and a desperate wish to escape their small town -- ends up coming along for the ride, Emma thinks they can't possibly have anything in common. But as they head from upstate New York toward North Carolina, driving a beat-up and technically stolen car and picking up a stray dog along the way, they find themselves learning more and more about each other. Neither is exactly sure what they're looking for, but with each passing mile, each new day of this journey, they seem to be getting much closer to finding it.
-----


Waiting For You
by Susane Colasanti
(For fans of Sarah Dessen and Elizabeth Scott, apparantly. I couldn't think of a better recommendation!)
At the beginning of her sophomore year, Marisa is ready for a fresh start and, more importantly, a boyfriend. So when the handsome and popular Derek asks her out, Marisa thinks her long wait for happiness is over. But several bumps in the road—including her parents' unexpected separation, a fight with her best friend, and a shocking disappointment in her relationship with Derek—test Marisa's ability to maintain her new outlook. Only the anonymous DJ, whose underground podcasts have the school's ear, seems to understand what Marisa is going through. But she has no idea who he is—or does she?

-----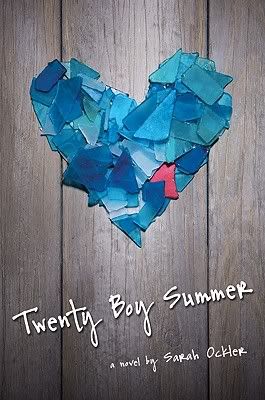 Twenty Boy Summer
by Sarah Ockler
(I'm excited that this one arrived!)
According to her best friend Frankie, twenty days in
Zanzibar
Bay
is the perfect opportunity to have a summer fling, and if they meet one boy ever day, there's a pretty good chance Anna will find her first summer romance. Anna lightheartedly agrees to the game, but there's something she hasn't told Frankie---she's already had that kind of romance, and it was with Frankie's older brother, Matt, just before his tragic death one year ago.
-----

Top Ten Uses for an Unworn Prom Dress
by Tina Ferraro
[signed]
(I won this in a contest over at
T.V & Book Addict
. Thanks to T.V and Tina!)
Sophomore year, Nicolette Antonovich was dumped two days before prom by the hottest guy at school. As a result, she became the proud owner of one unworn, perfectly magical pink vintage dress. But Nic is determined to put that night behind her for good. She's a junior now— older, wiser, and completely overwhelmed by a new set of problems: (1) The bank's ready to foreclose on her childhood home. (2) Her father's too busy with his "replacement" daughter to care. (3) Her best friend's brother is an eternal thorn in her side. (4) Her best friend isn't exactly the rose attached to that thorn. (5) Rumors are flying around school that could get her kicked off the volleyball team, which would (6) ruin all chances of a college scholarship. (7) She still likes the boy who dumped her in the first place. (8) And what in the world do you do with an unworn prom dress, anyway? Strangely, it's getting to the bottom of this last dilemma that just might hold the answer to all Nic's problems.

-----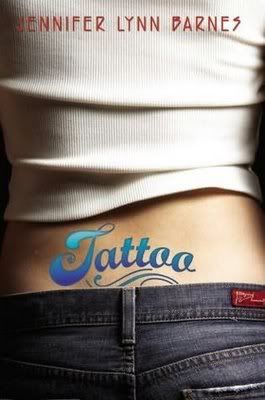 Tattoo

by Jennifer Lynn Barnes
(
Adele
gave this one a good review, which is why I bought it).
Bailey Morgan isn't the type of girl who shows a lot of skin, but somehow, she ends up in a dressing room at the mall with her friend Delia applying a temporary tattoo to her lower back. Never one to suffer fashion doubt, trendsetter Delia knows exactly where she wants her own tattoo: on her stomach, right where her shirt ends—can you say "midriff"? Annabelle, the quiet one, chooses the back of her neck, and tomboy Zo plasters hers on the top of her foot. The tattoos will last for three days, and Delia's sure that with them, the four friends will absolutely kill at the school dance.
Unfortunately, killing is just what someone has in mind, and Bailey, Delia, Annabelle, and Zo are in for the battle of their lives. Along with her tattoo, each girl receives a gift—a supernatural power to help them in their fight. As Bailey's increasingly frightening dreams reveal the nature of their enemy, it becomes clear to the girls that it's up to them to save the world. And if they can get Delia to stop using her newfound power to turn gum wrappers into Prada pumps, they might actually stand a chance.
-----

Gossip Girl The Carlyles: Take a Chance on Me
by Cecily Von Ziegesar
(I just love GG!).
The third book in the deliciously scandalous GOSSIP GIRL THE CARLYLES series. Owen, Avery and Baby Carlyle are really finding their feet on the Upper East Side. Owen's secret is out and he and Kelsey can live happily ever after. Can't they? Avery is set to take her place as Queen Bee now she has an internship at
Metropolitan
magazine. If she could just sort out her love life... And Baby has finally realised that J.P. is just too, well, 'perfect' for her - she wants someone a bit more interesting and surprising. Maybe she needs to look a little further a field... Gossip Girl will keep you informed of all the juicy details - even the ones they don't want you to know!

-----


Strange Angels
by Lili St. Crow
(
For review
. It looks amazing!)
Dru Anderson has what her grandmother called "the touch." (Comes in handy when you're traveling from town to town with your dad, hunting ghosts, suckers, wulfen, and the occasional zombie.) Then her dad turns up dead—but still walking—and Dru knows she's next. Even worse, she's got two guys hungry for her affections, and they're not about to let the fiercely independent Dru go it alone. Will Dru discover just how special she really is before coming face-to-fang with whatever—or
whoever
— is hunting her?
-----

The Reformed Vampire Support Group
by Catherine Jinks
(
For review
. Another vampire book! Woohoo!)
The trouble with being a vampire is... You can't get a decent haircut. You live on guinea-pig blood. And even worse, most of the world's population wants to kill you for no good reason. Nina Harrison became a vampire in 1973, when she was fifteen. Since then, life's been one big drag - mostly because she spends all her time with a bunch of vampires, in a vampire therapy group. Then one of them gets staked by an anonymous vampire slayer, and things become even worse: while tracking down the culprit, Nina and her fellow vampires end up in the middle of an illegal werewolf-fighting racket, and find themselves the target of some genuine villains who'll stop at nothing to get their werewolf back.

-----
Marcelo in the Real World
by Francisco X. Stork
(Does this not sound pretty amazing?)
Marcelo Sandoval hears music no one else can hear--part of the autism-like impairment no doctor has been able to identify--and he's always attended a special school where his differences have been protected. But the summer after his junior year, his father demands that Marcelo work in his law firm's mailroom in order to experience "the real world." There Marcelo meets Jasmine, his beautiful and surprising coworker, and Wendell, the son of another partner in the firm. He learns about competition and jealousy, anger and desire. But it's a picture he finds in a file -- a picture of a girl with half a face -- that truly connects him with the real world: its suffering, its injustice, and what he can do to fight.
-----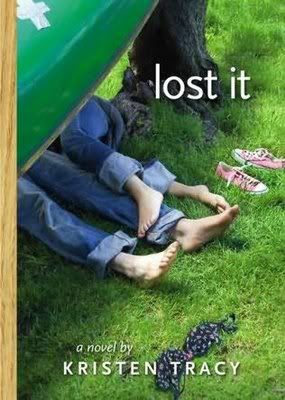 Lost It by Kristen Tracy
(More light YA. Nice sized book, too).
What would you do if your best friend were plotting the annihilation of a small, furry neighborhood poodle? Or if your parents up and moved to an Outward Bound-type survival camp in the middle of the desert? How about if your grandmother bought you new bras and underwear -- and you actually thought they were a teensy bit, umm, sexy? Most people would not react well. Tess Whistle's junior year of high school is off to a fairly bizarre start. One might even say her life is spiraling out of control. But with her sense of humor firmly intact and her first real boyfriend on her arm, Tess is dealing with the ridiculous twists quite well, thankyouverymuch. Just wait until her shoes explode.



-----

Graceling
by Kristin Cashore
(I bought the US edition, 'cause I'm buying the US version of
Fire
when it comes out - I love the cover, and my books have to match!)
Katsa has been able to kill a man with her bare hands since she was eight--she's a Graceling, one of the rare people in her land born with an extreme skill. As niece of the king, she should be able to live a life of privilege, but Graced as she is with killing, she is forced to work as the king's thug. When she first meets Prince Po, Graced with combat skills, Katsa has no hint of how her life is about to change. She never expects to become Po's friend. She never expects to learn a new truth about her own Grace--or about a terrible secret that lies hidden far away . . . a secret that could destroy all seven kingdoms with words alone.