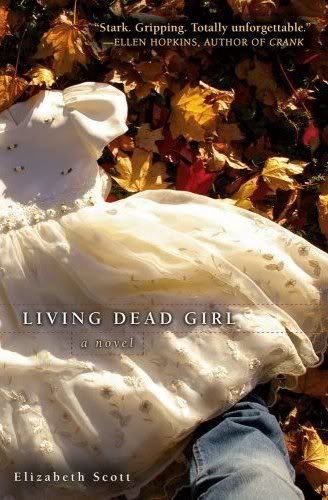 From Amazon:
When Alice was ten, Ray took her away from her family, her friends -- her life. She learned to give up all power, to endure all pain. She waited for the nightmare to be over. Now Alice is fifteen and Ray still has her, but he speaks more and more of her death. He does not know it is what she longs for. She does not know he has something more terrifying than death in mind for her. This is Alice's story. It is one you have never heard, and one you will never, ever forget.
I was already a fan of Elizabeth Scott before I read
Living Dead Girl
, but now I have even more respect for her. The fact that she can go from a light, fun romance story to this is nothing short of amazing.
There's no easy way to read this book: it's scary, and is sometimes hard to get through. Your imagination runs away with you, and you find yourself thanking God you aren't in Alice's situation. At least I did, anyway.
Scott's story is bleak and harrowing, and there isn't a glimmer of hope in sight. Alice is in a dead-end life, one that I'm not sure could be called an existence, and by the time I was half way through the book, even I was hoping that her death wasn't far away.
It's a compelling and disturbing read, and won't appeal to every YA reader out there. I don't usually like age guidance on books, but in this instance, I agree with the 16+ warning. I think it was needed, and if this was ever published here in the UK, I have no doubt it'd be amongst the adult fiction. That's not to say I wouldn't recommend it, I just don't think it's for everyone. If you're a fan of Laurie Halse Anderson, I'd suggest checking it out, as it's beautifully written and similar in style.
I never understood the meaning behind the cover and title before, but I do now. If ever a story was an epitome of hell, this would undoubtedly be it.