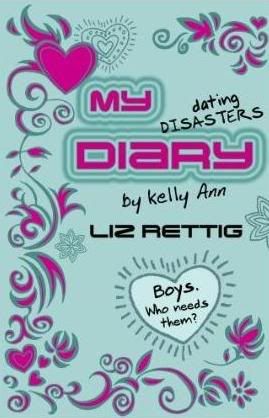 From Amazon:
Kelly Ann is a total tomboy. She loves football and computer games and has no idea why anyone would want to bother with soppy romantic stuff and stupid crushes on boys. Her best mate is Chris, the boy next door, and he's not into that stuff either, is he? Follow Kelly Ann's ventures into the crazy world of love through her stonkingly funny diaries.
This series is hilarious! It's funny, clever and is guaranteed to brighten even the worst of days. The embarrassing situations that main character Kelly Ann gets herself into are just plain ridiculous (meeting Prince Charles with toothpaste all over her face, for instance), and are so cringeworthy you can't help but be grateful it never happened to you.
My Dating Disasters Diary
is a prequel of sorts, and takes place a year before the first book,
My Desperate Love Diary
. We find out more about the characters and their friendships, and discover just how mad Kelly Ann really is.
Filled with snogging, boys and the general problems that accompany growing up,
My Dating Disaster's Diary
is a must-read for fans of Louise Rennison and diary style teen stories. I really hope Liz Rettig will write another book in this series, as I'm already itching for more!
Oh, and if there's one thing this book has taught me, it's to never wash your hair in vinegar. Ever. Unless you want to smell like a chip shop.