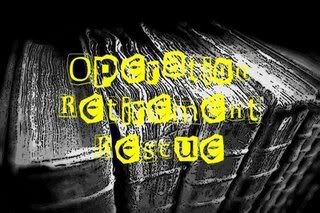 Adele at Persnickety Snark had a great
idea
called Operation Retirement Rescue.
Before May begins I would like you to post reviews for 1-2 YA titles that -
1) were published more than five years ago,
2) hold fond memories, and
3) post the icon somewhere in your review.
From Amazon:
Katherine and Michael meet at a New Year's Eve party. They're attracted to each other, they grow to love each other. And once they've decided their love is forever, they make love. It's the beginning of an intense and exclusive relationship, with a future all planned. Until Katherine's parents insist that she and Michael put their love to the test with a summer apart...

Forever
was one of the first YA novels that I read, and I like to think it inspired me to read more.
It's raw and realistic, and even though it was written in 1975, it still speaks to every teenager that reads it. It explores many themes and issues, including first love, sex and the consequences that accompany it.
When I first read it, I remember being completely enthralled with Katherine and Michael, and their intense feelings for each other. If I re-read it today, I have no doubt it would still have the same effect on me.
It's an eye-opener for teenage girls, and shows us that relationships aren't always meant to work. And if they don't, it's okay. Just like sex is okay, and not something to be censored or feared. If you haven't read this book, I would highly recommend it. It really is a YA classic.