Sarah Rees Brennan is the debut author of the brilliant
The Demon's Lexicon
. I was so excited about the book that I had to ask her some questions, and luckily, she had enough time to answer them! Thanks, Sarah!
----------
What was your road to publication like?
It was totally easy and problem free. All I had to do was write book after book for twenty years, gathering experience and maybe a few actual skills, hurling things at the wall and giving up, picking them all back up again... simple!
I will say that the impulse to query Kristin Nelson, my agent, at the dead of night - best decision ever. The road to publication's been so much smoother since she took the helm.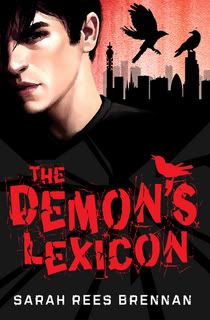 Why did you choose to write for a YA audience?
I never really made a choice: unless 'going for the most awesome thing' is a choice. I was introduced to fantasy via YA - Margaret Mahy's
The Changeover
, to be specific - and so it's always been my first and best love.
Where did you get the unusual idea to have magicians making deals with demons?
I wish it was my idea: I got it from German myths and legends. I read one old German book,
Hexenhammer
, which was a serious text warning everyone about witches and the dreadful things they got up to with demons to get power!
The Goblin Market sounds like such a cool place. Is it based on any real locations?
Well, it's set near in the woods near Tiverton, which is a tiny and very real town in Devon, England, which I've visited. It's a lovely town, pretty much just village-sized, and nearby is a mound of earth that used to be Cranmore Castle, and forests and hills. Definitely a little otherworldly. The Market itself moves around, and so though we see it in Tiverton it'll be in other locations in later books. The air of the market is a little bit inspired by bazaars I've seen in Spain and South America.
Now for the hard question... Alan or Nick?
Depends... for life, or just for one magical night? ;)
Do you prefer the US or UK

Demon's Lexicon

cover, and will we be seeing Alan on the next book?
I like them the same in different ways: I love how noir the UK one looks, and how eyecatching the US one is, and of course the secret sword cover underneath. I don't think we will be seeing Alan on the next book: I think probably it'll be Mae, as she narrates it, but you never know!
Have you completely finished book 2 in the series,

The Demon's Covenant

, or are there still revisions to work on?
I am still editing it, I'm afraid! *looks guiltily over at her pile of papers*
More importantly, how long will we have to wait until we can get our mitts on

The Demon's Covenant

?
It comes out June 2010. But there will be a short story about Nick and Alan up on www.sarahreesbrennan.com as a Christmas present to my readers!
If a magician threatened to destroy your bookshelf, and you could only save 3 books, which would they be?
Sarah Waters's
The Little Stranger
, as it's long and I haven't finished it yet,
The Complete
Works of Jane Austen
(it's in one volume, it totally counts) and... hmmm... let me see,
City of Ashes
by Cassandra Clare, as I have to have at least one YA in there and it had to be a long one that I love!
Whatever possessed you to live on a diet of ketchup?
(lol!)
I just really liked ketchup when I was a kid! I'll make a confession... to this day, I still enjoy toasted marshmallows and ketchup. (Don't look at me like that...)
Are there any upcoming YA books you're looking forward to?
Oh yes: Holly Black's
The White Cat
, Heidi R Kling's
Sea
, Malinda Lo's
Ash
and Cassandra Clare's
The Clockwork Angel
.
----------
Related links
:
Sarah's site:
Sarah Rees Brennan.com

UK publisher's site:
Simon & Schuster

My review:
The Demon's Lexicon

by Sarah Rees Brennan