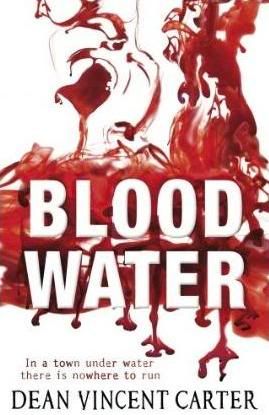 From Amazon:
They're all dead now. I am the last one. Dr Morrow can't identify the 'thing' he found living in the lake but he knows it's dangerous ...then it goes missing ...Caught in the flood that is devastating the town, brothers Sean and James stumble across Morrow and the carnage left at his lab. The missing specimen is some kind of deadly parasite that moves from person to person, destroying its hosts in disgusting, gory ways. The death toll will rise along with the waters unless the brothers can track down the homicidal specimen and find a way to destroy it.
I haven't seen many teen horror books around recently, so I was pretty excited about reading this one. It's fast-paced and exciting, and would make a great low-budget horror film.
The main characters, Sean and James, are easy to relate to, and are both intelligent and practical. Unlike some YA characters, they act their age, and make stupid, rash decisions just like any teenager would.
My favourite part of
Blood Water
is the inclusion of the parasite. Like every other lifeform, it's just trying to survive, and infecting other living things is the only way it can do that. It's an intelligent creature, which I wasn't expecting; I thought it'd just be a run-of-the-mill parasite, like something last seen in
Slither
. I'm glad it had more of a personality, as this humanised it, and made me sympathise with its situation.
This book has some brilliant gory scenes, and doesn't shy away from describing melting insides and missing entrails. It's probably not the ideal read if you're squeamish, but if you like your book with a bit of blood and guts, then
Blood Water
has just that. Dean Vincent Carter has managed to successfully resurrect the teen horror genre, and I hope he writes more in the future. I'll definitely be looking out for more books from him!