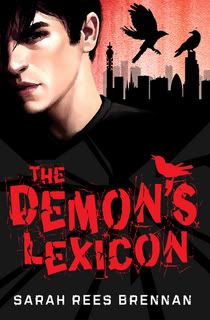 From Amazon:
Nick and his brother Alan are on the run with their mother, who was once the lover of a powerful magician. When she left him, she stole an important charm - and he will stop at nothing to reclaim it. Now Alan has been marked with the sign of death by the magician's demon, and only Nick can save him. But to do so he must face those he has fled from all his life - the magicians - and kill them. So the hunted becomes the hunter... but in saving his brother, Nick discovers something that will unravel his whole past...
The Demon's Lexicon
starts off quite slowly, but once you're into it, you're hooked! Scene setting and character development takes up quite a lot of the first half of the book, with brothers Nick and Alan being introduced, along with unlikely allies Mae and Jamie. Each character is brilliantly written, and I spent most of the book trying to decide which brother I wanted (no, really). I finally decided on Nick because, well, he's got that whole bad boy thing going on. Who doesn't love a Jace-like, sword-wielding demon hunter? Not me, that's for sure.
Alan, Nick's equally cool demon hunting brother, is the more sensitive of the two, and constantly tries to protect and look after Nick. This made for a really interesting character dynamic, and it was great to read about two teenage brothers who would do anything for each other. Mae and Jamie were also intriguing characters, and I'm very glad that they'll be making an appearance in the sequel.
One of my favourite parts of
The Demon's Lexicon
was the dialogue. It reminded me of something you'd see in a Joss Whedon script, and was fast, quippy and clever. I LOVED the dialogue, and wanted more of it. I also really enjoyed the inclusion of magicians and magic, the Goblin Market (think Diagon Alley for demon hunters) and magicians making deals with demons. Nothing throughout the book prepared me for the amazing twist near the end of the book, though. To say my jaw was on the floor would be an understatement!
Although
The Demon's Lexicon
starts off at a slower pace than a lot of YA books, it all fits into place at the end, and builds to an action packed shocker of a conclusion. Sarah Rees Brennan is a debut author to watch, and I can't wait for the sequel. If you're a fan of fantasy and the supernatural, definitely put this book on your list. It's a must-read!