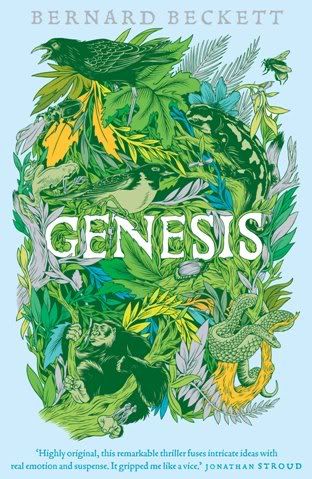 From Amazon:
2041 - First global dust storms, 2050 - First shot in The Last War fired, 2051 - The Great Sea Fence completed; the Republic founded, 2052 - First plague released, and 2077 - The Great War begins. Fourteen-year-old Anax thinks she knows her history. She'd better. She's sat facing three Examiners and her grueling four-hour examination has just begun. If she passes, she'll be admitted into The Academy - the elite institution that runs her utopian society.But Anax is about to discover that for all her learning, the history she's been taught isn't the whole story. And that The Academy isn't what she believes it to be.
I will never understand how an author can have such an amazing imagination and ideas. Bernard Beckett has both, and
Genesis
has succeeded in completely blowing my mind.
It's a book you need to read to fully understand, as I don't think any review can explain what awaits you on the pages. It covers every aspect of humanity, in particular war, power, and evolution, and raises so many questions that I think a second read is in order.
If you've ever wondered how one event can change history, or how the world would be if artificial intelligence was created, then this is the book for you. It's dystopia at its most terrifying, and will leave you thinking about it for hours after putting it down. The final few pages are so surprising, and the actions so unimaginable, that it took me a few minutes to get my head around them. It's a book that requires more concentration than usual, and is one that will spark many discussions at adult and teen book clubs alike.
Prior to reading this book, evolution and humanity were never things I'd given much thought to. I'm now sat here wondering what the world will be like in 2077, and just hoping it will be nothing like what Adam Forde experiences within the walls of the Republic.
Genesis
defines the words thought-provoking, and is a book I will definitely be reading again. I loved it!