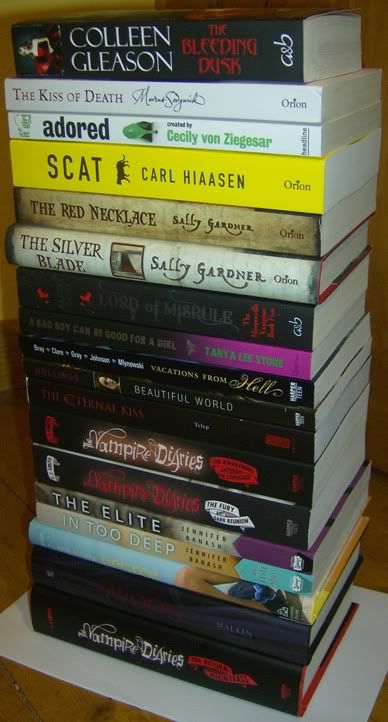 In My Mailbox idea from Kristi @ The Story Siren, and all descriptions from Amazon.
Once again, Amazon lied. I should know by now that 'in stock within 2-3 weeks' actually means 'in 2 days'. lol. Oh well, I'm not complaining! (honestly!) I think it's safe to say I had a bit of a vampire week this week... my favourite kind!
-----

Lord of Misrule
by Rachel Caine
(I already have a signed copy of this, but Allison & Busby sent me another one!).
Morganville. Texas. Just south of normal. In the college town of Morganville, vampires and humans coexist in (relatively) bloodless harmony. Then comes Bishop, a master vampire who threatens to abolish all order, revive the forces of the evil dead, and let chaos rule. But Bishop isn't the only threat. Violent black clouds promise a storm of devastating proportions. As student Claire Danvers and her friends prepare to defend Morganville against the elements - both natural and unnatural - the unexpected happens: Morganville's vampires begin to vanish one by one. Discovering why leads Claire to one last choice: swear allegiance to Bishop...or die.

-----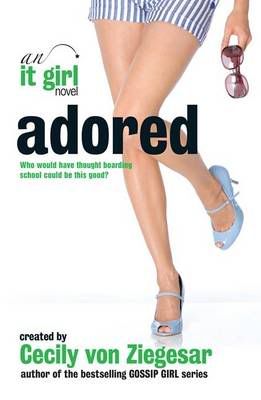 The It Girl: Adored
by Cecily von Ziegesar
(Can't wait to read this!)
The eighth book in the addictive
IT GIRL
series
Jenny Humphrey's time at Waverly Academy has had its ups and downs - from making enemies of the most popular girl at school to stealing her room mate's boyfriend. But now everything has changed - Jenny, Tinsley, Callie and Brett have put their differences behind them to jointly rule over Waverly Academy - but how long can peace last?
-----

Beautiful World
by Anastasia Hollings
(This sounds pretty good.. kind of like
Gossip Girl
).
Seventeen-year-old Amelia Warner is always on the outside. Moving from boarding school to boarding school with her brother and their father, the untenured professor, doesn't help. Amelia lives inches from the sons and daughters of the elite, forever looking in on the beautiful people. A natural-born charmer who doesn't lie so much as rework the truth to her advantage, Amelia is well-versed in the art of faking a high-society identity to get limited access to the luxe life, but she's never figured out how to truly belong. Then she meets Courtney Moore, the Upper East Side heiress who needs a friend as badly as Amelia wants to be that friend, and suddenly a world of opportunity opens up for her. Parties, shopping, her own wing in the Moore mansion—it's all hers for the taking, as long as she can keep her real life a secret, especially from the new acquaintance who's been asking way too many questions. Can Amelia stay one step ahead of the doubters to secure her place in the beautiful world?

-----
The Bleeding Dusk
by Colleen Gleason
(Allison & Busby sent me this one as well. It's the third book in an adult series).
To gain access to the secrets of a legendary alchemist, Rome's vampires have allied themselves with creatures as evil and bloodthirsty as they are. The new leader of the city's vampire hunters-Lady Victoria Gardella Grantworth de Lacy-reluctantly turns to the enigmatic Sebastian Vioget for help, just as Maximilian Pesaro arrives to aid his fellow slayers, no matter what the sacrifice. Desire puts her at the mercy of Sebastian, while loyalty binds her to Max, but she does not know if she can trust either. Especially when a seductive vampire begins luring her into the shadows...
-----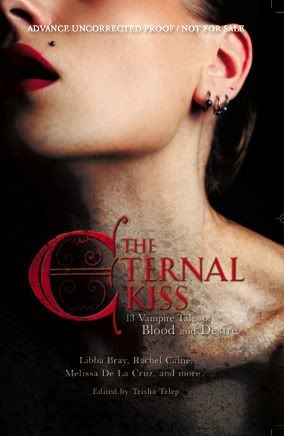 The Eternal Kiss
by Various Authors
(ARC.
For review
. Some amazing authors have contributed, and they're all vampire stories. YES!).
There's an allure to vampire tales that have seduced readers for generations. From Bram Stoker to Stephanie Meyer and beyond, vampire stories are here to stay. For those fresh-blooded fans of paranormal romance or for those whose hunt and hunger never dies, these stories have what readers want!
Featuring stories by: Holly Black, Libba Bray, Melissa De La Cruz, Cassandra Clare, Rachel Caine, Nancy Holder & Debbie Viguie, Cecil Castellucci, Kelley Armstrong, Maria V. Snyder, Sarah Rees Brennan, Lili St. Crow, Karen Mahoney and Dina James.

-----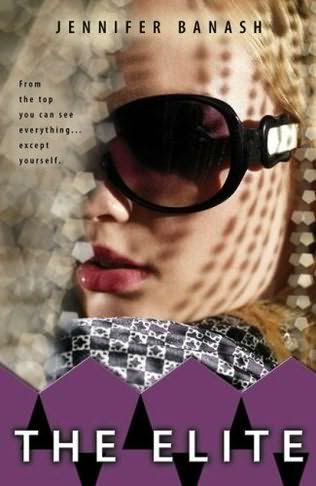 The Elite
by Jennifer Banash
(I've been meaning to buy this for ages, and I finally did!)
When Casey McCloy steps into the elegant Bramford building, she's overwhelmed. Fresh from the Midwest, she's moved to New York's Upper East Side to live with her grandmother and attend the prestigious Meadowlark Academy. Here all that matters is who you know. The girl to know is Madison Macallister: popular, pretty, platinumblond. She's not just Casey's new classmate and neighbor; she's an icon. So Casey aims to get in with Madison and her gorgeous gal-pals from the start. As the reigning queen of coolness, Madison is capable of destroying reputations with one welltimed whisper. Better to be on her good side. But after a city-
haute
makeover from her new frenemy Madison, Casey is wearing the right clothes, saying the right things, and meeting the right people—including Drew, the boy-about-town who Madison thinks belongs to her and her alone.
-----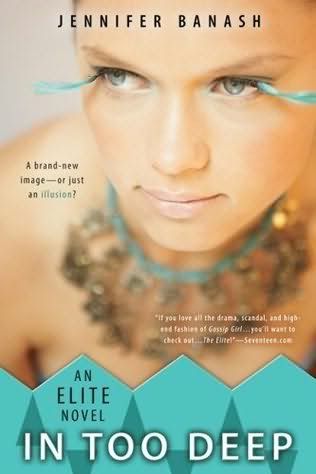 In Too Deep
by Jennifer Banash
(Sequel to
The Elite
, see above).
The Bramford building's newest resident and small-town transplant Casey McCloy is adapting to life in the Big Apple and loving it. She's got the look, the attitude, and a delish new boyfriend, Drew Van Allen. But she's starting to have second thoughts as to whether the "New York" Casey is the real Casey. And she's not so sure she likes herself much anymore. She's not the only one. Madison Macallister has always had her Manolo Blahniks firmly planted on the top rung of the social ladder—until that corn-fed cow Casey stole Drew away from her and made her look the fool. So what if Madison wasn't exactly dating Drew at the time? She wanted him. And everyone knows that Madison gets what she wants, like Drew—and a little revenge.

-----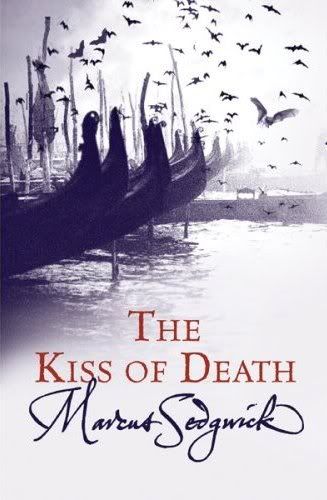 The Kiss of Death
by Marcus Sedgwick
(
For review
. More vampires! :D)
Marko and Sorrel meet in Venice for the first time. They must uncover the mystery of what has happened both to Sorrel's father, plagued by a strange madness that prevents him from sleeping, and to Marko's father, a doctor, who has mysteriously gone missing after travelling to Venice to help his old friend. Years on from My Swordhand is Singing and Peter is still on the trail of the Shadow Queen. His search leads him to Venice, a city whose beauty disguises many ugly secrets. The Shadow Queen is there, gathering strength, recruiting a new army of the Undead for a final confrontation. This fabled city with its lapping waterways, its crumbling magnificence, dark, twisting alleyways and surprising piazzas is the perfect setting for Marcus's captivating gothic novel of love and loss in C18th Venice.
-----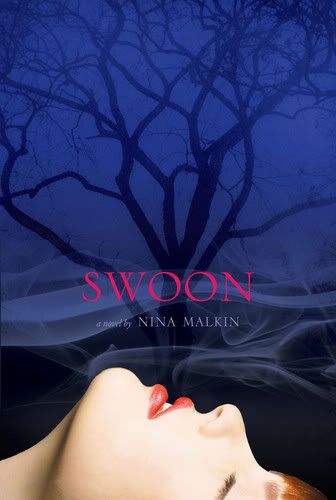 Swoon
by Nina Malkin
(I'm looking forward to reading this one!)
Torn from her native New York City and dumped in the land of cookie-cutter preps, Candice is resigned to accept her posh, dull fate. Nothing ever happens in Swoon, Connecticut...until Dice's perfect, privileged cousin Penelope nearly dies in a fall from an old tree and her spirit intertwines with that of a ghost. His name? Sinclair Youngblood Powers. His mission? Revenge. And while Pen is oblivious to the possession, Dice is all too aware of Sin. She's intensely drawn to him -- but not at all crazy about the havoc he's wreaking. Determined to exorcise the demon, Dice accidentally sets Sin loose, gives him flesh, makes him formidable. Now she must destroy an even more potent -- and irresistible -- adversary before the whole town succumbs to Sin's will. Only trouble is, she's in love with him. What do you do when the boy of your dreams is too bad to be true?

-----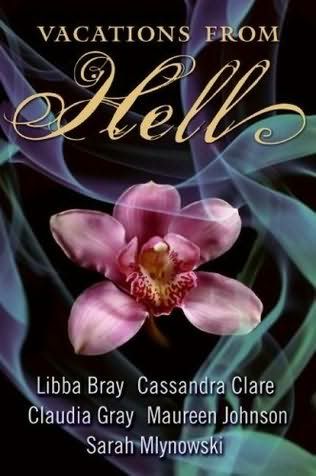 Vacations From Hell
by Various Authors
(I love these anthologies!)
Life's a beach . . . and then you're undead?
in this must-have collection, five of today's hottest writers—Libba Bray (A Great and Terrible Beauty), Cassandra Clare (City of Bones), Claudia Gray (Evernight), Maureen Johnson (13 Little Blue Envelopes), and Sarah Mlynowski (Bras & Broomsticks)—tell supernatural tales of vacations gone awry. Lost luggage is only mildly unpleasant compared to bunking with a witch who holds a grudge. And a sunburn might be embarrassing and painful, but it doesn't last as long as a curse. Of course, even in the most hellish of situations, love can thrive... From light and funny to dark and creepy, these stories have something for everyone. You definitely won't want to leave this collection at home!
-----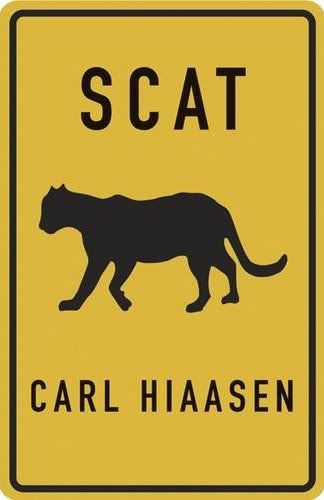 Scat
by Carl Hiaasen
(UK proof/ARC.
For review
. This sounds interesting!)
When Mrs Starch, the most feared biology teacher in Florida, goes missing during a school trip to the Black Vine Swamp, her class is secretly relieved. The school principal tries to cover it up as a 'family emergency', but Nick and Marta just aren't convinced. They think it's much more likely to have something to do with Smoke, the local troublemaker - whose run-ins with Mrs Starch are infamous - and decide to do some investigating of their own. But there's more going on in Black Vine Swamp than either one of them could guess. And Nick and Marta must see off an eccentric eco-avenger, a stuffed rat named Chelsea, a crooked oil prospector, a singing substitute teacher, and an angry Florida panther before they really begin to see the big picture.

-----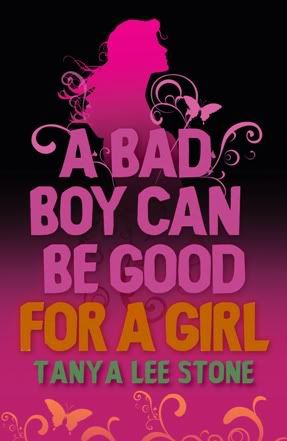 A Bad Boy Can be Good For a Girl
by Tanya Lee Stone
(I read this the other day and loved it!)
Josie, Nicolette and Aviva are three very different girls who all meet the same bad boy with an irresistible knack for getting into their blood and under their skin. Each is sure that she can keep a cool head about him, but how much are they really in control? A critical and word-of-mouth success in the US, this is a compulsive read that opens up the questions about love and sex that every girl needs to know.
-----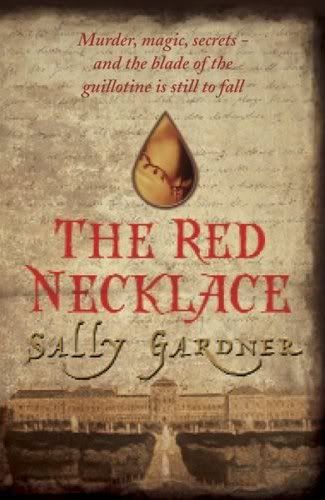 The Red Necklace
by Sally Gardner
(
For review
. I have been thinking of buying this for ages, and then it arrived in my post box. It looks great!)
The story of a remarkable boy called Yann Margoza; Tetu the dwarf, his friend and mentor; Sido, unloved daughter of a foolish Marquis; and Count Kalliovski, Grand Master of a secret society, who has half the aristocracy in thrall to him, and wants Yann dead. Yann is spirited away to London but three years later, when Paris is gripped by the bloody horrors of the Revolution, he returns, charged with two missions: to find out Kalliovski's darkest deeds and to save Sido from the guillotine. With a tangle of secrets, a thread of magic and a touch of humour, the follies of the aristocracy and the sufferings of ordinary people are unfolded as their lives move relentlessly towards the tragic and horrific days of the Terror.

-----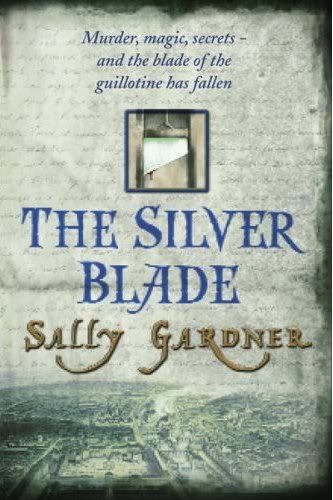 The Silver Blade
by Sally Gardner
(
For review
. Sequel to
The Red Necklace
).
*POSSIBLE
Red Necklace
SPOILERS*
With Sido safely in England and the Terror at it's height, Yann returns to France to smuggle out aristocratic refugees who will otherwise face the guillotine. But when Sido is kidnapped, he must use all his strength and courage to outwit the evil Count Kalliovski, and rescue her for a second time. Set against a vivid historical background, prize winning author Sally Gardner brings to life the horrors of the French Revolution in this breath-taking adventure, complete with intrepid heroism and a touching love story.
-----


The Vampire Diaries: The Awakening & The Struggle
by L. J. Smith
(I can't wait to read this series! I've been meaning to for about 8 years).
Elena: the golden girl, the leader, the one who can have any boy she wants.
Stefan: brooding and mysterious, he seems to be the only one who can resist Elena, even as he struggles to protect her from the horrors that haunt his past.
Damon: sexy, dangerous, and driven by an urge for revenge against Stefan, the brother who betrayed him. Determined to have Elena, he'd kill to possess her.
Collected here in one volume for the first time, volumes one and two of The Vampire Diaries, the tale of two vampire brothers and the beautiful girl torn between them.
-----

The Vampire Diaries: The Fury & Dark Reunion
by L. J. Smith
(Vampires... need I say more?)
*Books 1 & 2 SPOILERS*
Elena: transformed, the golden girl has become what she once feared and desired.
Stefan: tormented by losing Elena, he's determined to end his feud with Damon once and for all—whatever the cost. But slowly he begins to realize that his brother is not his only enemy.
Damon: at last, he possesses Elena. But will his thirst for revenge against Stefan poison his triumph? Or can they come together to face one final battle?
Collected here in one edition are the third and fourth volumes of The Vampire Diaries, a riveting conclusion to the tale of two vampire brothers and the beautiful girl torn between them.
-----

The Vampire Diaries: The Return - Nightfall
by L. J. Smith
(I like the covers of these books!)
*Books 1-4 SPOILERS*
When Elena sacrificed herself to save the two vampire brothers who love her—the handsome, brooding Stefan and the sleek and dangerous Damon—she was consigned to a fate beyond death. Until a powerful supernatural force pulled her back. Now Elena is not just human. She has powers and gifts that were bestowed on her in the afterlife. What's more, her blood pulses with an overwhelming and unique force that makes her irresistible to any vampire. Stefan wants to find a way to keep Elena safe so that they can make a life together. Damon, however, is driven by an insatiable desire for power, and wants Elena to rule as his princess. When Stefan is lured away from Fell's Church, Damon seizes his chance to convince her that he is the brother she is meant to be with... But a darkness is infiltrating the town, and Damon, always the hunter, is now the hunted; he becomes the prey of a malevolent creature that can possess him at will, and who desires not just Elena's blood but her death.

-----


One Lonely Degree
by C. K. Kelly Martin
(Woohoo!)
Finn has always felt out of place, but suddenly her world is unraveling. It started with The Party. And Adam Porter. And the night in September that changed everything. The only person who knows about that night is Audrey—Finn's best friend, her witness to everything, and the one person Finn trusts implicitly. So when Finn's childhood friend Jersy moves back to town—reckless, beautiful Jersy, all lips and eyes and hair so soft you'd want to dip your fingers into it if you weren't careful—Finn gives her blessing for Audrey to date him. How could she possibly say no to Audrey? With Audrey gone for the summer, though, Finn finds herself spending more and more time with Jersy, and for the first time in her life, something feels right. But Finn can't be the girl who does this to her best friend . . . can she?
-----


And Allison & Busby, UK publishers of Rachel Caine, sent me a big goodie bag full of Morganville & vampire stuff, as a thank you for the Rachel Caine event I organised at our Borders store. A&B rock!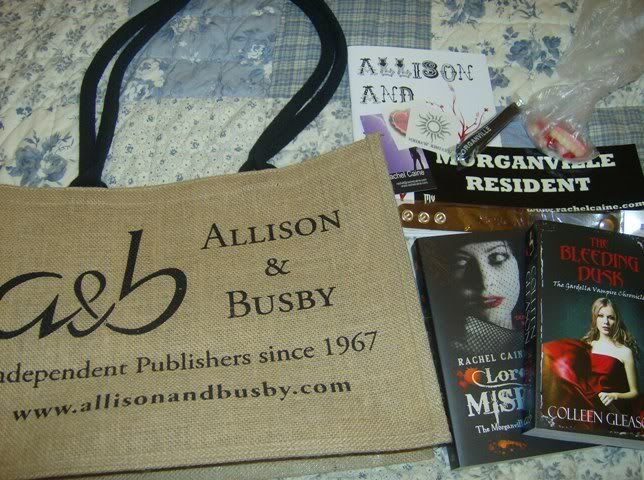 I hope everyone had a great week!