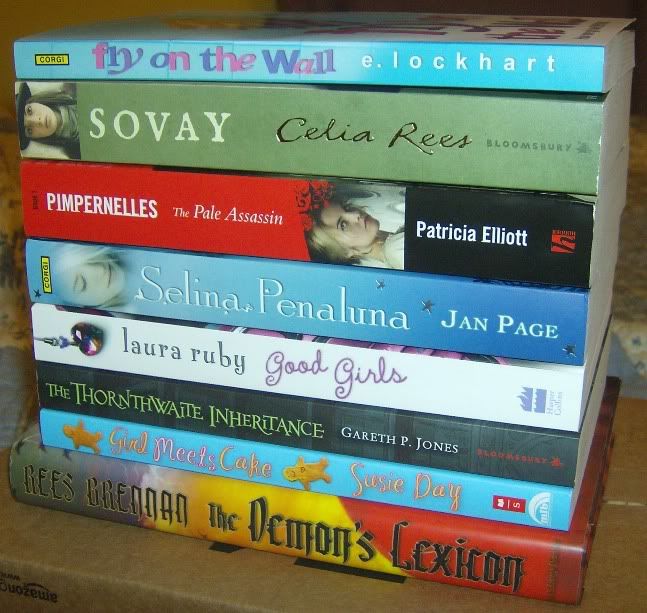 In My Mailbox idea from Kristi @ The Story Siren, and all descriptions from Amazon.
I thought I'd only end up with a couple of books this week, but some turned up for review, which was cool (and unexpected).
-----


The Thornthwaite Inheritance
by Gareth P. Jones
(
For review
. It sounds really funny!)
Ovid and Lorelli Thornthwaite have been trying to kill each other for so long that neither twin can remember which act of attempted murder came first. But whoever struck first, trying to take each other's lives is simply what they do. Until one day a lawyer arrives at their house to take stock of its contents, and his accompanying son attracts their attention. Soon a new battle evolves - one in which the twins have to work together to solve the mystery of their parents' deaths. Can Lorelli and Ovid overcome their old animosities, and will they ever get to finish that game of chess?
-----


Pimpernelles: The Pale Assassin
by Patricia Elliott
(My friend said this is brilliant, so I can't wait to read it).
Eugenie de Boncoeur is growing up in Paris, unaware that her guardian has contracted her to marry the sinister spymaster known as 'le Fantome' when she turns sixteen. She finds herself falling for the handsome lawyer, Guy Deschamps, but there is little time for romance; France is descending into chaos as the Revolution takes hold. Soon Eugenie is fleeing for her life. Her brother Armand has become involved in a plot to save the King from the guillotine, the mob is searching for aristocrats, and le Fantome, the pale assassin, is on their trail - desperate for revenge.



-----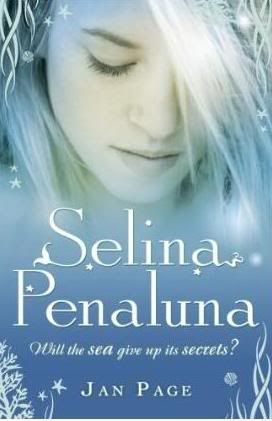 Selina Penaluna
by Jan Page
(
For review
. I really like the sound of this one. And oh, look who's on the cover again!)
Selina Penaluna is a merrymaid or so she believes... Ellen and Jack are evacuated from London to Cornwall during the Second World War. Ellen relishes the opportunity to better herself. Jack is different. He finds the attention from his new family stifling and seeks freedom in the arms of Selina, the mysterious local girl he sees at the shore. Selina, Ellen and Jack's lives are intertwined in a series of events that lead to tragedy.
-----


Sovay
by Celia Rees
(
For review
. I've never read anything by this author, but it sounds great).
Set against the backdrop of the French Revolution and its impact on British politics, this action-driven novel shows once again that Celia Rees is one of our very best writers for teenage readers. Wild and beautiful, spoilt and wilful, Sovay finds that her cosseted life in rural England has not prepared her for life as a highway robber, for defending the honor of her family or for trying to save herself from corruption and evil. As Sovay becomes more and more embroiled in adventures she could scarcely have imagined, a story of dark intrigue, thwarted passions and sinister intentions is revealed to her. Will she be able to survive, and if she does so, at what cost?
-----

Good Girls
by Laura Ruby
(Thanks to
Luisa
for recommending this one).
Audrey is a good girl: a good student, daughter and friend. She's also the last person anyone expects to be with Luke DeSalvio, the biggest player at school. On the night she dumps him, someone takes her picture doing something good girls just don't do...The next Monday, messages begin popping up on people's phones and email inboxes. Soon everyone knows, including her teachers, her mum and her dad! Now she must discover strength she never knew he had, find friends where she didn't think she would, and learn that life goes on - no matter how different it is to how you think it's going to be.
-----



Fly on the Wall
by E. Lockhart
(
For review
. I read this the other day, and it is hilarious!)
At the Manhattan School for Arts, where everyone is 'different' and everyone is 'special', Gretchen Yee feels ordinary. She sits alone at lunch, drawing pictures of spider-man, so she won't have to talk to anyone; has a crush on Titus but won't do anything about it and has no one to hang out with when her best (and only real) friend Katya is busy. One day, Gretchen wishes that she could be a fly on the wall in the boys' locker room - just to learn more about guys. What are they really like? What are they really cretins most of the time?
Fly on the Wall
is the story of how that wish comes true.

-----



Girl Meets Cake
by Susie Day
(I finally got a finished copy. It's lovely! You can read my review
here
).
Geeky fangirl Heidi, 15, has a great fantasy life thanks to her TV and her laptop - and no wonder, when she's stuck at the boarding school for crazy drop-outs where her parents teach, with only a cake-shop Saturday job to escape to. At least she's got her best mates - but when they all start coupling up, Heidi needs a boyfriend - and fast. Enter Gingerbread Ed, a sexy lovemuppet with a motorbike. He'd be perfect - if he actually existed.
-----





I also got a couple more copies of

The Demon's Lexicon

by Sarah Rees Brennan. I loved it so much that I bought the US hardcover edition, which seriously has to be one of the nicest books I own. The cover and presentation, not to mention the image on the book itself, is beautiful!

Jo from

Ink & Paper

very kindly got me a signed UK copy, from Sarah RB's signing on Monday. She sent some promo goodies too, which are so cool! Thanks Jo :)