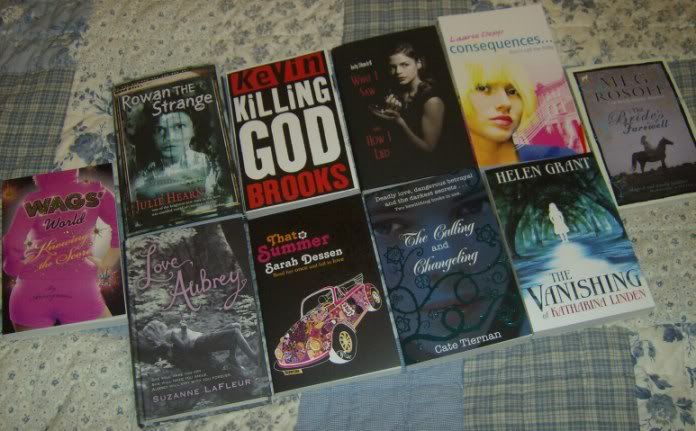 In My Mailbox idea from Kristi @ The Story Siren, and all descriptions from Amazon.
I had a great week this week, as I got a few books I've been wanting for ages.
Penguin/Puffin UK
sent me a huge box of books to review, which I'm slowly getting through. They also sent me a few that aren't pictured here, as I've already read them:
Once
and
Then
by Morris Gleitzman, and a UK ARC of
Thirteen Reasons Why
, plus a couple of books for an upcoming giveaway (thanks Penguin!).
-----


Love, Aubrey by Suzanne LaFleur
(
For review
. I loved it!)
Something terrible has happened. Eleven-year-old Aubrey is on her own. 'It was fun at first, playing house. Nothing to think about but T.V and cheese. A perfect world.' She's determined to hide away and take care of herself, because facing the truth is too much to bear. 'I couldn't let anyone know that I was alone. I was staying right here.' But with the love of her grandmother and the letters she writes, can Aubrey begin to see that even though she's lost everything – all is not lost?
-----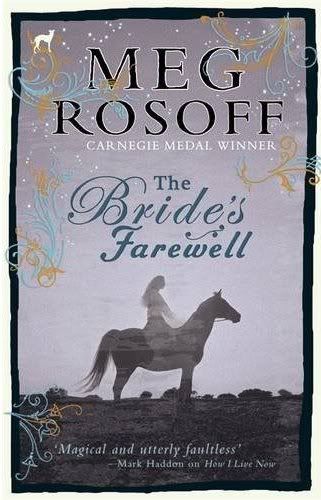 The Bride's Farewell

by Meg Rosoff
(UK proof/ARC.
For review
. I've never read one of Rosoff's books before!)
On the morning of her wedding, Pell Ridley creeps out of bed in the dark, kisses her sisters goodbye and flees - determined to escape a future that offers nothing but hard work and sorrow. She takes the only thing that truly belongs to her: Jack, a white horse. The road ahead is rich with longing, silence and secrets, and each encounter leads her closer to the untold story of her past. Then Pell meets a hunter, infuriating, mysterious and cold. Will he help her to find what she seeks? With all the hallmarks of Meg Rosoff's extraordinary writing, The Bride's Farewell also breaks new ground for this author, in a nineteenth century, Hardyesque setting. This is a moving story of love and lost things, with a core of deep, beautiful romance.

-----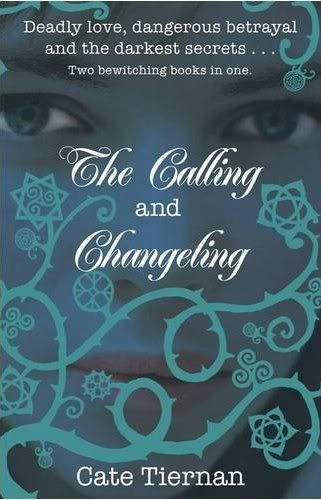 Wicca omnibus #4: The Calling and Changeling by Cate Tiernan
(
For review
. Another lovely cover!)
Morgan has discovered much about her powers. But who are her friends and who are her enemies? And who really is she? Morgan is now seventeen years old and her powers have grown with her. But as she struggles to discover who she really is, terrible dreams of someone else, someone in trouble, haunt her. Are they the person Morgan needs to find to truly find herself?
-----

Rowan the Strange

by Julie Hearn
(This one sounds so good!)
Had Rowan been invited to predict how the rest of that day would go his list would have gone something like this: 1. Breakfast 2. A nice long talk with the doctors 3. Lunch 4. A rest, or a walk in the fresh air 5. Another talk with the doctors 6. Supper 7. Read comics for a bit 8. Bed If asked what he would like to happen the list would have been much the same, only with more time for reading, and the proviso that nobody got to see him naked any more. He would also have liked to be smiled at again by the young nurse, Sarah Jane. But that was a private hope, not something to be shared. He would have got "Bed" right but that's about all. As the second World War begins, Rowan is diagnosed as schizophrenic and sent away to a hospital where the latest treatments are available. But the treatments are experimental still - and nobody predicts the effect they will have on Rowan...
-----



The Vanishing of Katharina Linden by Helen Grant
(
For review
. Sounds good).
On the day Katharina Linden disappears, Pia is the last person to see her alive. Terror is spreading through the town. How could a ten-year-old girl vanish in a place where everybody knows everybody else? Pia is determined to find out what happened to Katharina. But then the next girl disappears . . .
-----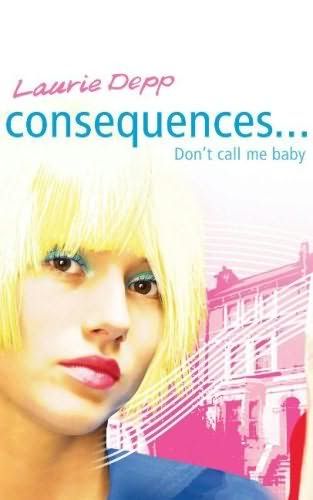 Consequences: Don't Call Me Baby by Laurie Depp
(Thanks to Luisa for this one!)
17-year-old Katie is overwhelmed when she lands a job as a nanny for Premier League footballer Brett Ballentine and his wife Kassie's kids. Arriving at the Ballentine mansion in London, Katie feels as though she's living in OK magazine. Plus, she's got a whole floor of the house to herself, her own car, and the inside scoop on Britain's most notorious celebrity couple. But there is a downside. Katie has to learn to keep her mouth shut when it comes to some of Kassie's strange and desperate behaviour. And Brett is like the ice man - he barely acknowledges her. As time goes on the 'happy couple' reveal their true colours, and the true state of their volatile marriage. Kassie has a twisted secret, and Brett's getting too fond of 'playing away'. Katie feels like she and the kids are caught in the middle of a war zone, culminating in a shocking revelation about Brett. Katie knows that what she knows about the Ballentines could mean she never has to work again. But while Katie struggles with her predicament, a budding young photographer snaps the picture the tabloids have been waiting for and catapults herself into the limelight...

-----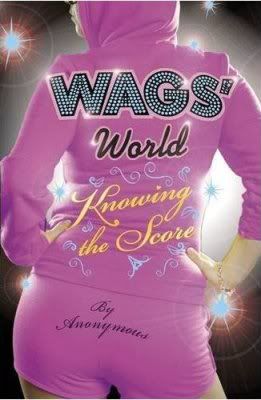 WAGs' World
:

Knowing the Score

by Anonymous
(
For review
. Now just need to read the first one...)
An ordinary girl thrown into an extraordinary life . . . Amy Thornton is sixteen and planning a perfect summer in London with her lush footballer boyfriend, Damien. But things turn nasty when a fellow WAG threatens to blackmail Amy. Scared of ruining things with Damien, Amy accepts the demands and gets caught up in a whirlwind of celebrities and scandal. As Amy starts meddling in other people's lives while hiding her own secrets, she realizes that dealing with gossip is about more than scoring points...
-----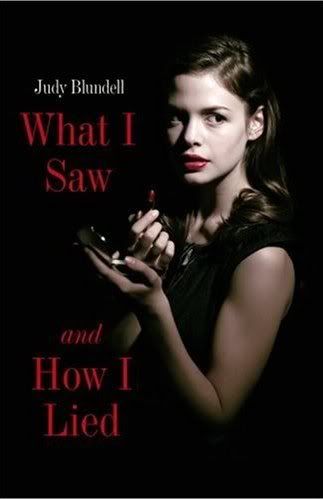 What I Saw and How I Lied
by Judy Blundell
(Woohoo!)
Summer's ending, Evie's stepfather is finally home from the Second World War, and Evie is tired of her glamorous mother treating her like a little girl. Then a mysterious stranger appears; a handsome ex-GI who served with Evie's stepfather. Slowly, Evie realizes that she is falling in love with him - but he has dark secrets, and a strange control over her parents.
-----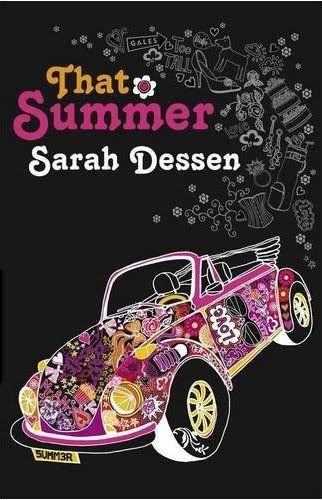 That Summer by Sarah Dessen
(
For review
. Loved this one too!)
For fifteen-year-old Haven this is the summer where everything changes. Dad is remarrying. Her sister Ashley is planning a wedding of her own. They're both moving on, but Haven is lost in memories of a time when life was happy and her family was whole. And then Ashley's ex, the charming and funny Sumner Lee, arrives in town. He reminds Haven of carefree days gone by, and she can't help but wonder – has fate brought this person from her past back to change her future?
-----





Killing God by Kevin Brooks
(UK proof/ARC.
For review
. Kevin Brooks is great!)
Dawn Bundy is fifteen. She doesn't fit in and she couldn't care less. Dawn has other things on her mind. Her dad disappeared two years ago and it's all God's fault. When Dawn's dad found God, it was the worst time ever. He thought he'd found the answer to everything. But that wasn't the end of it . . .