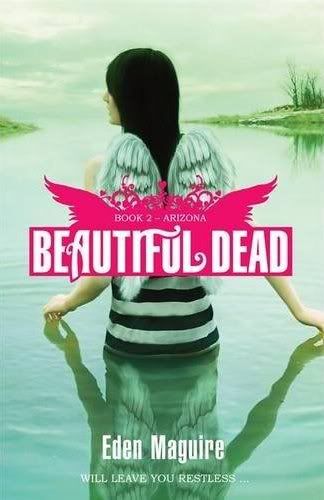 I was just browsing Amazon, and noticed they've added a cover for
Beautiful Dead Book 2: Arizona
. What do you think? I like how they're keeping to the style of the last book, and included wings again. It's due out on October 15th, and there's also a short summary:
There's been no sign of the Beautiful Dead for weeks. Darina achingly misses Phoenix all over again. But surely he will return with the rest of the Beautiful Dead as so much still remains unresolved. It's been ten months since Arizona drowned in Hartmann Lake. Suicide, it would seem. But something doesn't add up. Drowning herself in a hidden-away lake does not sound like strong, confident, Arizona: Ellerton High School's high-maintenance drama queen. Darina needs to help Arizona the way she helped Jonas. But time is running out...
-----

Also, Bloomsbury are re-releasing Stephen Cole's
Wereling
trilogy at the beginning of July.
Wounded
,
Prey
and
Resurrection
all have new covers, and look so much better than the old ones! Here's a summary for book #1,
Wereling
...
Kate's family is not what you'd call average. Her parents and brother are werewolves, and when Kate comes of age werewolf law dictates that she will become one too. But Kate is horrified at the fate that awaits her, and can feel none of the pride that strengthens her family in their werewolf state. For the time being she is able to avoid the issue of when she will become a werewolf. Until, that is, her parents kidnap Tom Folan, on holiday with his parents, and he is destined to become Kate's mate.