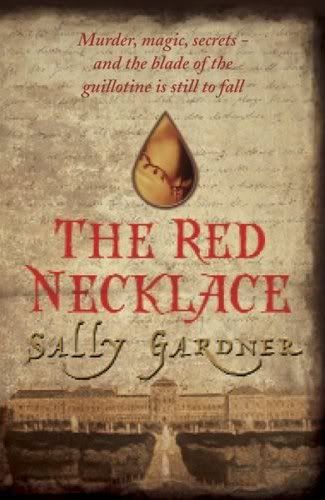 From Amazon:
The story of a remarkable boy called Yann Margoza; Tetu the dwarf, his friend and mentor; Sido, unloved daughter of a foolish Marquis; and Count Kalliovski, Grand Master of a secret society, who has half the aristocracy in thrall to him, and wants Yann dead. Yann is spirited away to London but three years later, when Paris is gripped by the bloody horrors of the Revolution, he returns, charged with two missions: to find out Kalliovski's darkest deeds and to save Sido from the guillotine.
The Red Necklace
is a brilliant book, full of hope, intrigue, and the horrors of the French Revolution. It's well written and unusual, and is an adventure of the deadliest kind.
Each character is realistic and engaging, especially Yann the magician's assistant, and the evil, calculating Count Kalliovski. Sido, the Marquis de Villeduval's daughter, is one of my favourite characters, and I wish we could have seen more of her. She's brave and headstrong, and stood up for everything she believed in. There are plenty of character twists and revelations throughout the book, and I loved them all. Just when I thought I'd figured everything out, a new secret was revealed -- though not necessarily to the right people.
I never knew where Gardner was going with the story, and each chapter surprised me. I thought the pace of the narrative was a bit slow at times, though it soon picked up again, and moved through the events leading up to the Revolution very quickly. The historical aspect really grabbed my attention, and I thoroughly enjoyed learning about the French Revolution. It's not a subject I've ever studied, and before reading
The Red Necklace,
I knew nothing about that period in time. It was a horrific yet fascinating event, and I can't wait to read more about it in the sequel
The Silver Blade
.
I loved the richly detailed backdrop and layered characters, not to mention the inclusion of magic and even a little bit of romance. It's a beautifully presented book, and all the extra page designs added to the reading experience. Historical fiction fans will love it, as will readers who like a blend of original characters and memorable settings.