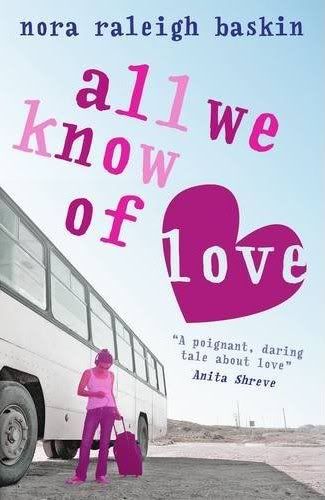 From Amazon:
Natalie is on a bus trip to see her mother, who had abandoned her family four years earlier. On the way, she thinks about her confusing relationship with her boyfriend Adam and about her even more confusing relationship with her mother. Natalie also brushes up against various strangers who harbour their own stories of love and loss. Though she has a comfortable life in Connecticut, Natalie can't forget the day her mother left or that her mother was on the verge of revealing something about love.
All We Know of Love
is a story about self-discovery and the meaning of love. It's a realistic look at relationships, and the positive and negative effects a person can have on your life.
Natalie is a strong character who isn't afraid to go after what she wants, even if that means embarking on an unchaperoned cross-country bus journey to find her estranged mother. She's determined and stubborn, and never gives up hope that one day she'll complete the advice her mother left her with.
Over the course of her journey, Natalie encounters several different people from many walks of life, and all offer some answers to her unanswered questions. I really liked the way these secondary characters' stories were included, as each one related back to love and the diverse forms it takes. I didn't like Natalie's boyfriend Adam, which I think was kind of the point. He was distant and self-absorbed, and didn't suit her at all. Still, he was part of her puzzle, and ultimately helped her to open her eyes and move on.
All We Know of Love
is short and sweet, but makes you think about love, life and everything that falls in between.