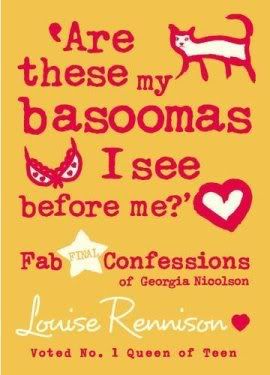 From Amazon:
It's the FINAL instalment of Georgia's fab and hilarious diary! Does Georgia escape the cakeshop of luuurve? Can there be more heartbreaknosity in store? Will the Sex God pop up again unexpectedly (oo-er)! And what about the supreme accidental snogmaster Dave the Laugh? Will she FINALLY choose her only one and only? So many boys, so little time!
I'm going to start by saying 'thank you' to Louise Rennison, for ten brilliant, funny books. I've read them all so many times, and they never fail to make me smile.
The tenth and final book in the series is a welcome return to form, after the last couple of installments weren't as good as they could have been. All our favourite characters are back, including the Sex God, Masimo the Italian Stallion, Dave the L, Wet Lindsay, Mutti and Vati, Libby, Angus, The Ace Gang and, of course, Georgia herself. Everything is tied up nicely, and Georgia finally chooses the right boy. You'll have to read it to find out who the lucky fella is, but lets just say I was very happy with her decision!
Filled with all the usual high jinks and fabnosity,
Are These My Basoomas I See Before Me?
is fun and enjoyable from start to finish. I'm sad to see the series end, but I'm looking forward to future books by Louise Rennison. May Angus avoid the big cat basket in the sky, and may the Ace Gang rave on for years to come! (in Louise Rennison's head, that is. Of course.)