Thanks to Dean for answering my questions!

----------


Can you tell us how you got your book published with Random House?

I was at the Transworld/Random House Children's Books Christmas party and happened to sit at the same table as Charlie Sheppard a senior editor. it soon became clear to her that I was the 'Dean Carter' who had been sending silly emails around the company. She asked if I'd written anything and I said I'd started writing a horror story for adults. I gave her the first six chapters of

The Hand of the Devil

and she thought it was great!

What inspired

Blood Water

?



Blood Water

was partly inspired by the terrible flooding that affected parts of the UK in 2007. A number of small towns suffered a lot of damage at the time and it was understandably a very scary time for all involved. I thought this would make a great setting for a creature story, since the chances of escaping during such a catastrophic natural event would be greatly reduced.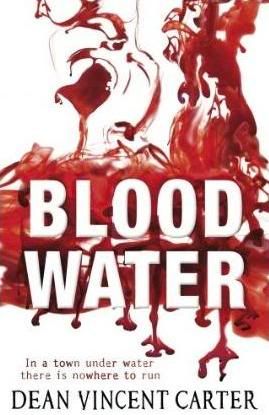 I really liked how the parasite had human qualities, like thoughts and feelings. Was this intentional from the start?



Not really, but as the story progressed I found it necessary to know what the creature would be thinking and what its motivation was. My editor Charlie also suggesed giving the reader a bit more of an insight into the creatures decision-making and its goals.



Did you have to do any scientific research in order to write Dr. Morrow's notes?



No, this was all theoretical. I made sure I didn't write anything too specific in case I made major errors.



There are some quite gory scenes throughout the book. Did you have to edit any of them, to make the book suitable for a teen audience?



I have had to tone down some of the gore in previous books, but I think all the nasty scenes I wrote for

Blood Water

pretty much remained unchanged.



It's great to see the teen horror genre make a reappearance. Will you be writing any more in the future?



Definitely. I'm working on a fourth now and have had ideas for future teen horror books that I'm excited about. I think it's a great genre that tends to be more fast-paced than a lot of adult fiction, has less unnecessary description and gets to the point a lot quicker. Saying that, a lot of adults read teenage fiction, so it crosses boundaries.



Are you a fan of horror films? If so, which are your favourites?



I do enjoy a good horror! My favourites are probably

The Exorcist

(which seems to remain unsettling no matter how many times I see it),

The Shining

,

Evil Dead 2

,

SAW

and far too many more to mention.


----------

Related links:

Dean's site: Dean Vincent Carter.com
UK publisher's site: Random House
My review:

Blood Water

by Dean Vincent Carter