As the final part of my Hush, Hush cover feature, author Becca Fitzpatrick sent me some entries from her journal, which chronicles her whole cover journey, right up to the day she was allowed to show it to the world. Over to Becca...
----------

Cover Feature: Hush, Hush - Becca's Journal Entries
Author: Becca Fitzpatrick
Cover photographer: James Porto
Published by: Simon & Schuster
Release dates: October 13th (US), October 29th (UK)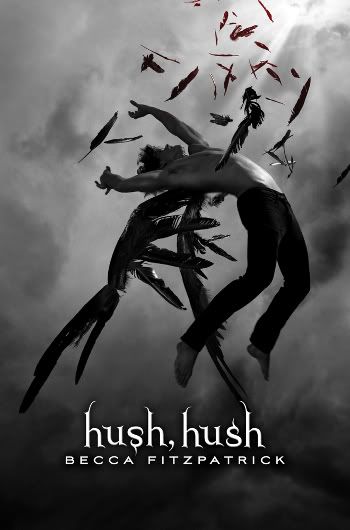 In case you're curious to see how everything played out, I'll share
some excerpts from the journal I've been keeping along the way.


April 2, 2009

My editor emailed to say she'll be sharing cover concepts with me as
soon as they come in! I have no idea what to expect. She said they
scout out potential photographers who pitch Simon & Schuster ideas and
comps, and then Simon & Schuster picks from the photographers who they
want. They picked a photographer named James Porto because he had
some really cool ideas. Fingers crossed...

April 8, 2009

Got an email from my editor this morning – attached with it were cover
models. As in, I'm going to get to choose the models for the cover
photo shoot!!! I can't believe they're asking for my opinion in
"casting" Patch and Nora. Trying not to freak out over here! It took
me all of two seconds to pick the model for Patch. It was the
weirdest thing – I knew it was him at first glance. I mean, the model
was Patch. Now I'm wondering what they're going to have Patch and
Nora doing? Just between us, I'm not a big fan of models just
standing around looking broodyish on covers. Hopefully they put a
really cool twist on mine.

April 21, 2009

More cover news – James read Hush, Hush! He had this to say about it,
"I read the manuscript for Hush, Hush to prepare for the assignment,
starting on a rainy Sunday morning. I stopped for lunch but found I
couldn't wait to go back to reading it as soon as possible as I was
completely hooked by the story and the characters. I couldn't do
anything else until I finished reading it."

Me again. I read somewhere online that photographers rarely have time
to read the book before designing the cover art, so I went into this
just hoping for the best, but expecting the worst. All this time I've
been telling myself to be open-minded. That has all changed now that
I know he's read the manuscript. I have this feeling he's going to
nail it. It's going to rock – I just know it.

April 21, 2009.

Another email from my editor. The subject is titled, "Sketches." I'm
too nervous to open it. What if I hate the cover? Whatever happens,
I'm not going to cry. I'm going to be open-minded about this. Here
goes nothing...

Just saw the photos!! Here is my response to my editor:

I am in LOVE!!!!!! My heart seriously flipped about ten times when I
saw the pictures. They are fabulous. I'm not sure I'm even going to
be coherent here because I'm on such a high - they are even better
than I imagined! Are they going to be in black and white? Because,
honestly, I almost think they're better in b&w. There's so much
atmosphere...and romance. And Patch? In that last picture? I
got the chills. He looks SO MUCH like I'm imagining. And here's
another thing. I always imagined Patch with black wings...and his wings are black! I
think James read my mind!

April 23, 2009

Everything is happening so fast. I got a revised version of the cover
in my email this morning. They chose the picture where Patch is
falling and his wings are shredding away. It is one of the most
arresting covers I have ever seen. I can not describe how completely
fulfilled I feel right now. In the email, James said he's going to
make a few more changes, but honestly? Even if he didn't, it would be
perfect. I couldn't have asked for a better cover. I'm so HAPPY!!!

P.S. I love Patch's black jeans!

May 11, 2009

Okay, first of all, my life is too exciting right now. First, I saw
the approved comp today. I AM IN LOVE WITH THE FONT! Just wanted to
make sure the whole world heard me say that, haha! No, really. The
cover is perfect. I can't wait to show everyone. There's going to be
a whole lot of screaming!

May 21, 2009

I have permission to show my cover. Going live, right now....