As soon as I saw the cover for Becca Fitzpatrick's
Hush, Hush
, my jaw just about dropped to the floor. I've personally never seen such an amazing image, least of all on the cover of a book. I liked it so much that I decided to ask Becca, and the man behind the photograph, James Porto, for their thoughts on the cover. Thanks to both Bec and James for taking the time to do this!
----------

Cover Feature: Hush, Hush

Author: Becca Fitzpatrick
Cover photographer: James Porto
Published by: Simon & Schuster
Release dates: October 13th (US), October 29th (UK)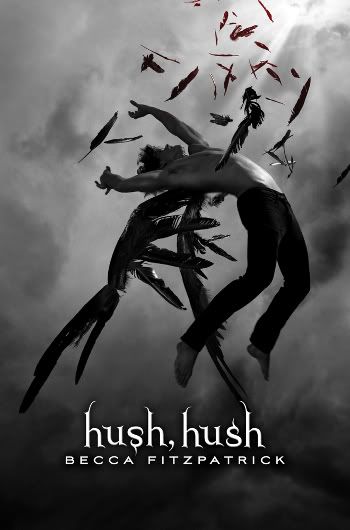 Becca's Thoughts on the Cover
:
There's a scene relatively early on in
Hush, Hush
where Patch dares
Nora to ride a roller coaster named The Archangel with him.
Nora's
terrified of heights, but she accepts his dare because she's not about
to let him think she's intimidated or frightened by him.
During the
ride, Nora's seatbelt comes undone and she flies out of the car,
falling, falling...
When I envisioned
Hush, Hush
's cover, I always came back to this
scene.
It's a big scene in the book, not only because Nora is falling
to her death, but because it's also on this night that she falls for
Patch.
When my editor asked for my thoughts on the cover during its
early development, I relayed to her the picture in my head – a black
sky with the lights of Delphic making silhouettes of ferris wheels and
roller coasters, and in the middle of it all, Nora's falling body.
I
couldn't get away from the image of falling, since it plays such an
important role in the story, both literally and figuratively.
Since Nora is the main character and narrator of

Hush, Hush

, it never
occurred to me to tell Patch's story on the cover, and it wasn't until
after I'd seen James's early photos of the cover that I realized how
perfect the picture of Patch falling is.

After all, it's that moment
– the moment Patch falls from grace – that sets in motion every other
event in the book, including the reason Nora and Patch's lives are
drawn irrevocably and dangerously together.

Of course, if you want to
know the rest, you'll have to read the book!
-----
For more Hush, Hush info, visit BeccaFitzpatrick.com



James's Inspiration Behind the Image:

Simon and Schuster asked me to make a photo illustration for the cover
of a 'supernatural teen love story'. This immediately got my attention
as I have an interest in bringing to life mythical characters and am a
sucker for teen romance. Reading the manuscript evoked dark haunting
images around the character of Patch, a fallen angel, and I began to
imagine a brooding black and white image of the moment when he is
thrust from heaven, his wings shredding on the way down. The sketch
below shows the initial idea which was submitted along with others. I
wanted the lighting, tonality, and mood to be dramatic, mysterious,
intense and above all, passionate! It was a great assignment.

-----
For more info on James's work, visit JamesPorto.com





----------


*Check back on Thursday night for some extracts from Becca's journal, chronicling the journey of her book cover, from concept to revelation.*