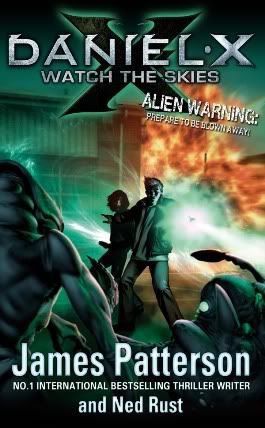 From Amazon:
Daniel X has his work cut out for him. A teenage alien hunter, he has a deadly list of evil predators to eliminate and while he's made it all look easy so far, much darker days await him. Next on his list is Number Five, an unsightly and terrifying alien who is watching Daniel as intently as Daniel has been tracking him. Number Five kills for thrills but not just for his own. Will Daniel X live to see who is next on his list?
I enjoy these books for what they are: fast paced, easy to read stories about an alien hunter and his friends. The writing style or plot is never going to be awarded as a great literary accomplishment, but they're good for a couple of hours entertainment.
In this second installment, Dan X has to track down Number Five - an alien determined to get rid of him. With the help of his imaginary friends (bit strange, I know), Dan tries to stop the alien from killing him and broadcasting it live on TV. The plot is good enough, but I would have liked it to have had a bit more depth, like the
Maximum Ride
series. I like the way Dan talks to the reader, as if he's addressing them personally, because it makes it almost like a diary entry. I also like the descriptions of disgusting alien lifeforms - James Patterson certainly has a good imagination for that kind of stuff.
The cover of Watch the Skies is really nice, and is one of the best artwork covers I've seen for a while. It captures the action of the book, and succeeds in catching the reader's eye. Overall, this book was a fun read, and I'll definitely be back for book three. I just can't resist!