In My Mailbox idea from Kristi @ The Story Siren, and all descriptions from Amazon.
Another good week this week! I've been waiting months to read a few of these, so I'm glad they're finally out! I took the above picture with my shiny new digital camera, I broke my old one last weekend - dropped it smack on the floor (silly me!).
-----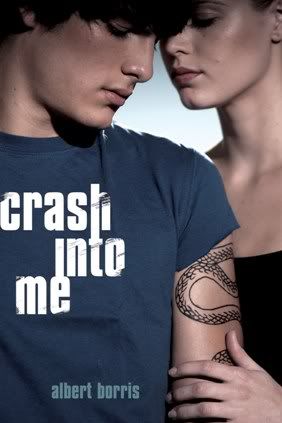 Crash into Me
by Albert Borris
(Very excited to read this one!)
Owen, Frank, Audrey, and Jin-Ae have one thing in common: they all want to die. When they meet online after each attempts suicide and fails, the four teens make a deadly pact: they will escape together on a summer road trip to visit the sites of celebrity suicides...and at their final destination, they will all end their lives. As they drive cross-country, bonding over their dark impulses, sharing their deepest secrets and desires, living it up, hooking up, and becoming true friends, each must decide whether life is worth living--or if there's no turning back.


-----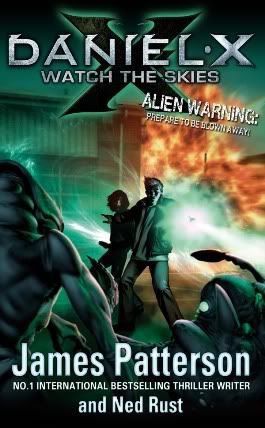 Daniel X: Watch the Skies
by James Patterson and Ned Rust
(
For review
. I liked the first one, so looking forward to this.)
Daniel X has his work cut out for him. A teenage alien hunter, he has a deadly list of evil predators to eliminate and while he's made it all look easy so far, much darker days await him. Next on his list is Number Five, an unsightly and terrifying alien who is watching Daniel as intently as Daniel has been tracking him. Number Five kills for thrills but not just for his own. He is operating a sinister entertainment network and innocent people are unknowingly the stars of the show. But while Number Five may have managed to brainwash the public, is he cunning enough to outwit the alien hunter? As the two seek to destroy one another, who will be the ultimate winner? And will Daniel X live to see who is next on his list?
-----

Fairy Tale
by Cyn Balog
(Looking forward to this one too!)
Morgan Sparks has always known that she and her boyfriend, Cam, are made for each other. But when Cam's cousin Pip comes to stay with the family, Cam seems depressed. Finally Cam confesses to Morgan what's going on: Cam is a fairy. The night he was born, fairies came down and switched him with a healthy human boy. Nobody expected Cam to live, and nobody expected his biological brother, heir to the fairy throne, to die. But both things happened, and now the fairies want Cam back to take his rightful place as Fairy King. Even as Cam physically changes, becoming more miserable each day, he and Morgan pledge to fool the fairies and stay together forever. But by the time Cam has to decide once and for all what to do, Morgan's no longer sure what's best for everyone, or whether her and Cam's love can weather an uncertain future.

-----



Where the Streets Had a Name
by Randa Abdel-Fattah
(
For review
. UK proof/ARC. It sounds really good!)
Thirteen-year-old Hayaat is on a mission. She believes a handful of soil from her grandmother's ancestral home in Jerusalem will save her beloved Sitti Zeynab's life. The only problem is the impenetrable wall that divides the West Bank, as well as the checkpoints, the curfews, and Hayaat's best friend Samy, who is always a troublemaker. But luck is on their side. Hayaat and Samy have a curfew-free day
-----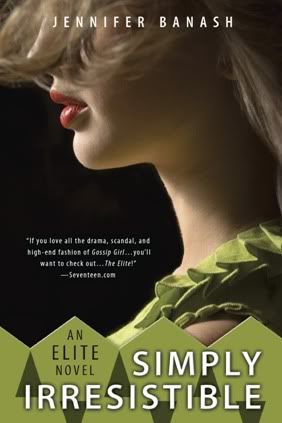 Simply Irresistible
by Jennifer Banash
(I'll read this series soon now that I have them all!)
in her high rise. She's climbing the social ladder, to the dismay of her neighbor and rival, Madison Macallister. And Casey could end up as popular as Madison now that the two are set to star in their own reality show, "De-Luxe." But reality TV can be so unreal… Madison loves the attention, but having every bit of her life caught on tape is often less than glamorous. Yet fame comes at a price—and she's willing to pay. Meanwhile, now that Casey and her almost-boyfriend Drew Van Allen are currently more off than on, she's beginning to wonder if everything in her life is just an illusion—and how much longer the illusion can last.



-----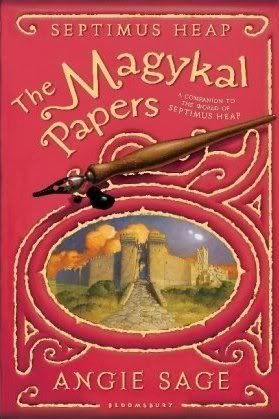 Septimus Heap: The Magykal Papers
by Angie Sage
(
For review
. This is a lovely book, and having never read the Septimus Heap series, this companion seems like a good place to start.)
This beautifully designed and wonderfully witty Septimus Heap compendium is a dazzling cornucopia of information on every aspect of Septimus's world and the creatures that inhabit it: from secret files, to journal excerpts, charm theory, the seven basic spells, dispatches from the Message Rat Office, history, maps and much more. It will be sumptuously illustrated in four-colour throughout by Mark Zug. The ultimate companion title for fans of Septimus Heap and an ideal gift for fans of magic, Wizardology and all things fantastical. Can be read cover to cover, perfect for dipping in and out of too.
-----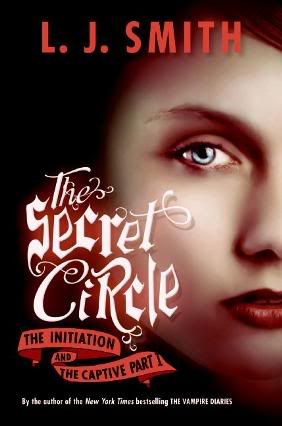 The Secret Circle: The Initiation and The Captive Part I
by L. J. Smith
(Thought I might as well get these while Amazon UK had them in stock!)
The circle's power has lured her home
Forced to move from sunny California to gloomy New England, Cassie longs for her old life. Even so, she feels a strange kinship to a terrifying group of teens who seem to rule her school. Initiated into the coven of witches that's controlled New Salem for hundreds of years, she's drawn into the Secret Circle, a thrill that's both intoxicating and deadly. But when she falls for the mysterious and intriguing Adam, Cassie must choose whether to resist temptation or risk dark forces to get what she wants—even if it means that one wrong move could ultimately destroy her.

-----
The Secret Circle: The Captive Part II and The Power
by L. J. Smith
(I'm liking the connecting covers. Very cool.)
*Secret Circle Book #1 spoilers*
Caught in the struggle between good and evil . . . Cassie has joined the most alluring—and deadly—in-crowd imaginable. But power comes with a price, and it's more dangerous than she knows. Torn between the dueling desires of the two leaders of the Secret Grcle, she must ultimately choose between saving all of New Salem, and her own dangerous love for the bewitching Adam, which threatens to tear the circle apart. In the ultimate battle between good and evil, will Cassie's supernatural powers be strong enough to lead the coven out of danger? Or will she foil prey to the dark forces within . . . will she sacrifice her love for the circle to survive?
-----

Lottie Biggs is Not Mad
by Hayley Long
(
For review
. It sounds so funny!)
My name is Lottie Biggs and in three weeks time, I will be fifteen years old. At school, most people call me Lottie Not-Very-Biggs. I've never found this particularly funny...My current hair colour is Melody Deep Plum which is not as nice as Melody Forest Flame but definitely better than the dodgy custard color I tried last week...And this is my book - it's about important things like boys and shoes and polo-neck knickers and rescuing giraffes and not fancying Gareth Stingecombe (even though he has manly thighs) and hanging-out with your best friend having a blatantly funny time. It is definitely not about sitting in wardrobes or having a mental disturbance of any kind! Painfully honest and laugh-so-hard-you-forget-to-breathe funny.
-----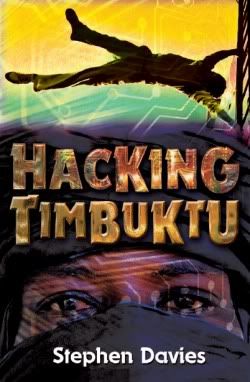 Hacking Timbuktu by Stephen Davies
(
For review
. UK proof/ARC. This sounds interesting!)
Long ago in the ancient city of Timbuktu a student pulled off the most daring heist in African history, the theft of 100 million pounds worth of gold. The stolen treasure has remained hidden until now, when teenage hacker Danny Temple discovers a cryptic Arabic manuscript. It's a good job that Danny is a keen traceur (free runner) because he has to run across rooftops and leap from buildings to stay one step ahead of his pursuers. His nightmarish and adrenalin-charged quest leads him all the way to sub-Saharan Africa, and the mysterious cliffs of Bandiagara.
-----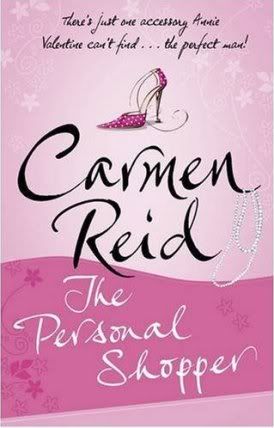 The Personal Shopper
by Carmen Reid
(
For review
. Book one in the series. Although this series is adult, I love Carmen Reid and it sounds really funny, so I'm going to review the third one here - this one's a catch-up.)
Meet Annie Valentine: stylish, savvy, multi-tasker extraordinaire. As a personal shopper in a swanky London fashion store, Annie can re-style and re-invent her clients from head to toe. In fact, this super-skilled dresser can be relied on to solve everyone's problems ...except her own. Although she's a busy single mum to stroppy teen Lana and painfully shy Owen, there's a gap in Annie's wardrobe - sorry, life - for a new man. But finding the perfect partner is turning out to be so much trickier than finding the perfect pair of shoes. Can she source a genuine classic? A life long investment? Will she end up with a mistake from the sale rail, who'll have to be returned? Or maybe, just maybe, there'll be someone new in this season who could be the one ...

-----

How Not to Shop
by Carmen Reid
(
For review
. UK proof/ARC. Book three in the series.)
Her passion is fashion...but she's on a budget! Personal shopper Annie Valentine is about to hit the big time: presenting a glamorous TV makeover series! But too late, Annie discovers this is TV on a shoestring. They're paying her buttons and her budget is zip. Can she make do with Primark when all she wants is Prada? While Annie performs miracles with the minimum, boyfriend Ed is left at home with one son (deeply green), one daughter (deeply teen) and one sexy, Russian blonde (don't ask). He's not happy. He wants more together-time. He wants a dog. He may even want...a baby! But could non-stop, fame-seeking Annie ever handle that?
Happy reading everyone! :)