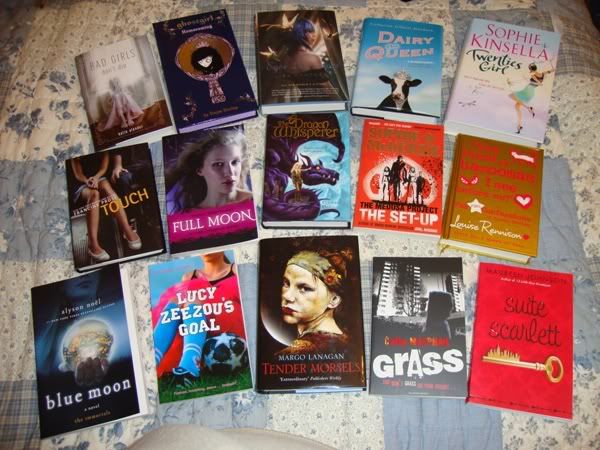 In My Mailbox idea from Kristi @ The Story Siren, and all descriptions from Amazon.
I got some great books this week, and I want to read them all right now. I also included
Are These My Basoomas I See Before Me?
in the picture
, as I forgot it last week! (and have forgotten another one this week... sigh).
-----

Full Moon
by Rachel Hawthorne
(I enjoyed the first book, so am looking forward to this one!)
Lindsey is wild and reckless, a natural rebel—maybe because her entire life was laid out for her even before she was born. Her parents are among the most powerful members of the Dark Guardians, an ancient tribe of werewolves, and they arranged Lindsey's betrothal to Connor long ago. The next full moon is coming all too soon, and then her commitment to Connor will be final—no turning back. She should be happy . . . so why can't she stop thinking about gorgeous, brooding Rafe? When a dangerous threat on the pack escalates, so do tensions between Connor and Rafe. A fight over Lindsey is imminent, but will it be to the death?


-----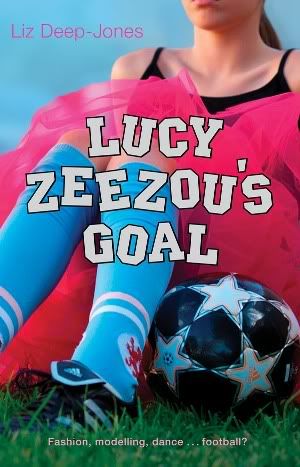 Lucy Zeezou's Goal
by Liz Deep-Jones
(
For review
. Thanks to Liz for offering me a copy of this!)
Lucy's family is famous for two things in Italy: soccer and fashion. Her pushy mother wants her to model for the family's fashion label. Even worse, Lucy's father—captain of Milan's premier soccer team—agrees. But Lucy has been leading a double life, playing soccer on the side when she isn't modeling. When she and her mother move from Milan to Sydney to be closer to her grandparents, Lucy has the chance to come clean about who she really is and what she really wants to do with her life.
-----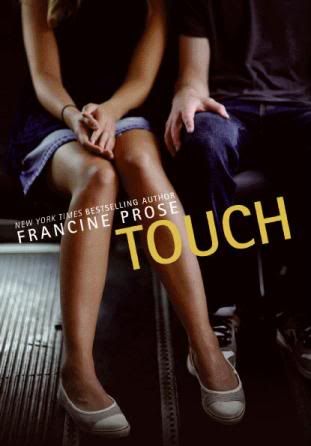 Touch
by Francine Prose
(This sounds great!)
Something happened to fourteen-year-old Maisie Willard—something involving her three friends, all boys. But their stories don't match, and the rumors spin out of control. Then other people get involved . . . the school, the parents, the lawyers. The incident at the back of the bus becomes the center of Maisie's life and the talk of the school, and, horribly, it becomes news. With just a few words and a touch, the kids and their community are changed forever. From nationally acclaimed author Francine Prose comes an unforgettable story about the difficulties of telling the truth, the consequences of lying, and the most dangerous twist of all—the possibility that you yourself will come to believe something that you know isn't true.

-----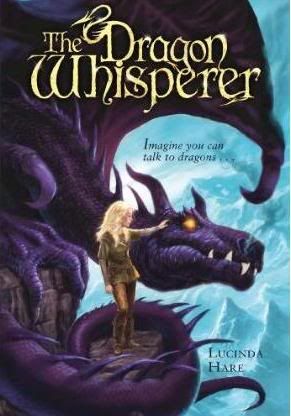 The Dragon Whisperer
by Lucinda Hare
(
For review
. I love dragons!)
Quenelda's greatest ambition is to fly a mighty battle dragon and join her father the Earl DeWinter in the war against the Hobgoblins. Root's ambition is to avoid man-eating dragons at all costs. They seem an unlikely duo but when Root is assigned as Quenelda's squire an unexpected friendship is born. Meanwhile dark forces are at work, there is a ruthless traitor at Dragons dome about to carry out a deadly plot. But the enemy haven't reckoned on Quenelda and Root or a powerful ancient magic that everyone thought was lost...
-----


Ghostgirl: Homecoming
by Tonya Hurley
(These are such lovely books, Headline should be proud!)
Charlotte may have graduated Dead Ed but that's not the end of her story. Life, for Charlotte, was one bitter disappointment after another. And it seems death isn't going to be much different. Convinced that graduating Dead Ed was her route to the afterlife Charlotte is a little surprised to find she has to complete an internship! Answering the phones at a help centre for troubled teens isn't proving brilliantly exciting. Until Scarlet calls: a pedicure-gone-hideously-wrong has landed Petula in a coma and Scarlet thinks Charlotte is the only person who can help...



-----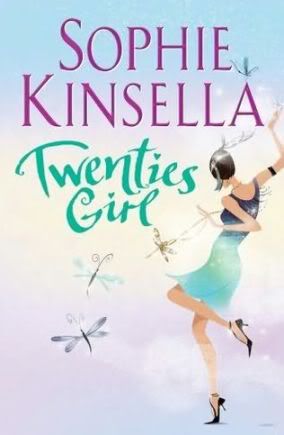 Twenties Girl
by Sophie Kinsella
(Sophie Kinsella is one of the few adult authors I love. Can't wait to read this!)
Lara has always had an overactive imagination. Now she wonders if she is losing her mind. Normal twenty-something girls just don't get visited by ghosts! But inexplicably, the spirit of Lara's great aunt Sadie - in the form of a bold, demanding Charleston-dancing girl - has appeared to make one last request: Lara must track down a missing necklace Sadie simply can't rest without. Lara's got enough problems of her own. Her start-up company is floundering, her best friend and business partner has run off to Goa, and she's just been dumped by the love of her life. But as Lara spends time with Sadie, life becomes more glamorous and their treasure hunt turns into something intriguing and romantic. Could Sadie's ghost be the answer to Lara's problems and can two girls from different times end up learning something special from each other?
-----


Eyes Like Stars
by Lisa Mantchev
(I've read amazing reviews for this, and I love the cover).
Bertie Shakespeare Smith is not an actress, yet she lives in a theater. She's not an orphan, but she has no parents. She knows every part, but she has no lines of her own. That is, until now.
Enter Stage Right: NATE. Dashing pirate. Will do anything to protect Bertie. COBWEB, MOTH, MUSTARD SEED, and PEASEBLOSSOM. Four tiny and incredibly annoying fairies. BERTIE'S sidekicks. ARIEL. Seductive air spirit and Bertie's weakness. The symbol of impending doom. BERTIE. Our heroine. Welcome to the Théâtre Illuminata, where the actors of every play ever written can be found behind the curtain. They were born to play their parts, and are bound to the Théâtre by The Book—an ancient and magical tome of scripts. Bertie is not one of them, but they are her family—and she is about to lose them all and the only home she has ever known.

-----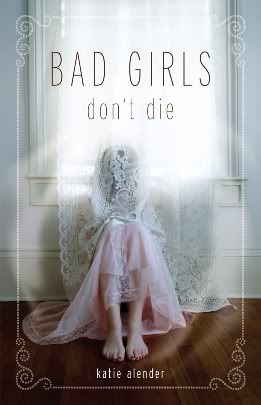 Bad Girls Don't Die
by Katie Alender
(This sounds cool and creepy!)
Alexis thought she led a typically dysfunctional high school existence. Dysfunctional like her parents' marriage; her doll-crazy twelve-year-old sister, Kasey; and even her own anti-social, anti-cheerleader attitude. When a family fight results in some tearful sisterly bonding, Alexis realizes that her life is creeping from dysfunction into danger. Kasey is acting stranger than ever: her blue eyes go green sometimes; she uses old-fashioned language; and she even loses track of chunks of time, claiming to know nothing about her strange behavior. Their old house is changing, too. Doors open and close by themselves; water boils on the unlit stove; and an unplugged air conditioner turns the house cold enough to see their breath in. Alexis wants to think that it's all in her head, but soon, what she liked to think of as silly parlor tricks are becoming life-threatening--to her, her family, and to her budding relationship with the class president. Alexis knows she's the only person who can stop Kasey -- but what if that green-eyed girl isn't even Kasey anymore?
-----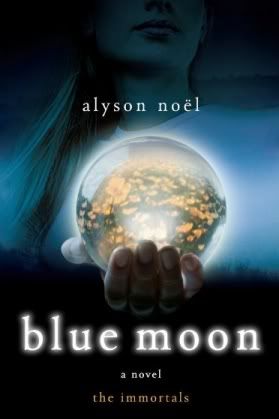 Blue Moon
by Alyson Noel
(Hmm, I really need to read
Evermore
...)
*
Evermore
Spoilers*
Just as Ever is learning everything she can about her new abilities as an immortal, initiated into the dark, seductive world by her beloved Damen, something terrible is happening to him. As Ever's powers are increasing, Damen's are fading—stricken by a mysterious illness that threatens his memory, his identity, his life. Desperate to save him, Ever travels to the mystical dimension of Summerland, uncovering not only the secrets of Damen's past—the brutal, tortured history he hoped to keep hidden—but also an ancient text revealing the workings of time. With the approaching blue moon heralding her only window for travel, Ever is forced to decide between turning back the clock and saving her family from the accident that claimed them—or staying in the present and saving Damen, who grows weaker each day...
-----


Dairy Queen
by Catherine Gilbert Murdock
(I love the sound of this!)
When you don't talk, there's a lot of stuff that ends up not getting said. Harsh words indeed, from Brian Nelson of all people. But, D. J. can't help admitting, maybe he's right. When you don't talk, there's a lot of stuff that ends up not getting said. Stuff like why her best friend, Amber, isn't so friendly anymore. Or why her little brother, Curtis, never opens his mouth. Why her mom has two jobs and a big secret. Why her college-football-star brothers won't even call home. Why her dad would go ballistic if she tried out for the high school football team herself. And why Brian is so, so out of her league. When you don't talk, there's a lot of stuff that ends up not getting said. Welcome to the summer that fifteen-year-old D. J. Schwenk of Red Bend, Wisconsin, learns to talk, and ends up having an awful lot of stuff to say.
-----

Grass

by Cathy MacPhail
(
For review
. This sounds pretty good!)
It would have been hard to have missed what was written on the wall. Painted in giant whitewashed letters: 'SHARKEY IS A GRASS'. I hadn't a clue who Sharkey was, but I knew one thing. 'Sharkey's a dead man,' I said. Leo knows the value of never grassing and that you never grass on your friends. Everybody, too, knows the gang leaders in town. And you don't grass on them. Not unless you don't value your life - like Sharkey. And then Leo is unlucky enough to witness the murder of one gang leader by another, a man called Armour. Leo is petrified as he realises what he is witnessing and even more petrified when he realises that Armour has seen him. Sure that he is drawing his own last breath, Leo silently says goodbye to his family and everybody he knows. But all Armour does is wink at Leo, very slowly, and leave the scene of the crime. Leo draws a long breath of relief. He has got away with it. But he hasn't - not really. Leo will live to regret that wink and realise that Armour has an insidious hold on him and his family,which will test his family relationships, and his very sense of what is right and wrong. It will take bravery, luck and sheer daring to extricate himself from Armour's deadly web.

-----


Renegade
by Alan Gibbons
(
For review
. Book three in the
Hell's Underground
series.)
Paul has met his most audacious - and powerful - ancestor yet, Samuel Rector, who seemingly has the entire East End in thrall to him in the 1830s. His legion of 'rat boys' use terror and menace ordinarily, but with the demon seed inside them, their powers know no end. Their only match is Paul, the renegade, the one member of the Rector clan determined to strike each poisoned generation from the family history. But nobody is stronger than Lud, the King of London, struggling against imprisonment in his cell where the city's five gates meet.
-----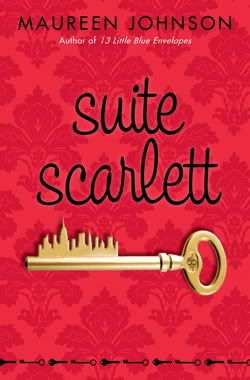 Suite Scarlett
by Maureen Johnson
(
For review
. I like the new paperback cover!)
Scarlett Martin has grown up in a most unusual way. Her family owns the Hopewell, a small hotel in the heart of New York City, and Scarlett lives there with her four siblings - Spencer, Lola, and Marlene. When each of the Martins turns fifteen, they are expected to take over the care of a suite in the once elegant, now shabby Art Deco hotel. For Scarlett's fifteenth birthday, she gets both a room called the Empire Suite, and a permanent guest called Mrs. Amberson. Scarlett doesn't quite know what to make of this C-list starlet, world traveler, and aspiring autobiographer who wants to take over her life. And when she meets Eric, an astonishingly gorgeous actor who has just moved to the city, her summer takes a second unexpected turn. Before the summer is over, Scarlett will have to survive a whirlwind of thievery, Broadway glamour, romantic missteps, and theatrical deceptions. But in the city where anything can happen, she just might be able to pull it off.
-----



Tender Morsels
by Margo Lanagan
(
For review
. I didn't like the sound of this at first, but publicists can be very persuasive. lol. )
Liga endures unspeakable cruelties at the hands of her father, before being magically granted her own personal heaven, a safe haven from the real world. She raises her two daughters in this alternate reality, and they grow up protected from the violence that once harmed their mother. But the real world cannot be denied forever ...Magicked men and wild bears break down the borders of Liga's refuge. Now, having known Heaven, how will these three women survive in a world where beauty and brutality lie side by side?
-----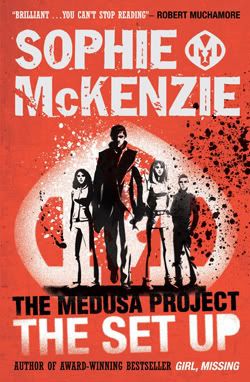 The Medusa Project: The Set-up
by Sophie McKenzie
(Read this, and it's good!)
Fourteen years ago, scientist William Fox implanted four babies with the Medusa gene - a gene for psychic abilities. But Fox died and the babies were hidden away for years. Now the children are teenagers - and unaware that their psychic powers are about to kick in. Cocky, charismatic Nico thinks his emerging telekinetic abilities will bring him money, power and the girl of his dreams. He's about to find out just how wrong he is...
-----

Hope everyone had a cool week! :)