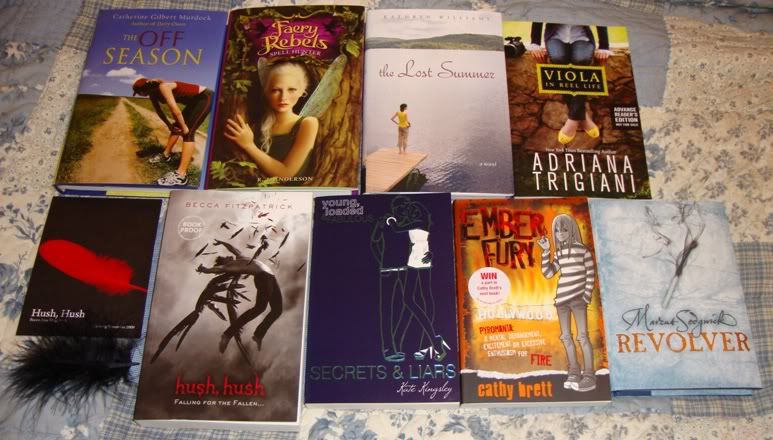 In My Mailbox idea from Kristi @ The Story Siren, and all descriptions from Amazon.
This is my second favourite book week of 2009, because I got a copy of
Hush, Hush
. All I'll say is it's AMAZING, and I can't wait 'til it's officially released. So, a HUGE thanks to S&S UK. I don't think I've ever been so excited to open my mail!
-----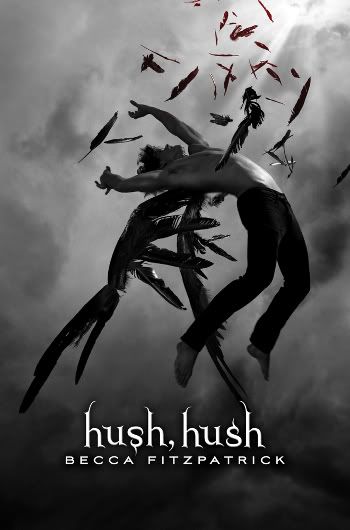 Hush, Hush
by Becca Fitzpatrick
(
For review
. UK proof/ARC. It came with a promo postcard thing, and a black feather. SO COOL! Oh, and I'm totally in love with Patch!)
For Nora Grey, romance was not part of the plan. She's never been particularly attracted to the boys at her school, no matter how much her best friend, Vee, pushes them at her. Not until Patch came along. With his easy smile and eyes that seem to see inside her, Nora is drawn to him against her better judgment. But after a series of terrifying encounters, Nora's not sure who to trust. Patch seems to be everywhere she is, and to know more about her than her closest friends. She can't decide whether she should fall into his arms or run and hide. And when she tries to seek some answers, she finds herself near a truth that is way more unsettling than anything Patch makes her feel.For Nora is right in the middle of an ancient battle between the immortal and those that have fallen - and, when it comes to choosing sides, the wrong choice will cost her life.
-----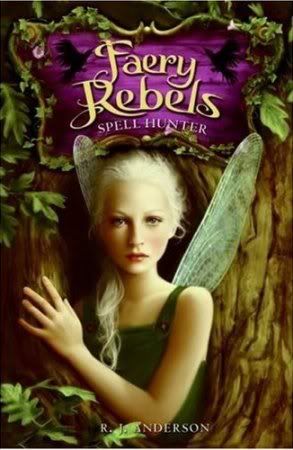 Faery Rebels: Spell Hunter
by R. J. Anderson
(I've read good reviews, so I hope I like it!)
Deep inside the great Oak lies a dying faery realm, bursting with secrets instead of magic. Long ago the faeries mysteriously lost their magic. Robbed of their powers, they have become selfish and dull-witted. Now their numbers are dwindling and their very survival is at stake. Only one young faery—Knife—is determined to find out where her people's magic has gone and try to get it back. Unlike her sisters, Knife is fierce and independent. She's not afraid of anything—not the vicious crows, the strict Faery Queen, or the fascinating humans living nearby. But when Knife disobeys the Faery Queen and befriends a human named Paul, her quest becomes more dangerous than she realizes. Can Knife trust Paul to help, or has she brought the faeries even closer to the brink of destruction?
-----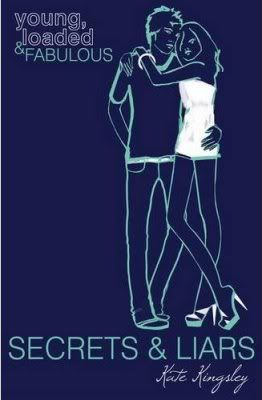 Young, Loaded & Fabulous: Secrets & Liars
by
Kate Kingsley
(
For review
. Really enjoyed the first book, so looking forward to this!)
Addictive, scandalous and glamourous new fiction series for sophisticated teens. Love is in the air at St Cecilia's: Alice Rochester has a new man in her life, much to her ex Tristan's dismay, Tally Abbott and hot new teacher Mr Logan's secret tutorials are getting cosier and new girl Dylan Taylor is being well and truly romanced by Jasper. But when the crew all head over to Rome for Alice's cousin's lavish engagement party hosted by Italian Vogue tensions are high. Will it all end happily ever after?
-----

The Lost Summer
by Kathryn Williams
(I love the cover of this!)
For the past nine years, Helena Waite has been returning to summer camp at Southpoint. Every year the camp and its familiar routines, landmarks, and people have welcomed her back like a long-lost family member. But this year she is returning not as a camper, but as a counselor, while her best friend, Katie Bell remains behind. All too quickly, Helena discovers that the innocent world of campfires, singalongs, and field days have been pushed aside for late night pranks on the boys' camp, skinny dipping in the lake, and stolen kisses in the hayloft. As she struggles to define herself in this new world, Helena begins to lose sight of what made camp special and the friendships that have sustained her for so many years. And when Ransome, her longtime crush, becomes a romantic reality, life gets even more confusing.

-----


Revolver
by Marcus Sedgwick
(
For review
. I finished it yesterday and loved it!)
1910. A cabin north of the Arctic Circle. Fifteen-year-old Sig Andersson is alone. Alone, except for the corpse of his father, who died earlier that day after falling through a weak spot on the ice-covered lake. His sister, Anna, and step-mother, Nadya, have gone to the local town for help. Then comes a knock at the door. It's a man, the flash of a revolver's butt at his hip, and a mean glare in his eyes. Sig has never seen him before but Wolff claims to have unfinished business with his father. As Sig gradually learns the awful truth about Wolff's connection to his father, Sig finds his thoughts drawn to a certain box hidden on a shelf in the storeroom, in which lies his father's prized possession - a revolver. When Anna returns alone, and Wolff begins to close in, Sigs choice is pulled into sharp focus. Should he use the gun, or not?
-----


The Off Season
by Catherine Gilbert Murdock
(I'm sure I'll love
Dairy Queen
, so I bought this one while Amazon still had it in stock).
*
Dairy Queen
spoilers*
Life is looking up for D. J. Schwenk, star of Dairy Queen. She?s made it to eleventh grade, she?s reconnecting with her best friend, and she?s got a thing going with Brian Nelson. But best of all, she?s playing for the Red Bend High School football team?as the first female linebacker in northern Wisconsin.
But then the season goes suddenly, horribly wrong: her brother Win is put into the hospital after getting a devastating injury during a game. Once again, D.J. is forced to step up and be there for her family. It?s a heavy burden, even for D.J.?s strong shoulders. She?ll have to dig deeper than she?s ever had to before.

-----



Viola in Reel Life
by Adriana Trigiani
(
For review
. US ARC. This sounds great!)
When fourteen-year-old Viola is sent from her beloved Brooklyn to boarding school in Indiana for ninth grade, she overcomes her initial reservations as she makes friends with her roommates, goes on a real date, and uses the unsettling ghost she keeps seeing as the subject of a short film—her first.
-----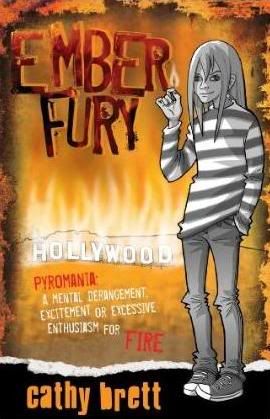 Ember Fury
by Cathy Brett
(
For review
. Finished copy - it's lovely!)
Pyromania: A mental derangement, excitement or excessive enthusiasm for fire.
Having celebrity parents isn't as hot as it sounds. Yes, there's money to burn, fame and some totally smoking guys...But when your dad's more interested in blazing a trail to the top of the charts than why you got kicked out of school, again, it can make you seriously angry. And if there's one thing Ember knows, it's that the smallest spark of anger can ignite a whole heap of trouble...