In My Mailbox idea from Kristi @ The Story Siren, and all descriptions from Amazon.
Not too many this week, though they all look great!
-----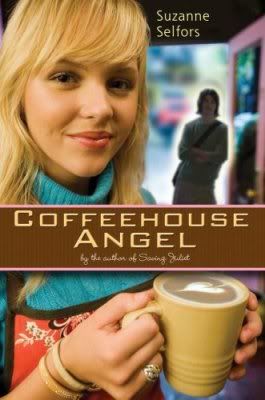 Coffeehouse Angel
by Suzanne Selfors
(Really looking forward to reading this!)
From the author of
Saving Juliet
comes a romantic comedy that is good to the last drop. When Katrina spots a homeless guy sleeping in the alley behind her grandmother's coffee shop, she decides to leave him a cup of coffee, a bag of chocolate-covered coffee beans, and some pastries to tide him over. Little does she know that this random act of kindness is about to turn her life upside down. Because this adorable vagrant, Malcolm, is really a guardian angel on a break between missions. And he won't leave until he can reward Katrina's selflessness by fulfilling her deepest desire. Now if only she could decide what that might be . . .
-----





The Roman Mysteries: The Sirens of Surrentum
by Caroline Lawrence
(
For review
. Thanks, Caroline!)
Summer AD 80. Flavia and her friends receive an invitation to stay at the luxurious Villa Limona in Surrentum, where their friend Pulchra has a mystery she desperately wants them to solve. After a year of hardship and disasters, people are in cheerful spirits - there is even talk of love and romance. But it seems one of the guests has murder in mind. Can Flavia and her friends track down the would-be poisoner before it's too late?

-----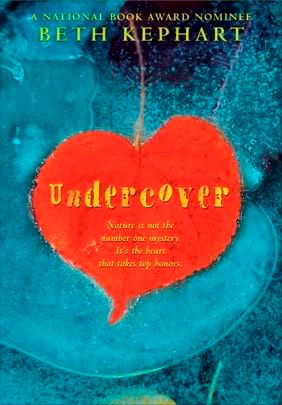 Undercover
by
Beth Kephart
(After reading
Steph
's review of this, I had to get it!)
Like a modern-day Cyrano de Bergerac, Elisa ghostwrites love notes for the boys in her school. But when Elisa falls for Theo Moses, things change fast. Theo asks for verses to court the lovely Lila—a girl known for her beauty, her popularity, and a cutting ability to remind Elisa that she has none of these. At home, Elisa's father, the one person she feels understands her, has left on an extended business trip. As the days grow shorter, Elisa worries that the increasingly urgent letters she sends her father won't bring him home. Like the undercover agent she feels she has become, Elisa retreats to a pond in the woods, where her talent for ice-skating gives her the confidence to come out from under cover and take center stage. But when Lila becomes jealous of Theo's friendship with Elisa, her revenge nearly destroys Elisa's ice-skating dreams and her plan to reunite her family.
-----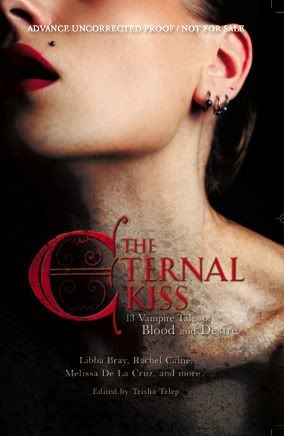 The Eternal Kiss
by Various Authors
(
For review
. Finished copy. I love this book! (review coming soon) )
There's an allure to vampire tales that have seduced readers for generations. From Bram Stoker to Stephanie Meyer and beyond, vampire stories are here to stay. For those fresh-blooded fans of paranormal romance or for those whose hunt and hunger never dies, these stories have what readers want!
Featuring stories by: Holly Black, Libba Bray, Melissa De La Cruz, Cassandra Clare, Rachel Caine, Nancy Holder & Debbie Viguie, Cecil Castellucci, Kelley Armstrong, Maria V. Snyder, Sarah Rees Brennan, Lili St. Crow, Karen Mahoney and Dina James.
-----

I also got some
Thornthwaite Inheritance
postcards, signed by author Gareth P. Jones. Thanks to
Liz
for these!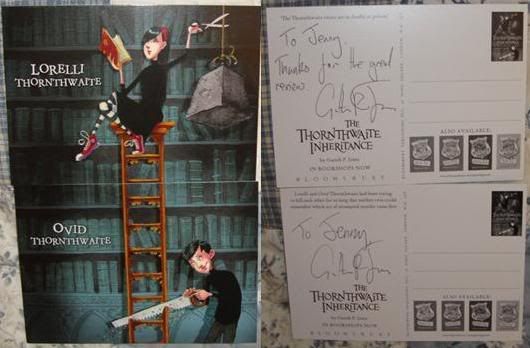 Hope everyone had a great week!